2023 NEW Shadow and Bone Funko Pops! Reliving the Netflix Saga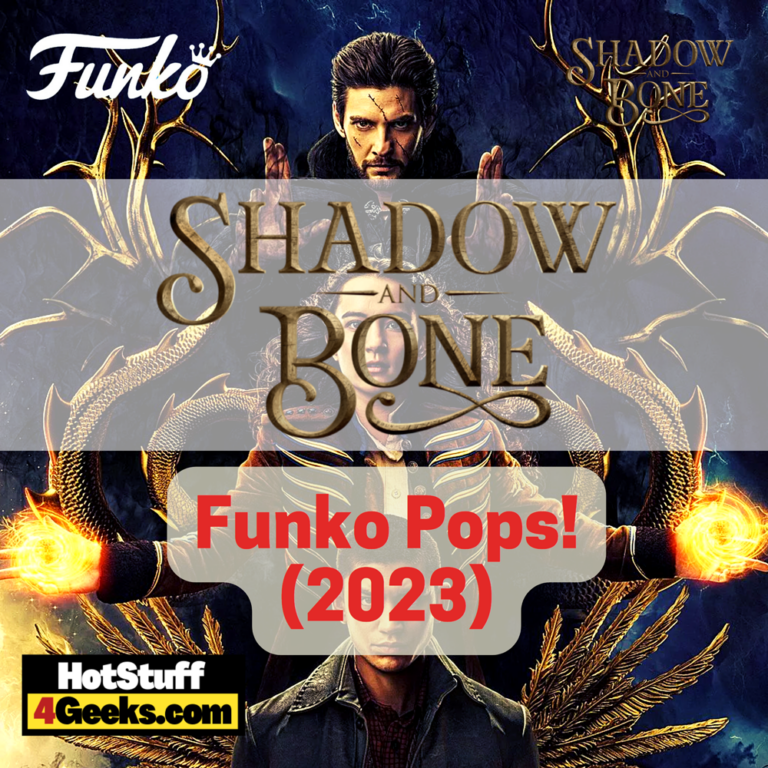 Not official until confirmed.
Imagine diving back into the intricate world of "Shadow and Bone" on Netflix, but this time with a playful twist. The drama, the magic, the Grishaverse – everything you adore, encapsulated in vibrant, irresistible new Funko Pop! Television: Shadow and Bone Funko Pops!
To get your hands on these Pop Vinyl Figures at its launch, be sure to check out the links I've provided below – click to jump or scroll to continue reading!
In the enchanting realm of Netflix's Shadow and Bone, magic intertwines with reality, creating an intoxicating narrative that pulls viewers into the heart of the Grishaverse.
Here, in the strife-torn lands of Ravka, our imaginations take flight, buoyed by compelling characters, intricate storylines, and a landscape that whispers ancient tales.
Then, enter the Shadow and Bone Funko Pops! Suddenly, the ethereal becomes tangible.
The imagined materializes, and the series we love leaps from our screens into our hands.
Each collectible is a loving homage to the captivating world that Netflix has magnificently brought to life.
Embrace the magic, keep the memory alive, and always carry a piece of the Grishaverse with you.
Here are the Shadow and Bone Pop! Figures for this release:
Mal Funko Pop! Vinyl Figure
General Kirigan Funko Pop! Vinyl Figure
Alina Starkov Funko Pop! Vinyl Figure
Shadow and Bone Funko Pop! Vinyl Figures (2023) are coming soon. There's no release date yet, but stay tuned because I'll update more information in the long run.

Delving into the enthralling universe of the Grishaverse, let's chat about the phenomenon of Shadow and Bone.
Authored by the talented Leigh Bardugo, this epic fantasy saga has captured hearts around the globe, proving that great storytelling truly transcends all boundaries.
Our adventure begins with the captivating narrative of Alina Starkov, a soldier with hidden magical abilities that set her on a path of destiny and danger.
Imagine suddenly discovering that you alone possess the power to shatter the shadows engulfing your homeland.
This whirlwind transformation from an ordinary soldier to the savior of Ravka forms the crux of our tale.
Shadow and Bone is not just about enchanting magic and epic battles—it's about the journey of self-discovery.
Alina's journey echoes the voice of every person who has ever grappled with their identity, making her tale both magical and incredibly relatable.
And let's not forget the Darkling, our magnetic and enigmatic antagonist. His complex character, brimming with charisma and mystery, challenges Alina's resolve, creating a riveting storyline that keeps us on our toes.
While the magic and the compelling characters are indeed a treat, the universe that Bardugo has created is the true star of the show.
The Grishaverse is so rich in detail, so unique, that it stands out in the galaxy of fantasy literature.
It invites readers into a world that echoes with the whispers of real-world issues, making it a mirror of our own struggles and triumphs.
As for Netflix's adaptation of the saga, it beautifully brings to life the narrative with a brilliant cast and eye-catching visuals, doing justice to the written words.
So whether you're a show fan looking to explore the original story or a fantasy enthusiast searching for a new world to get lost in Shadow and Bone awaits you with its magic-infused arms wide open.
Prepare to be captivated by the lure of the Grishaverse – a world that promises excitement, introspection, and an unforgettable journey.
Funko Pop! Television: Shadow and Bone Funko Pop! Vinyl Figure
Available at:
Starting now, you can receive 10% off in-stock items with my special link at Entertainment Earth!
 Enjoy!
As an Amazon Associate I earn from qualifying purchases
Want more stuff like this?
Get the best viral stories straight into your inbox!
Don't worry, we don't spam