2023 NEW Shakira Oral Fixation Funko Pop! Album. Reliving the Magic!
Bring the essence of Shakira's iconic album "Oral Fixation" to your living room with the new Funko Pop! Albums: Shakira Oral Fixation Funko Pop! Album Vinyl Figure. This collectible is a love letter to the Colombian superstar's genius, showcasing the singer in her most emblematic era.
To get your hands on this Pop Album, be sure to check out the links I've provided for you below – click to jump or scroll to continue reading!
This is not just a pop figure; it's a miniature celebration of Shakira's artistic prowess.
Look closer, and you'll find Shakira, in her unmistakable blonde mane, caught mid-dance in a vibrant ensemble straight from the album's cover art.
The attention to detail is a delightful surprise, with the artist's passion and vivacity encapsulated perfectly.
But it doesn't end there. The package features the album artwork, further enhancing the appeal for die-hard fans and collectors.
It's a souvenir that is a visual homage to Shakira's groundbreaking journey, allowing fans to cherish a moment of music history.
Whether you're a Shakira enthusiast or a Funko Pop! collector, this piece makes a unique addition to any collection.
So, get ready to invite the power and rhythm of Shakira's "Oral Fixation" into your home. It's more than a figure; it's a memory molded in vinyl.
Shakira Oral Fixation Funko Pop! Album is now available for pre-order and can be found at the links below (click to jump!)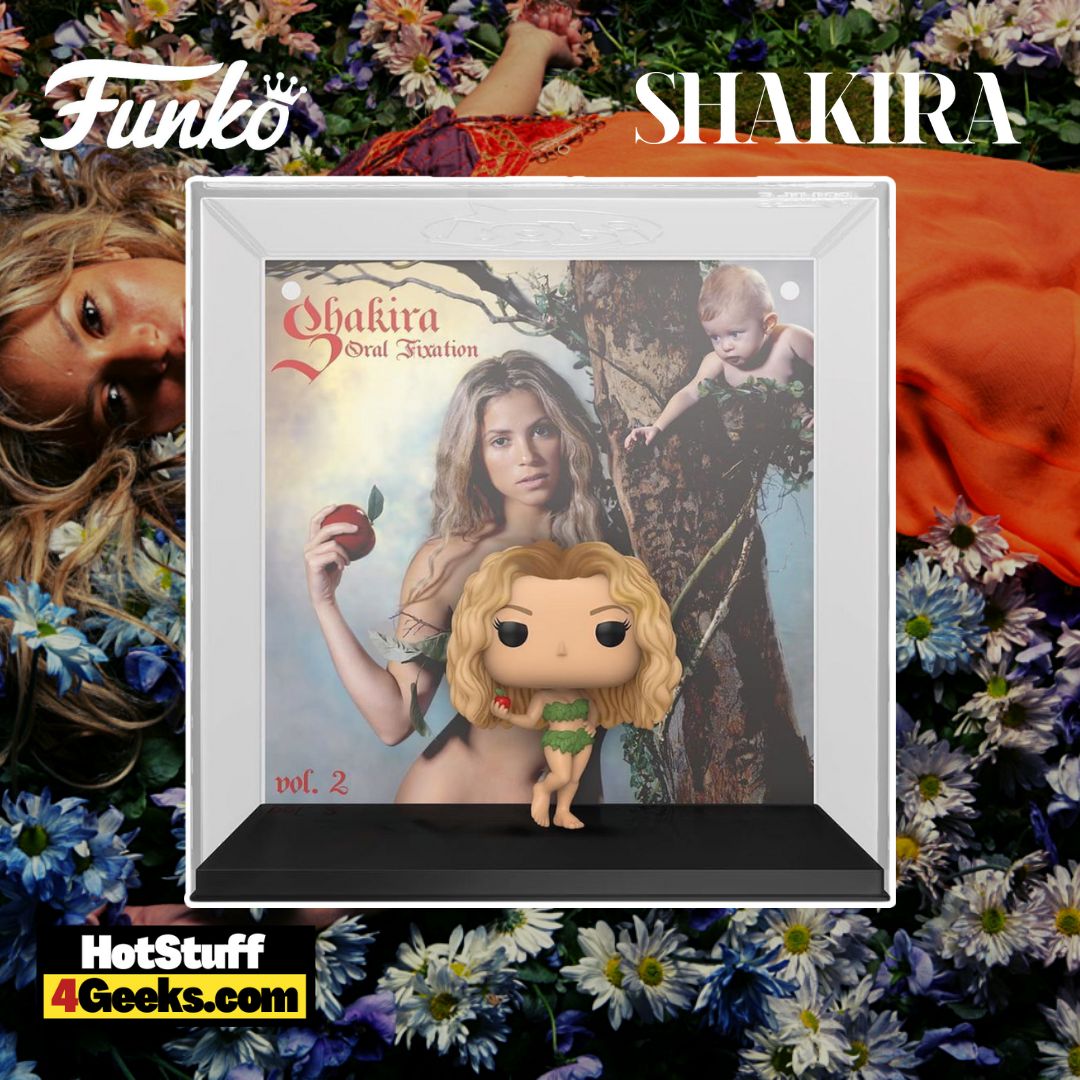 As we all know, pop music is an ever-evolving realm of rhythmic wonder. Sometimes, though, an artist redefines the genre in a way that shakes the industry to its core.
Enter Shakira, the Colombian powerhouse who 2006 gifted us with her groundbreaking box set, "Oral Fixation, Vol. 1 & 2."
"Oral Fixation" is an unexpected dive into Shakira's genius – an amalgamation of genres that paints a diverse sound canvas.
It's a sonic tapestry that seamlessly blends Latin pop, dance-pop, pop-rock, and trip-hop elements, surprising us at every turn.
What makes this compilation so captivating? It's the audacious experimentation, perfectly balanced with the familiarity of pop music.
Shakira's unique songwriting approach, often off-kilter but consistently on point, gives this album its heart.
Whether the profoundly emotional "Don't Bother" or the rock-infused "Animal City," each track unravels a new layer of Shakira's creative prowess.
Perhaps Shakira's voice – an unpredictable, compelling instrument that dances between convention and rebellion- sets this album apart.
It's not just about hitting the notes; it's about the dynamic power behind every word she sings.
The passion, the fury, the gentle rawness – it all combines to deliver an experience that's both exhilarating and refreshingly candid.
In a nutshell, "Oral Fixation" is Shakira taking pop music and flipping it on its head.
It's not just an album; it's a testament to the power of stepping outside comfort zones, pushing boundaries, and, most importantly, staying true to one's artistic vision.
Shakira didn't just make a pop album. She crafted a pop revelation that still echoes in the annals of music history.
So, next time you tune into your favorite pop playlist, consider revisiting Shakira's "Oral Fixation."
Let it remind you of the unpredictable beauty of music and the boundless innovation that artists like Shakira bring to our world.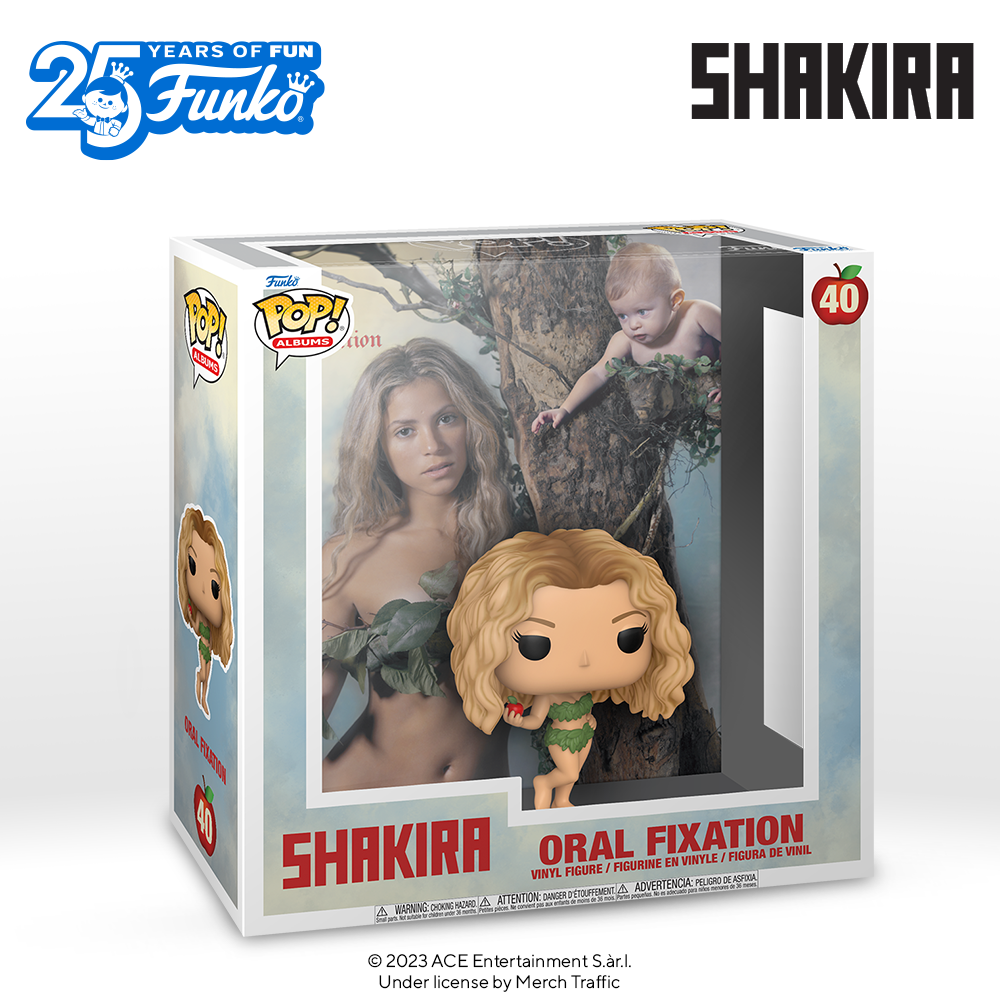 Funko Pop! Albums: Shakira Oral Fixation Funko Pop! Album Vinyl Figure
Available at:
Starting now, you can receive 10% off in-stock items with my special link at Entertainment Earth!
 Enjoy!
As an Amazon Associate I earn from qualifying purchases
Want more stuff like this?
Get the best viral stories straight into your inbox!
Don't worry, we don't spam