2023 NEW Slipknot – Corey Taylor Platinum Funko Pop! EXCL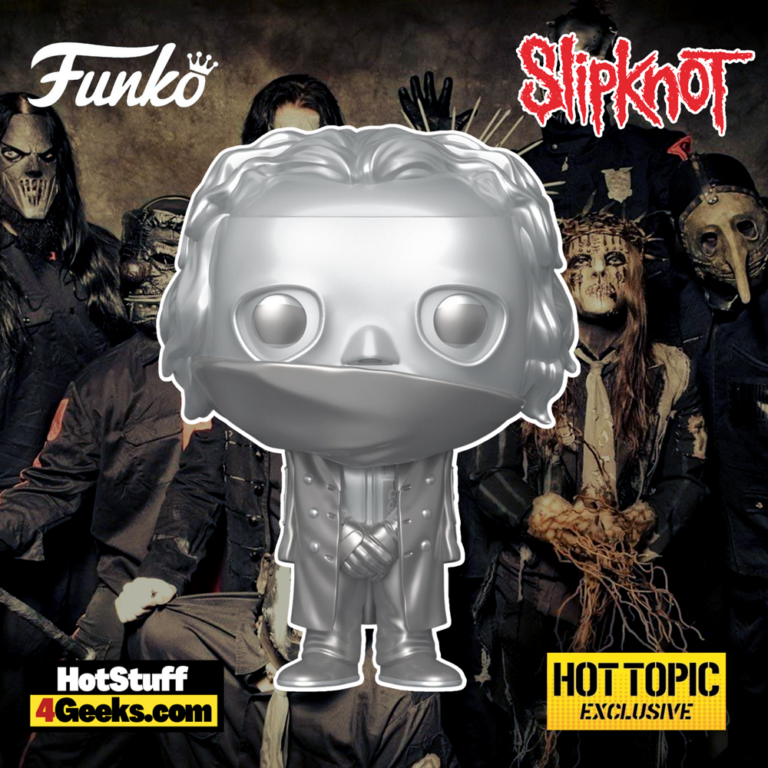 Behold the Funko Pop! Rocks: Slipknot – Corey Taylor Platinum Funko Pop! Vinyl Figure – Hot Topic Exclusive – a wickedly delightful tribute to the man whose vocal cords have rocked our world time and time again. This tiny titan of musical mastery captures the essence of Corey Taylor with a twist that's sure to bring a devilish grin to our collection.
The pop figure is now available for order at the links below – click to jump or scroll to continue reading!
Decked out in his iconic Slipknot mask that would make even the most hardened metalhead shudder, this Pop! rocker is ready to bring the noise.
But wait, there's more!
With a shimmering platinum finish, the Corey Taylor Funko Pop is a showstopper, a headbanger's dream come true, and the perfect addition to any hardcore fan's collection.
Now, while the Funko Pop may be small in stature, the character it represents is anything but.
Corey Taylor, the vocal juggernaut of Slipknot and Stone Sour fame, has etched his name into the annals of rock history with his versatile, powerful voice.
He's the growling, snarling embodiment of raw energy, and this Platinum Funko Pop is a cheeky nod to his larger-than-life persona.
So, if you're in the market for a mini metal maestro to adorn your shelf, look no further.
The Corey Taylor Platinum Funko Pop! is the perfect combination of badassery and whimsy – a quirky tribute to the man who's made us scream, headbang, and lose ourselves in the music.
Rock on!
The Hot Topic Exclusive Corey Taylor Platinum Funko Pop! is now available for order at the links below (click to jump!)
Corey Taylor, the powerhouse behind Slipknot and Stone Sour, is a force to be reckoned with in the world of metal and hard rock.
With a voice that has enthralled millions of fans, Taylor's vocal prowess knows no bounds.
His vocal chops have left a lasting impact on the music industry, from growling screams to melodic serenades.
Corey Taylor's journey to vocal stardom began with Slipknot, the band that has since become synonymous with aggressive, face-melting metal.
Taylor's guttural growls and lightning-fast raps brought a unique edge to the band's sound, propelling them to the heights of metal fame.
However, he could blend this aggression with soulful, singalong choruses that truly set him apart from the pack.
With the formation of Stone Sour, Taylor showcased another side to his vocal talent.
The band allowed him to unleash a hard-rock fire that didn't quite fit within the Slipknot mold.
Stone Sour's music allowed Taylor to display his versatility as a vocalist, proving that he could belt out powerful rock anthems just as well as he could growl his way through a Slipknot track.
It's not just in his own bands that Taylor's vocal skills have shined.
Regarding covers, he's been known to tackle some of the most iconic tracks in rock history.
One standout performance is his rendition of Dio's "Rainbow in the Dark." With respect for the original, Taylor's take on this classic features him hitting impressive high notes, proving that his voice can soar just as easily as it can rumble.
Perhaps one of the most remarkable aspects of Taylor's voice is his ability to convey raw emotion.
This was never more apparent than during a solo performance of Slipknot's "Snuff," dedicated to his late bandmate, Paul Gray.
As Taylor powered through the song, visibly emotional, it served as a testament to the strength of his voice and the genuine connection he shares with his fans.
Corey Taylor's voice is a testament to the power of music and the emotional bond it can create between an artist and their fans.
With his vocal range, he's been able to touch our hearts in the most unexpected ways, whether through a gut-wrenching scream or a melodic harmony.
There's no doubt that Taylor's vocal mastery will continue to captivate us for years, and we're lucky to witness such an incredible talent.
Remember to strap in, hold on tight, and get ready for a wild ride as Corey Taylor continues to redefine the limits of what a voice can do.
In the words of Taylor himself, "If you're 555, then I'm 666," and we wouldn't have it any other way.
As an Amazon Associate I earn from qualifying purchases
Want more stuff like this?
Get the best viral stories straight into your inbox!
Don't worry, we don't spam