2023 NEW Spider-Man Miles Morales Black Light 4-Pack Funko Pops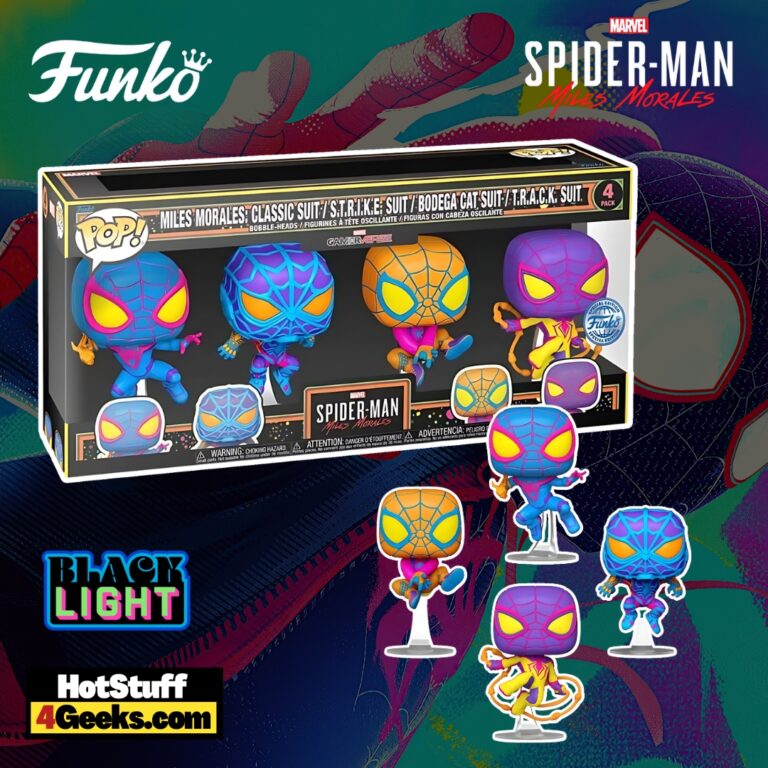 Prepare for a colorful and glowing addition to your Funko Pop! collection as the new Funko Pop! Marvel Gamerverse: Spider-Man Miles Morales Black Light 4-Pack  Funko Pop! Vinyl Figures – Exclusive swings into the scene. Encapsulating the multifaceted personality of our favorite web-slinger, this set features four distinct Miles Morales versions, each with a unique spin.
Lighting Up the Marvel Gamerverse: Unveiling the Black Light Funko Pop! Miles Morales 4-Pack
Highlighting the iconic Classic Suit, the figure encapsulates the legacy Morales steps into, radiating a youthful yet determined aura under the black light.
The S.T.R.I.K.E. Suit figure, on the other hand, is a testament to Morales' growing prowess. Its armored depiction paints an image of a formidable hero ready to face any challenge.
Looking for some feline company? The Bodega Cat Suit figure represents Morales' playful side, spotlighting Spider-Man's unusual yet adorable sidekick.
Lastly, the sleek and stylish T.R.A.C.K. Suit figure shines with a modern edge, highlighting Morales' coolness under pressure.
These figures don't just stand as collectibles, they're glowing insights into the diverse character that is Miles Morales.
Underneath the black light, the Funko Pop! Miles Morales 4-Pack indeed sets a vibrant stage for an iconic hero's journey.
Here's the breakdown of the Pops included in this set:
Miles Morales (Classic Suit) Black Light  Funko Pop! Vinyl Figure
Miles Morales (S.T.R.I.K.E.) Black Light  Funko Pop! Vinyl Figure
Miles Morales (Bodega Cat Suit) Black Light  Funko Pop! Vinyl Figure
Miles Morales (T.R.A.C.K. Suit) Black Light  Funko Pop! Vinyl Figure
The new Spider-Man Miles Morales Black Light 4-Pack Funko Pops! are coming soon. There's no release date yet, but stay tuned because I'll update more information in the long run.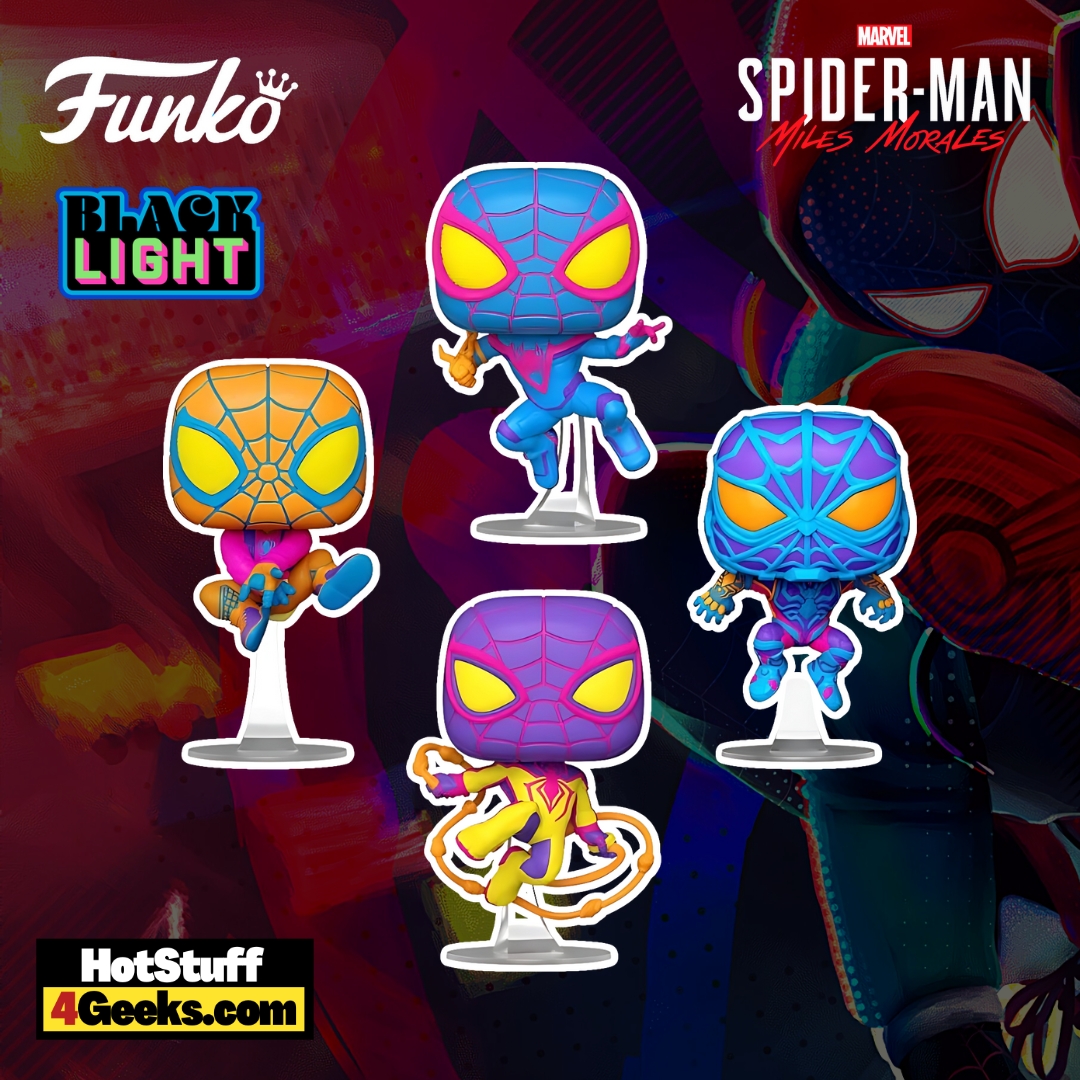 Unraveling the Web: An Exploration of Miles Morales' Suit Styles in Gamerverse
Harnessing the power of his unique abilities, Miles Morales has stepped out of the shadows of his mentor, Peter Parker, and into his own spotlight in the universe of Spider-Man games.
One element that strikes gamers and Spidey fans alike is the incredible range of suits at our young hero's disposal.
Each outfit is more than just an aesthetic choice; they're reflections of Morales' multifaceted character, echoes of Spider-history, and nods to a myriad of Spider-Man narratives.
Starting from the humble roots, we see the Great Responsibility Suit – a gift from Parker that stands as a symbol of Morales' initiation into the world of crime-fighting.
It's simple, not overly flashy, but carries a hefty weight of legacy. However, as Morales carves his own path, we see this expressed vividly in his Sportswear Suit.
Drawing inspiration from the acclaimed Spider-Man: Into the Spider-Verse movie, it blends the classic Spider suit with a trendy street-style, perfectly embodying Morales' uniqueness.
But it's not just Morales' stylistic flair that's highlighted; his narrative journey also plays a part. Take The End Suit, for instance, which takes us to a bleak future where Morales juggles mayoral duties while serving as Spider-Man.
This dark tale is reflected in the hooded jacket and camouflage pants – a symbol of the difficult times Morales finds himself in.
We also see suits that herald Morales' role in the broader Marvel Universe.
The STRIKE Suit offers an armored, somewhat intimidating attire that paints Morales as a formidable adversary.
The Purple Reign Suit, a nod to the infamous Prowler, and the Programmable Matter Suit that echoes the Iron Spider suit, all showcase a growing, evolving hero embracing his unique identity.
For the fans of futurism, the Miles Morales 2020 Suit is a treat.
With a digital helmet projecting his spider eyes and a sleek red and black palette, it's a high-tech wonder that's impossible to ignore.
This encapsulates not just Morales' character but the game's innovative approach to design and aesthetics.
Yet, the fan-favorite and crown jewel of all suits is undoubtedly the Into the Spider-Verse Suit.
Paying homage to the blockbuster movie, this suit is a stunning fusion of art and interactivity.
Its expressive eyes and unique animation style – a perfect replica of the film's animation – make for an immersive experience that's hard to forget.
Exploring Morales' suits is a thrilling journey through Spider-history and a unique showcase of his character's growth.
From the Great Responsibility Suit's legacy-bearing weight to the iconic Into the Spider-Verse Suit, each one tells a part of Morales' story, making the Gamerverse all the more dynamic and engaging.
So, as you swing through the streets of virtual New York, remember – each suit is a chapter in the epic tale of Miles Morales.
Starting now, you can receive 10% off in-stock items with my special link at Entertainment Earth!
 Enjoy!
As an Amazon Associate I earn from qualifying purchases
Want more stuff like this?
Get the best viral stories straight into your inbox!
Don't worry, we don't spam