2023 NEW Star Wars Rebels: Sabine Wren Funko Pop! BoxLunch Exclusive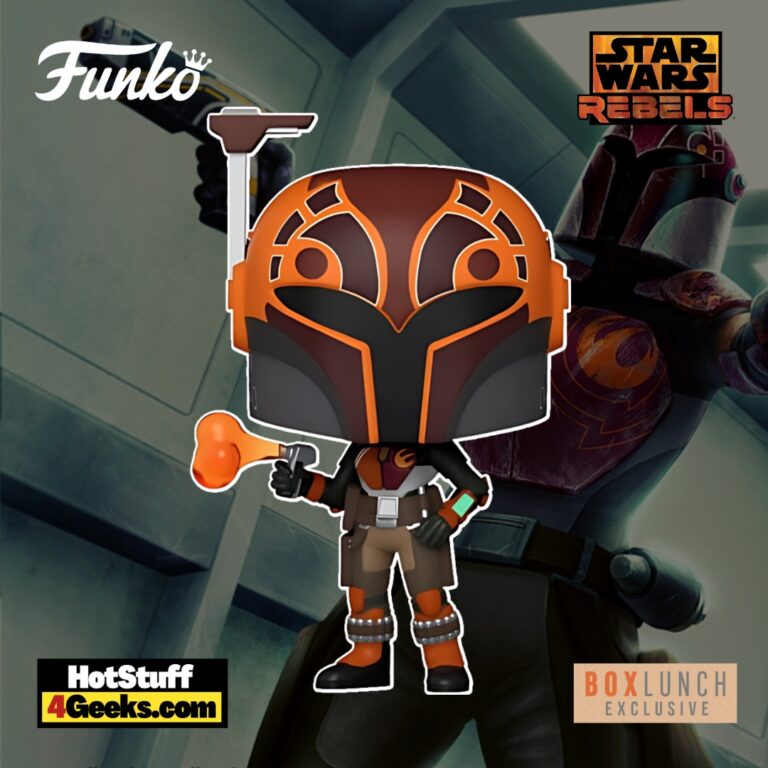 Get ready to blast off into a galaxy of collectibles with the new Funko Pop! Star Wars Rebels: Sabine Wren Funko Pop! Vinyl Figure – BoxLunch Exclusive (2023 release). This is not just another trooper in the ranks; it's a celebration of the Mandalorian warrior spirit, shrunk down to Funko size with an extra dose of awesome!
Sabine Wren Pop1 is coming soon! To get your hands on this Pop Vinyl Figure at its release, be sure to check out the links I've provided below – click to jump or keep scrolling for more details!
Unleash the Rebel Spirit: Star Wars Rebels Sabine Wren Funko Pop! Exclusive
Calling all "Star Wars Rebels" enthusiasts! The latest collectible has landed with the release of the Sabine Wren Funko Pop! Vinyl Figure, a BoxLunch Exclusive that's set to ignite your collection with the fiery spirit of Mandalore.
This meticulously designed figure captures Sabine's iconic look from the beloved animated series with striking detail.
Clad in her characteristic Mandalorian armor, complete with the bespoke helmet featuring its distinctive tangerine and slate hues, the Funko Pop! embodies Sabine's rebellious essence.
With its vibrant colors and dynamic stance, this Funko Pop! is a standout piece that encapsulates Sabine's artistry and warrior spirit.
Add this exclusive piece to your shelf, and let the legacy of Sabine Wren's journey inspire your own rebel adventures.
The BoxLunch Exclusive Sabine Wren Funko Pop! Vinyl can be found for pre-order at the links below (click to jump!)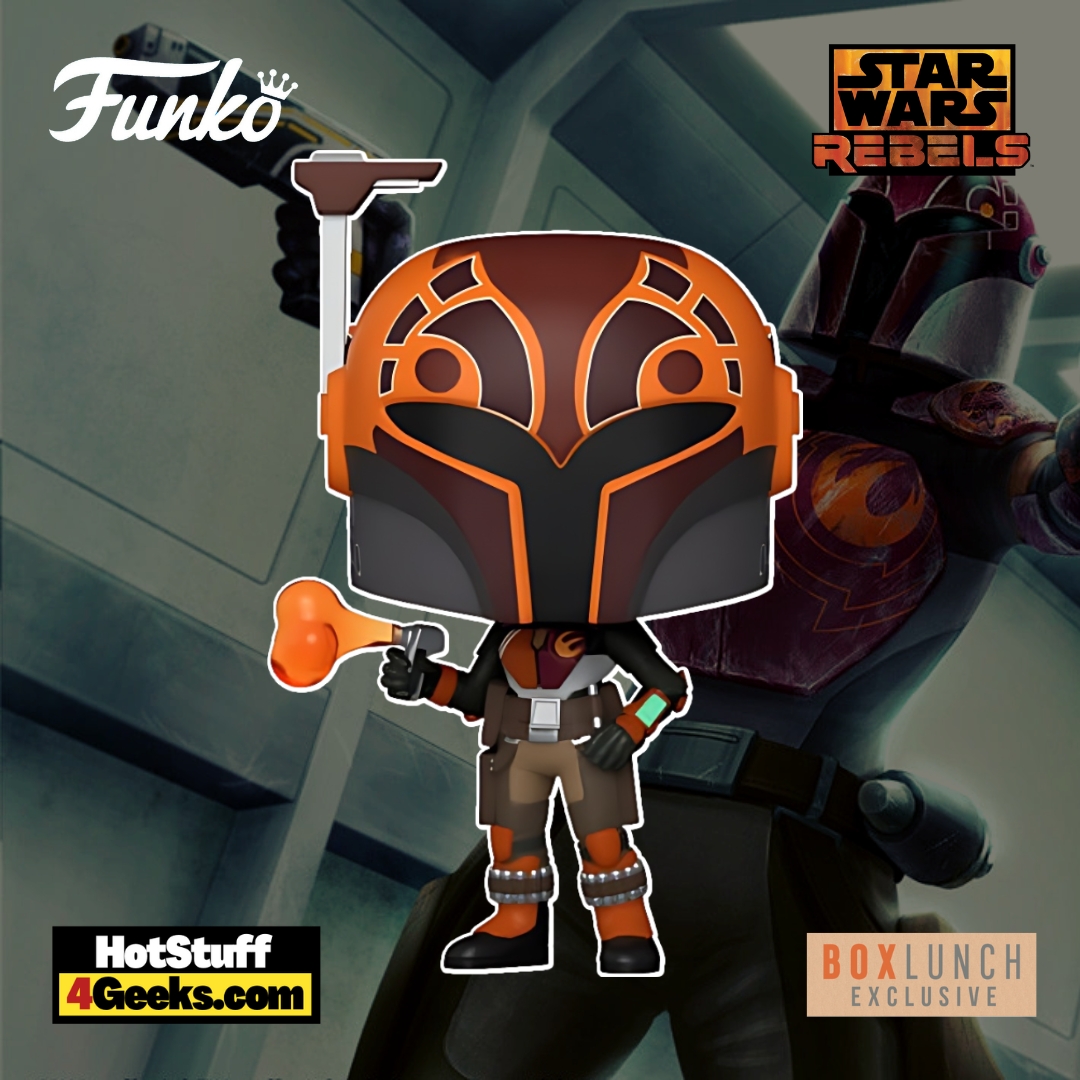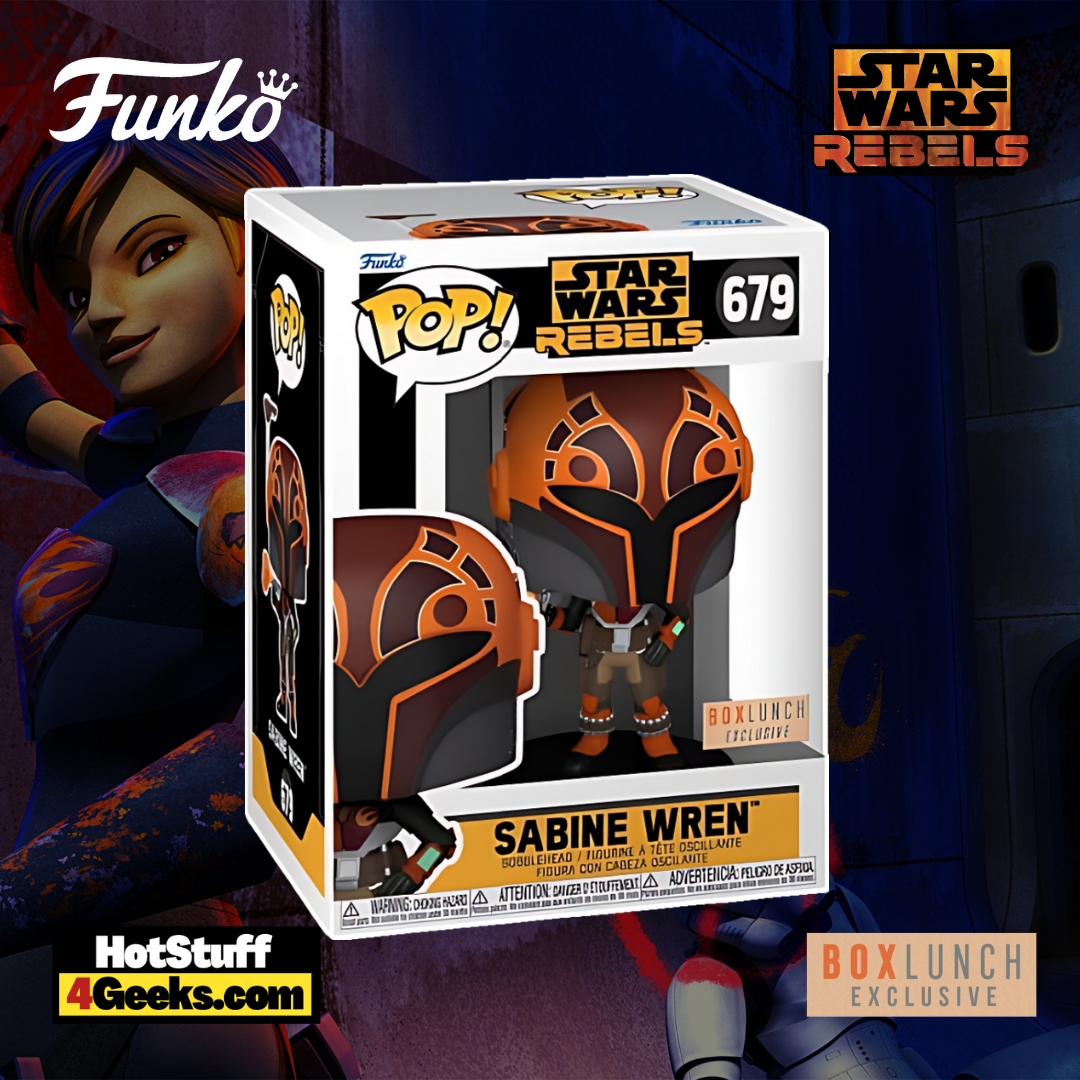 Sabine Wren: The Artistic Rebel of Mandalore in Star Wars Rebels
Sabine Wren, a vibrant "Star Wars Rebels" character, stands out with her artistic flair and complex Mandalorian heritage.
A vital member of the Ghost crew alongside Hera Syndulla, Kanan Jarrus, Ezra Bridger, and others, Sabine is not your typical rebel. Her journey intertwines with the Galactic Empire, showcasing a compelling blend of rebellion, art, and personal growth.
Born into Clan Wren, vassals of House Vizsla, Sabine's early life was steeped in Mandalorian tradition and conflict.
Her family's alliance with Clan Saxon initially placed them in the Imperial camp, revealing a complex political and familial loyalty backdrop.
Sabine's father, Alrich, her mother, Countess Ursa, and her brother, Tristan, all play significant roles in her story, shaping her decisions and destiny.
Sabine's prowess as an artist sets her apart. Her graffiti and art are acts of defiance against the Empire, leaving a mark literally and metaphorically.
She's credited with creating the iconic Rebel Alliance symbol, a testament to her impact on the galactic rebellion.
Even Grand Admiral Thrawn, known for his appreciation of art and culture, recognizes her talent, adding another layer to her character.
The darker aspects of Sabine's past emerge with her creation of the Arc Pulse Generator, also known as the Duchess.
Designed during her time at the Imperial Academy on Mandalore, this weapon targeted beskar armor, a core element of Mandalorian identity.
The realization that her invention was used against her people was a turning point, leading to her disillusionment with the Empire and her eventual departure.
Sabine's relationship with the Darksaber is pivotal. Upon finding it on Dathomir, she grapples with her family's complicated legacy and her own identity.
Trained in its use by Kanan, Sabine's journey with the Darksaber symbolizes her growing leadership and commitment to Mandalore's future. Her decision to pass the Darksaber to Bo-Katan Kryze, a worthy leader, reflects her understanding of Mandalorian culture and politics.
In "Star Wars Rebels," Sabine's evolution is marked by significant moments, such as her rescue of her father and her battle against Gar Saxon.
These events showcase her bravery, strategic mind, and dedication to her family and cause. Her story culminates with her teaming up with Ahsoka Tano, seeking to unravel the mystery of Ezra Bridger's disappearance.
Sabine's role in "Ahsoka" further expands her character. We see a more seasoned yet still passionate Sabine continuing her journey in training and facing new challenges.
Her non-force-sensitive nature adds a unique dimension to her character as she navigates a galaxy predominantly influenced by the Force.
Sabine Wren's story is a tapestry of rebellion, art, family loyalty, and personal growth.
Her journey from an Imperial cadet to a critical figure in the rebellion against the Empire and her role in shaping Mandalorian destiny makes her a standout character in the "Star Wars" universe.
Her legacy in "Star Wars Rebels" and beyond is a testament to the rich, complex storytelling that defines the saga.
As an Amazon Associate I earn from qualifying purchases
Want more stuff like this?
Get the best viral stories straight into your inbox!
Don't worry, we don't spam