2023 NEW SweeTarts Funko Pop! Ad Icons. Chew on This!
by

PopCorn Princess

September 20, 2023
Funko Pop! Ad Icons: SweeTarts Funko Pop! Vinyl Figure
Available at:
The new Funko Pop! Ad Icons: SweeTarts Funko Pop! Vinyl Figure is here, and it's a celebration of confectionery meeting pop culture in the most delightful way. This vibrant figure takes everything we love about the tangy-sweet candy and elevates it into a collectible that's brimming with nostalgia and modern flair.
To get your hands on this Pop Vinyl Figure, be sure to check out the links I've provided below – click to jump or scroll to continue reading!
The Funko Pop! Ad Icons: SweeTARTS Edition—A Pop Culture Marvel
Hold onto your taste buds! Funko Pop! is at it again, this time immortalizing the candy we've all cherished—SweeTARTS. But let's be clear: the spotlight here is really on the icon itself.
Dressed in a stunning outfit that takes its hues straight from the candy's colorful array, the figure almost beckons you to dig into a pack of the tangy-sweet treats.
This isn't merely an ornament to keep on your shelf; it embodies nostalgia mixed with contemporary pop culture coolness.
With a translucent smile that seems to capture the essence of both sweet and tart, the SweeTARTS Funko Pop! Vinyl Figure elevates the conversation around collectibles.
Standing beside your comic book heroes or other Ad Icons, it beckons a second look, daring you to dive into its intricate detailing.
The visual elements, a vivid display of colors, and charismatic design mirror the dualistic nature of the candy it represents: sweet yet tart, vibrant yet understated.
Between its pop culture cred and that undeniable link to youthful—or even adult—indulgence, this figure is a conversation starter at the very least.
It's as if Funko Pop! encapsulated the magic of that first bite of a SweeTARTS candy: utterly complex yet incredibly satisfying.
SweeTarts Funko Pop! Ad Icons can be found for pre-order at the links below (click to jump!)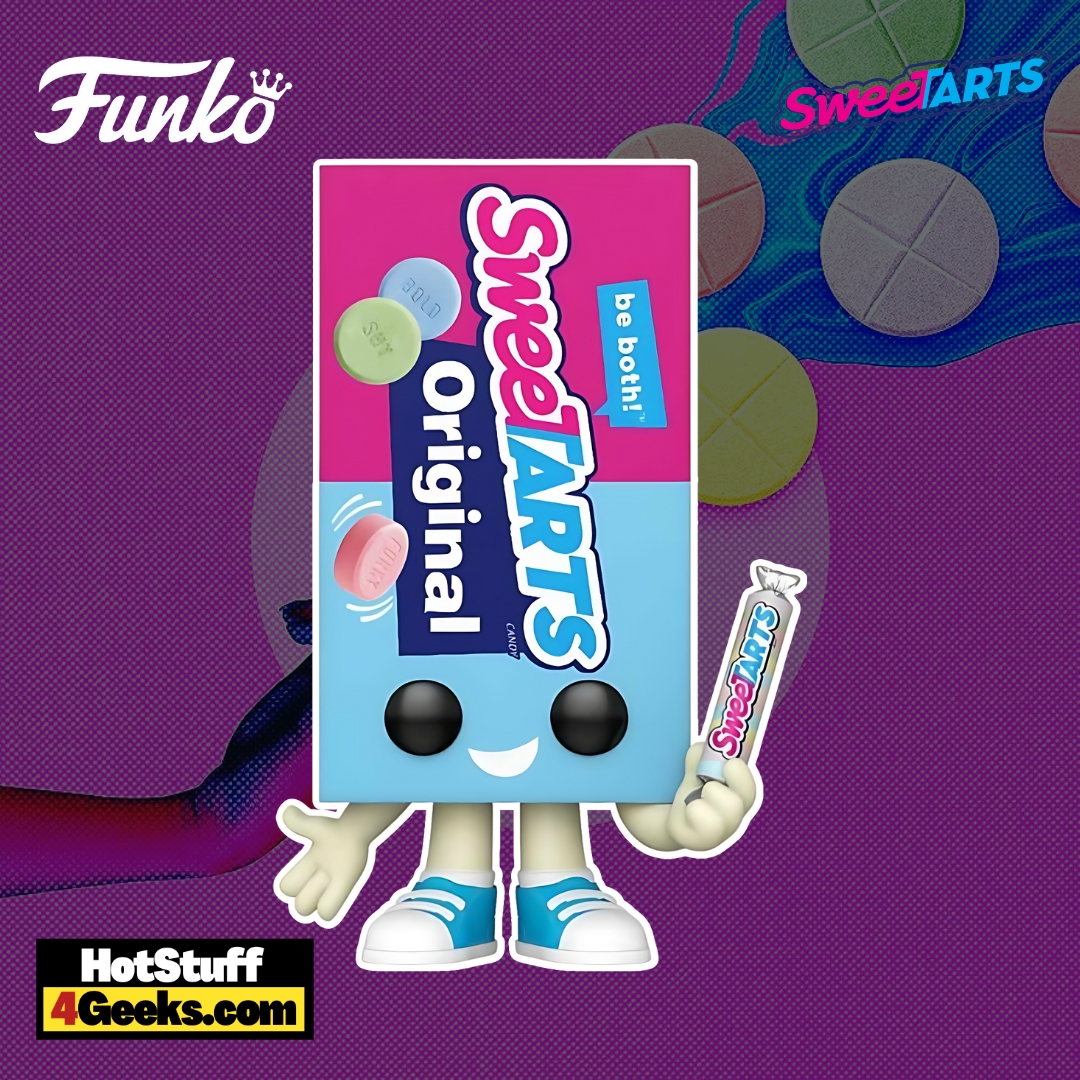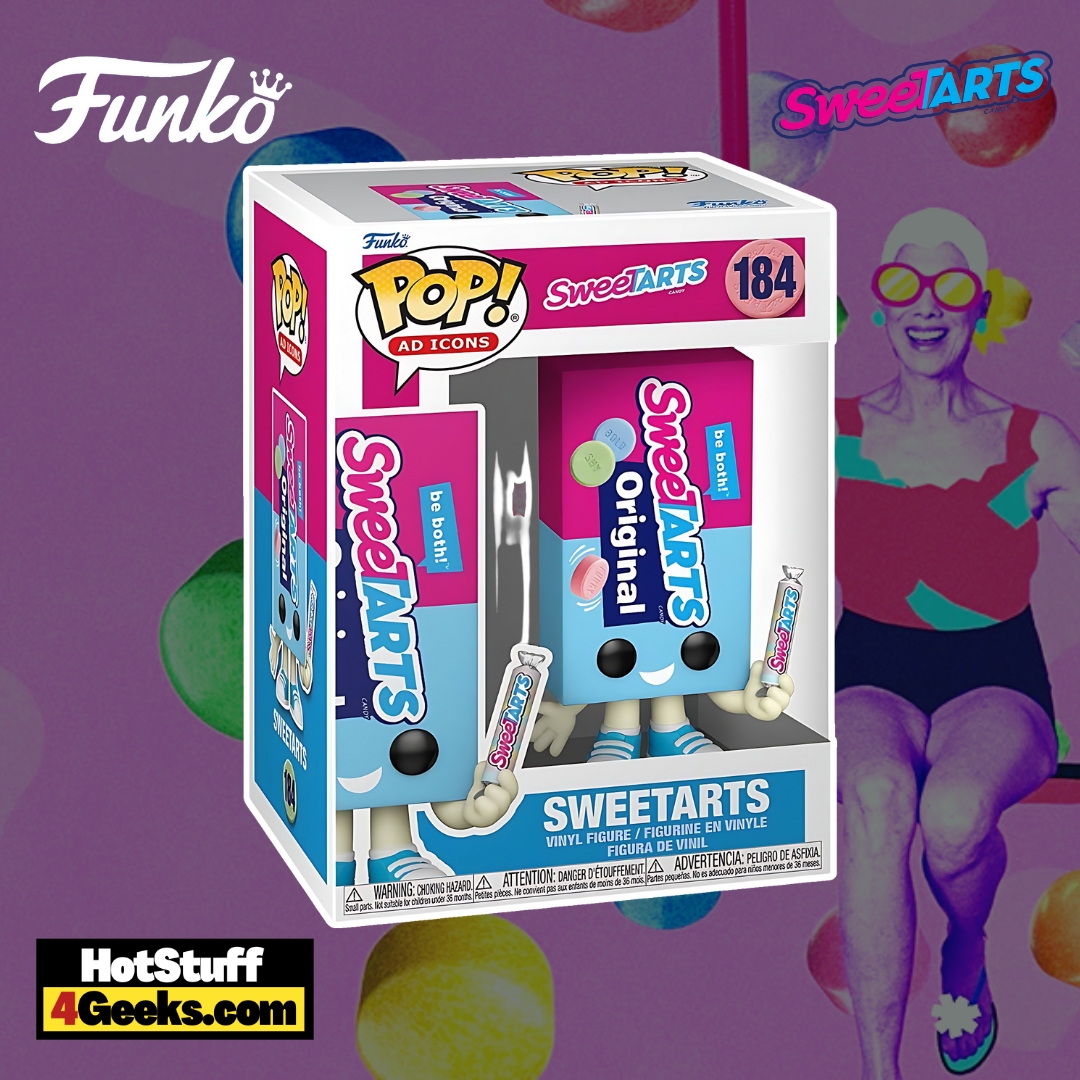 The Metamorphosis of SweeTARTS: A Candy for the Modern Age
In the grand landscape of confectionery delights, SweeTARTS has been delighting palates since the early '60s.
Originating as a single chalky (yet strangely addictive) variant, the brand has metamorphosed into a sprawling line with a diverse array of flavors and textures.
A glance at their product list today unveils a tempting selection, classified broadly into three categories: ropes, chewy, and the classics we all adored as children.
The Classic SweeTARTS embody that iconic blend of sweet and tangy.
Perfectly round and frequently encased in either a tube or a box, they've been a nostalgic mainstay for many.
Meanwhile, their ropes variant has taken the world by storm.
Combining the softness of licorice ropes with an unexpected burst of sour filling, it's no wonder these new creations have become favorites among candy lovers.
Then, of course, you have the chewy ones, enveloped in a candy shell, offering a texture somewhere between the original and gummy.
Still not convinced? Let's sprinkle some Hollywood glamour on it.
Not too long ago, SweeTARTS decided to collaborate with Warner Bros. for an exceptional tie-in with the 2020 Wonder Woman 1984 film.
The resulting tropical punch-flavored ropes were nothing short of an homage to the iconic Lasso of Truth.
It wasn't just a random match; the brand consciously aligned its duality theme—of being both sweet and tart, soft and chewy—with the multifaceted personality of Wonder Woman herself.
To complete the experience, a limited-edition golden ropes holder came into existence, serving as a candy dispenser and a collectible item for superheroine fans.
But the wonder of SweeTARTS doesn't stop there.
Embracing a forward-thinking mindset, the brand has also embarked on journeys into social inclusion and diverse representation.
This commitment manifests in their "Be Both" tagline and alliances with public figures such as designer Christian Siriano.
It's an endorsement of the ever-changing, multifaceted identities we see in society today, proving the brand is willing to evolve along with its consumer base.
Moreover, they're not above soliciting input from candy enthusiasts. Consider the contest they held in 2018 to select a new shape for their gummy variant.
With thousands of entries pouring in, it became evident that SweeTARTS wasn't just a brand; it was a community, a dialogue between manufacturer and consumer.
Ultimately, the chosen shape was a cellphone, and the fan responsible was rewarded with a year's supply of the tasty gummies.
There's an understated brilliance to SweeTARTS' marketing and product strategies.
From reinventing flavors and textures to fostering social inclusivity, this iconic candy brand has shown us that evolving and staying true to one's roots aren't mutually exclusive.
Indeed, in a fast-paced world where brands rise and fall with the tides of public opinion, SweeTARTS seems to have hit the sweet spot. And they show no signs of stopping.
As an Amazon Associate I earn from qualifying purchases
Funko Pop! Ad Icons: SweeTarts Funko Pop! Vinyl Figure
Available at:
Want more stuff like this?
Get the best viral stories straight into your inbox!
Don't worry, we don't spam
PopCorn Princess
Hey there, I'm Princess. I'm an annual comic con attendee, Star Wars-loving, and collector freak. My mission is simple: To bring cool geeky news and content and share my passion with the rest of the world. (... I secretly wish to save the world as a superheroine...)