2023 NEW Tanjiro & Nezuko vs. Temple Demon Funko Pop! Moment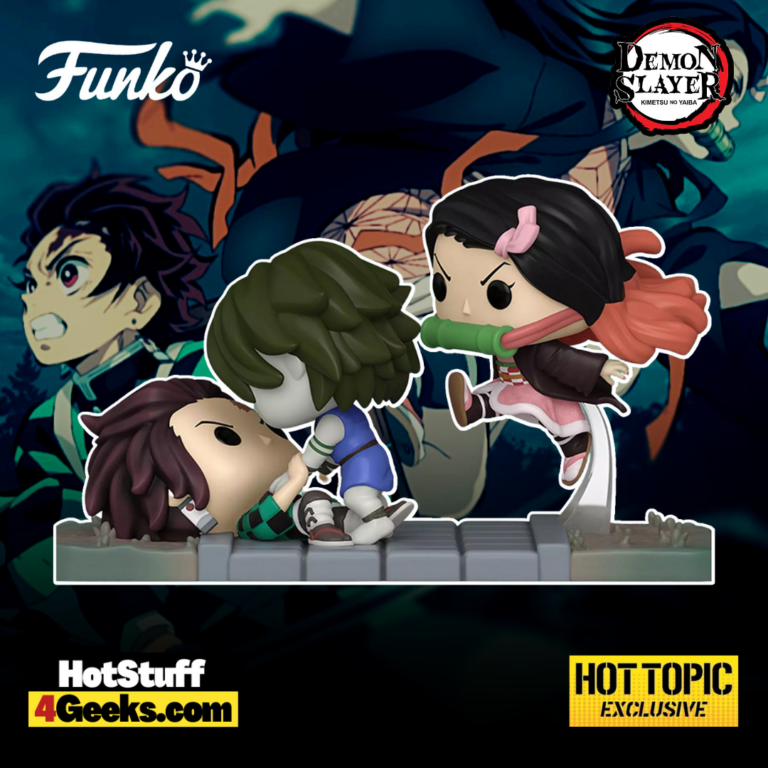 Are you ready to capture one of the anime's most adrenaline-fueled moments on your shelf? Get set for the new Funko Pop! Demon Slayer: Tanjiro & Nezuko vs. Temple Demon Funko Pop! Moment Vinyl Figure – Hot Topic Exclusive, immortalizing an iconic scene from the series.
The Pop! Moment is now available for pre-order. To get your hands on this Pop Figure, be sure to check out the links I've provided below – click to jump or scroll to continue reading!
This special Funko Pop is a vivid snapshot of the sibling duo's brave battle against the Temple Demon at Mount Sagiri.
The miniature set encapsulates the drama and action, showcasing Nezuko's unexpected strength and Tanjiro's unwavering determination. An absolute game-changer!
Tanjiro, armed with his hatchet and his unyielding spirit, is ready to tackle any challenge.
Nezuko, in her protective stance, is poised to spring into action. And the gruesome Temple Demon? His menacing aura adds a dash of thrill to your collection.
This Funko Pop! Moment Vinyl Figure is not just a collectible; it's a tribute to the siblings' courage, resilience, and unwavering bond.
Perfect for any die-hard Demon Slayer fan, it'll remind you of the breathtaking journey of Tanjiro and Nezuko, one heart-stopping battle at a time.
Add this exclusive piece to your collection and relive the electrifying encounter whenever you please!
The Hot Topic Exclusive Tanjiro & Nezuko vs. Temple Demon Funko Pop! Moment is now available for pre-order and can be found for pre-order at the links below (click to jump!)
Let's take a stroll down memory lane to one of Demon Slayer's most gripping moments.
Remember the chilling encounter of our heroes, Tanjiro and Nezuko Kamado, with the menacing Temple Demon?
Journeying through the mystic Mount Sagiri, our resilient siblings stumbled upon a quaint temple.
But the sinister scent of blood hanging in the air foretold an imminent showdown. Little did they know, a monstrous ordeal awaited them inside.
Talk about a cliffhanger!
The Temple Demon, in all its grotesque glory, was no pushover.
Tanjiro's initial hatchet attack seemed almost futile against this demonic behemoth.
His swift and brutal healing ability shook us to the core, reminding us of the harrowing world of demons Tanjiro was yet to conquer.
But let's give a standing ovation to Nezuko!
She jumped into action like the protective sister she is, despite her struggle with her demonic nature.
Can we take a moment to appreciate her landing a clean, powerful kick, separating the demon's head from his body? An absolute shocker!
The battle, however, was far from over.
With the demon's head and body attacking independently, our protagonists were cornered. Yet, they were undeterred.
The thrilling dance of life and death that unfolded was a testament to their unyielding spirit. Nezuko's heroic rescue of Tanjiro and his inventive strategy of tackling the body off the cliff kept us on the edge of our seats.
This gritty showdown is a testament to the Kamado siblings' courage, resourcefulness, and the unbreakable bond they share.
From Tanjiro's initial hesitation to kill, to the demon's final moments under the rising sun, this encounter unveiled the complex and compelling world of Demon Slayer in all its raw, unforgiving beauty.
Check out more Demon Slayer Funko Pops HERE: Wave 2, Wave 3.
Starting now, you can receive 10% off in-stock items with my special link at Entertainment Earth!
 Enjoy!
As an Amazon Associate I earn from qualifying purchases
Want more stuff like this?
Get the best viral stories straight into your inbox!
Don't worry, we don't spam