2023 NEW Ted Lasso – Coach Beard Funko Pop! EE Exclusive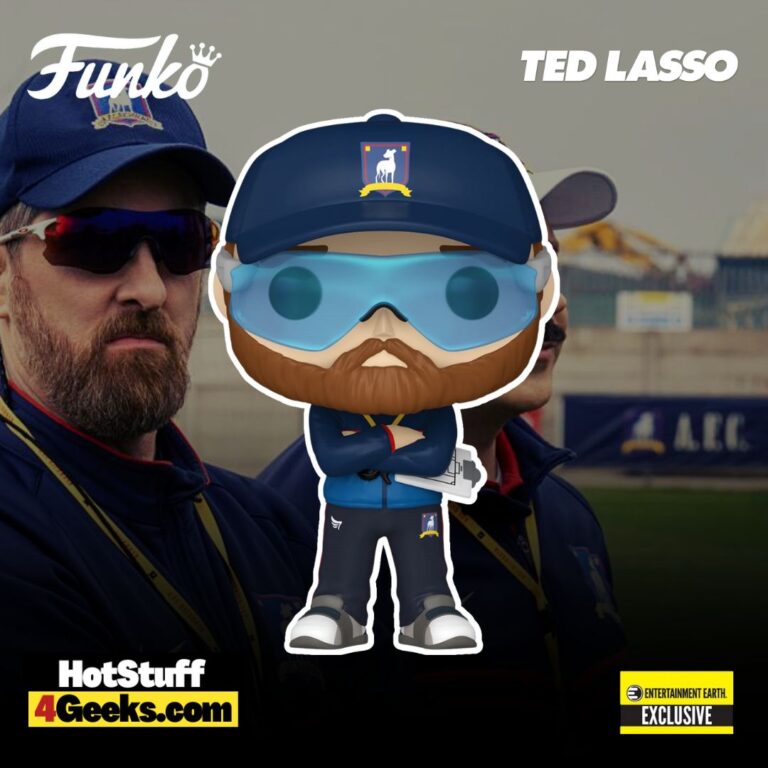 Picture this: the iconic Coach Beard from Apple TV+'s smash hit, "Ted Lasso," encapsulated in a miniature form that radiates an irresistible charm. That's precisely what the Entertainment Earth Exclusive, Funko Pop! Television: Ted Lasso – Coach Beard Vinyl Figure #1358 is all about. This neat little collectible, while compact, splendidly captures the essence of our beloved coach with astounding precision.
To get your hands on this Pop Vinyl Figure, be sure to check out the links I've provided below – click to jump or scroll to continue reading!
For true "Ted Lasso" fans, this Funko Pop! isn't just another collectible; it's a vibrant piece of the heartwarming world the show has woven.
Every detail on this figure, from Beard's signature tracksuit to his contemplative expression, is a charming homage to the character's peculiarities.
Whether you're marveling at his tiny clipboard or chuckling at the perfectly recreated facial hair, this Funko Pop! ensures Coach Beard's earnest, complex persona reverberates from every corner of your shelf.
This isn't just about owning a piece of merchandise; it's about embracing a tangible connection to the "Ted Lasso" universe and the uniquely charming character that is Coach Beard.
The Entertainment Earth Exclusive Coach Beard Funko Pop! is now available for pre-order at the links below (click to jump!). It's expected to be released in August 2023.
In the wonderfully quirky and uplifting world of Apple TV+'s hit series "Ted Lasso," every character boasts an endearing depth, making the show so much more than a typical comedy-drama.
Coach Beard, the enigmatic sidekick to our beloved Ted Lasso, is no exception. In the latest season, the viewers were treated to a riveting revelation about this understated character's past, and boy, was it darker than we ever anticipated!
Season 3 took us on an unexpected detour from the jovial football fields of AFC Richmond to the hidden corners of Coach Beard's past, painting a remarkably poignant picture of the resilient man behind the witty one-liners and strategic genius.
Coach Beard's backstory isn't just a narrative twist; it's a profound study of redemption and the power of unyielding friendship.
Our usually cheerful coach opens up about a grim past that involved crime, drugs, and incarceration.
Yet, amidst this tumult, a beacon of hope emerged in the form of Ted Lasso, his college teammate and now a close friend.
In his unmatched benevolence, Ted offered Beard support during his darkest hours and a lifeline toward a fresh start.
This heart-rending revelation also offered insight into Beard's decision to extend a second chance to Nate.
It wasn't merely a gesture but a homage to the compassion he'd been shown years ago.
By doing so, Beard epitomized the spirit of learning from the past, growing, and paying it forward.
"Ted Lasso" has always celebrated redemption and forgiveness, but Coach Beard's tale underscores the importance of these themes. It's a testament to the transformative power of kindness and second chances.
This added layer of complexity to Beard's character not only enhances the narrative depth but also strengthens the bond we, the audience, share with him.
Here's to Coach Beard – the heart, the hero, the beacon of redemption on Ted Lasso's spirited football pitch.
Funko Pop! Television: Ted Lasso – Coach Beard Funko Pop! Vinyl Figure #1358 – Entertainment Earth Exclusive
Available at:
Starting now, you can receive 10% off in-stock items with my special link at Entertainment Earth!
 Enjoy!
As an Amazon Associate I earn from qualifying purchases
Want more stuff like this?
Get the best viral stories straight into your inbox!
Don't worry, we don't spam