2023 NEW Ted Lasso: Roy Kent Funko Pop! WB Shop's Exclusive
Roy Kent, the man with a tough exterior yet a heart of gold, is right there on your desk or bookshelf! Who wouldn't love that? Thanks to the genius at Funko Pop! this is now a reality with their new Funko Pop! Television – Ted Lasso: Roy Kent Funko Pop! Vinyl Figure – WB Shop's Exclusive.
The pop figure is now available for order at the links below – click to jump or scroll to continue reading!
Picture this: our favorite gruff, charming, foul-mouthed former footballer, Roy Kent, immortalized in your own personal collection!
WB Shop is releasing an exclusive, limited-edition Roy Kent Funko POP! TV figure that's got all of Roy's intensity and authenticity packed into a charming display figure.
In his Season 2 coach's uniform, it's Roy as we came to love him anew – less of the player, more of the mentor.
But it's not just about the Funko POP! It's about Roy.
It's about the passion, the sarcasm, and the sometimes less-than-gentle teaching methods. This figure serves as a tangible reminder of his evolution and the unexpected turns that made us root for him even more.
If you want to take your admiration for Roy a step further, you might want to check out the Roy Kent bundle.
The two-tone mug is perfect for those early morning grumbles, and the stickers add a hint of Roy's unique charm to your everyday items.
Don't delay. These treasures fly off the shelves faster than a well-aimed Roy Kent headbutt!
The WB Shop's Exclusive Roy Kent Funko Pop! from Ted Lasso Sow can be found at the links below at its release (click to jump!)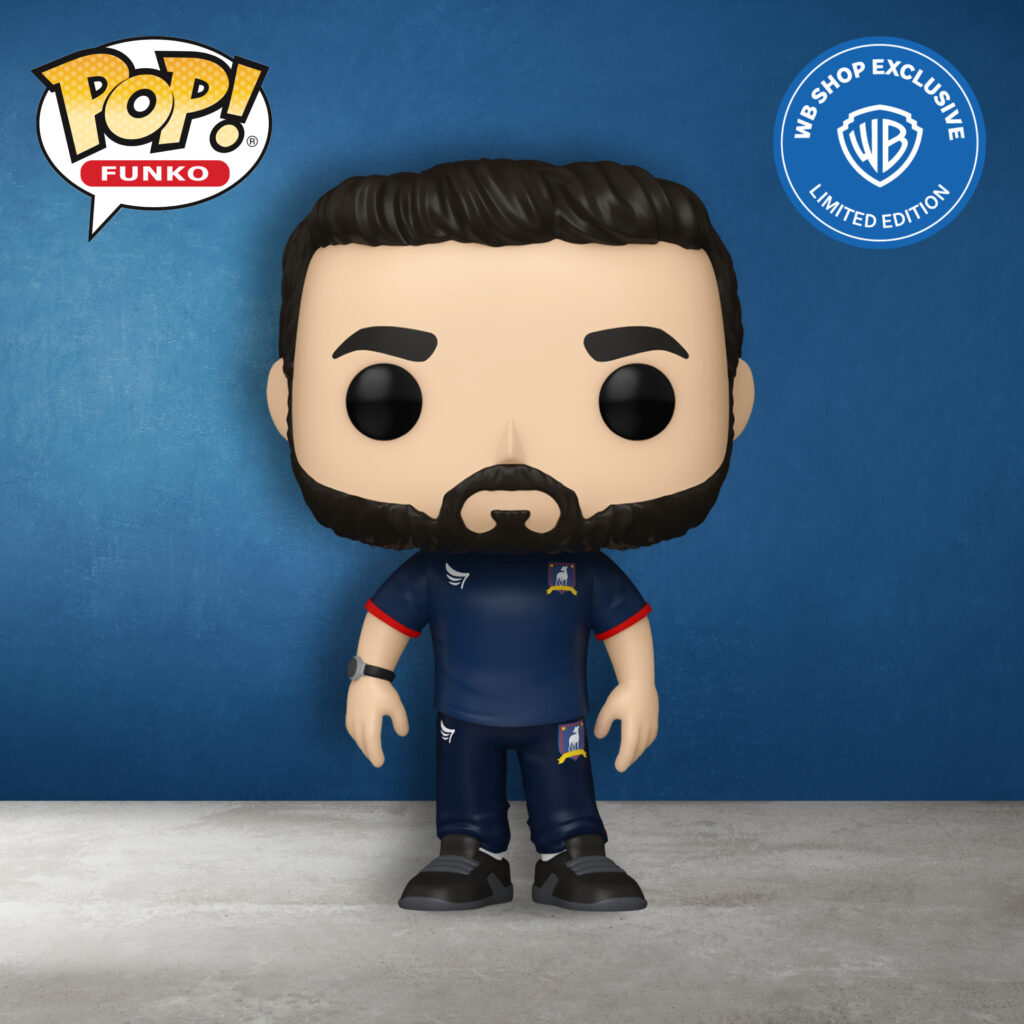 There's something truly captivating about Brett Goldstein's portrayal of Roy Kent on the acclaimed series "Ted Lasso."
You might think of him as a bit of a paradox – a gruff exterior hiding a heart capable of surprising warmth.
Roy's rough charm is impossible to resist; his amusing outbursts and poignant moments of vulnerability are pure gold in a character.
What sets Roy Kent apart, however, is more than just his penchant for F-bombs or his willingness to deliver a well-timed headbutt.
It's in the way he engages with his football squad and the subtle change in demeanor when he's around those he genuinely cares about.
You begin to see a far more complex man than a stereotypical footballer.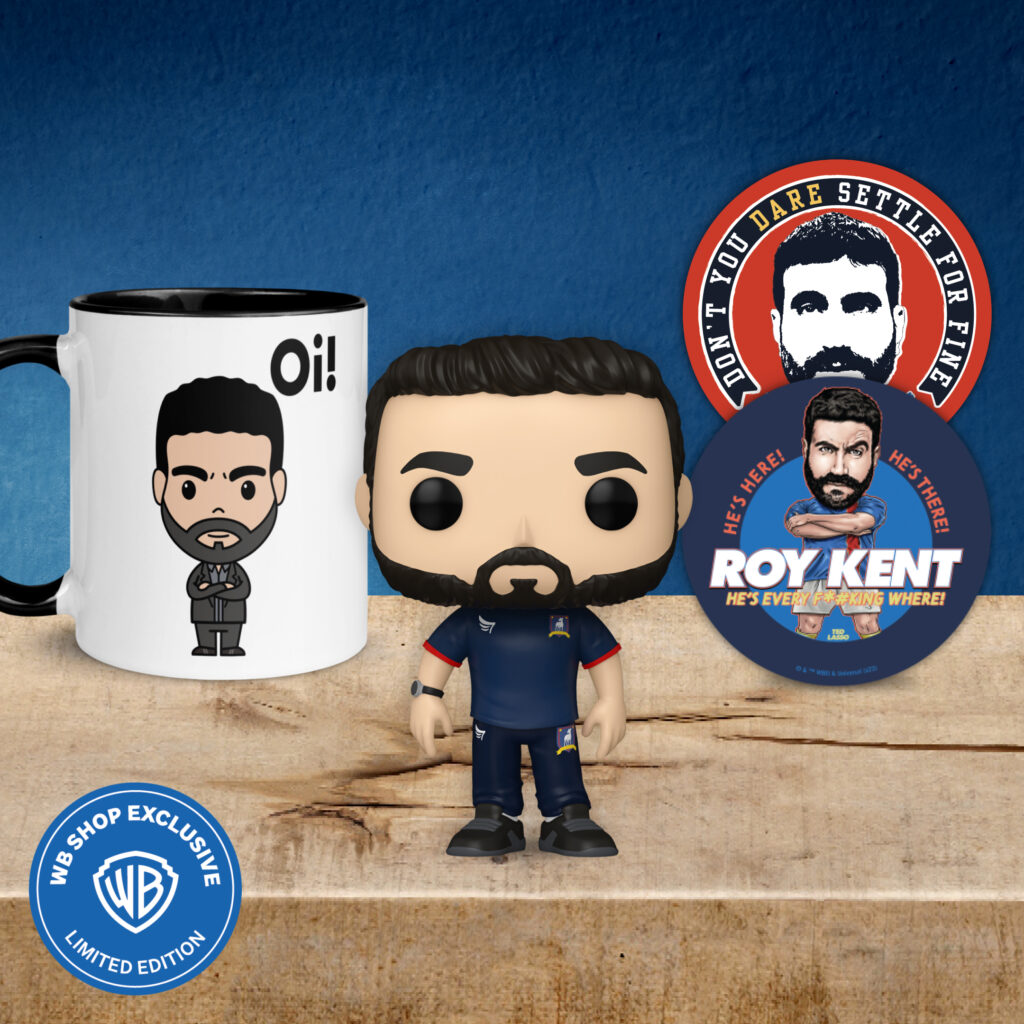 His journey in the series's second season is compelling, to say the least. It sees Roy stepping out of his comfort zone, moving from the field to a television studio, and grappling with the decision of where his heart truly belongs.
In an unforgettable moment from Season 2, Episode 5, Roy, driven by a realization that he misses the game, dramatically quits his pundit role.
There's raw, genuine emotion in his actions, an urgency that sends him back to the place that feels like home: A.F.C. Richmond.
This scene is a testament not just to his passion for the sport but also to his innate leadership.
This moment symbolizes Roy Kent's authentic essence – a man shaped by football, driven by passion, and not quite ready to hang up his proverbial boots.
It's a character arc that leaves us in awe and serves as a beautiful reminder that we can always follow our hearts, no matter where they lead us.
The new  Roy Kent Funko POP! is a perfect tribute to an extraordinary character who teaches us about resilience, passion, and following our hearts.
This quirky collectible is a daily reminder of those moments that make Roy Kent, well, Roy Kent! It's a small slice of television magic that keeps the show's spirit alive.
Check more Ted Lasso Funko Pops! HERE.
Starting now, you can receive 10% off in-stock items with my special link at Entertainment Earth!
 Enjoy!
As an Amazon Associate I earn from qualifying purchases
Want more stuff like this?
Get the best viral stories straight into your inbox!
Don't worry, we don't spam