2023 NEW That's So Raven – Raven Baxter Funko Pop!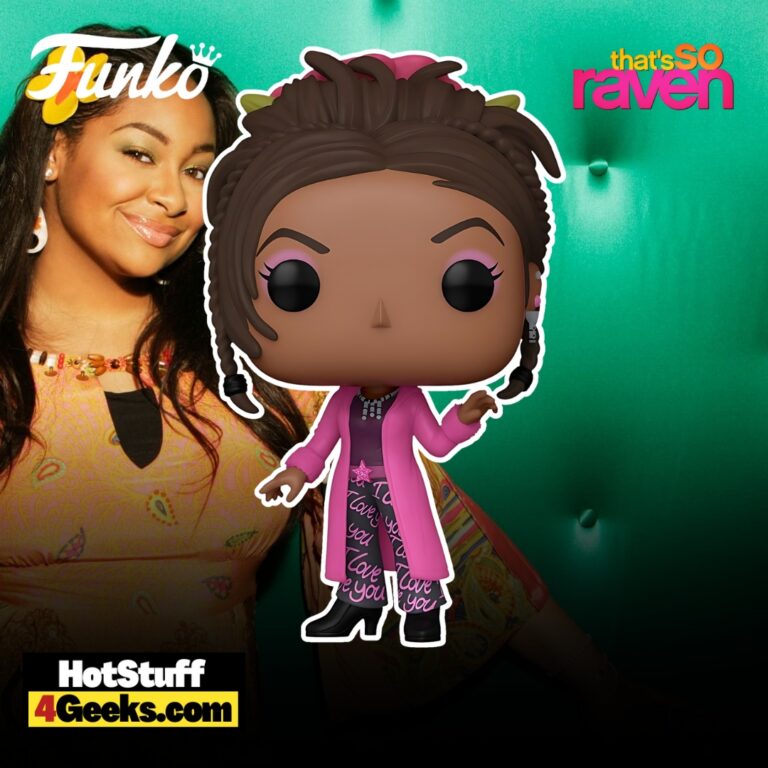 Fans of "That's So Raven" will be thrilled to hear about the release of the new Funko Pop! Disney 100th Anniversary:  That's So Raven – Raven Baxter Funko Pop! Vinyl Figure. This collectible figure captures the heart and soul of our beloved teen psychic, reimagined in Funko's signature playful style. Dressed in a striking pink ensemble, this figurine is as distinctive as Raven herself.
To get your hands on this Pop Vinyl Figure at its release, be sure to check out the links I've provided below – click to jump or scroll to continue reading!
Raven Baxter's Funko Pop! Debut: A Splash of Color and Nostalgia
Get ready to take a trip down memory lane as we celebrate the arrival of the all-new Raven Baxter Funko Pop! Television Vinyl Figure.
Echoing the flamboyant style of our favorite Disney psychic, Raven, the Funko Pop! figure is adorned in her signature vibrant pink long coat and "I Love You" patterned pants that fans will remember fondly.
But it doesn't stop there! True to Raven's eclectic fashion sense, the figure sports a belt with a striking star buckle, adding a dash of whimsy to this beloved character.
The attention to detail is simply uncanny, reflecting the show's unique charm and the vibrancy of Raven's personality.
Holding this Funko Pop! figure, one can't help but be transported back to the laughter-filled days of "That's So Raven."
A perfect tribute to the trailblazing character, the Raven Baxter Funko Pop! is here to add a spark of nostalgia to your collection.
It's not just a figure. It's a piece of television history in the palm of your hand.
Raven Baxter Funko Pop! (Disney's 100 Years of Wonder) can be found for purchase at the links below (click to jump!)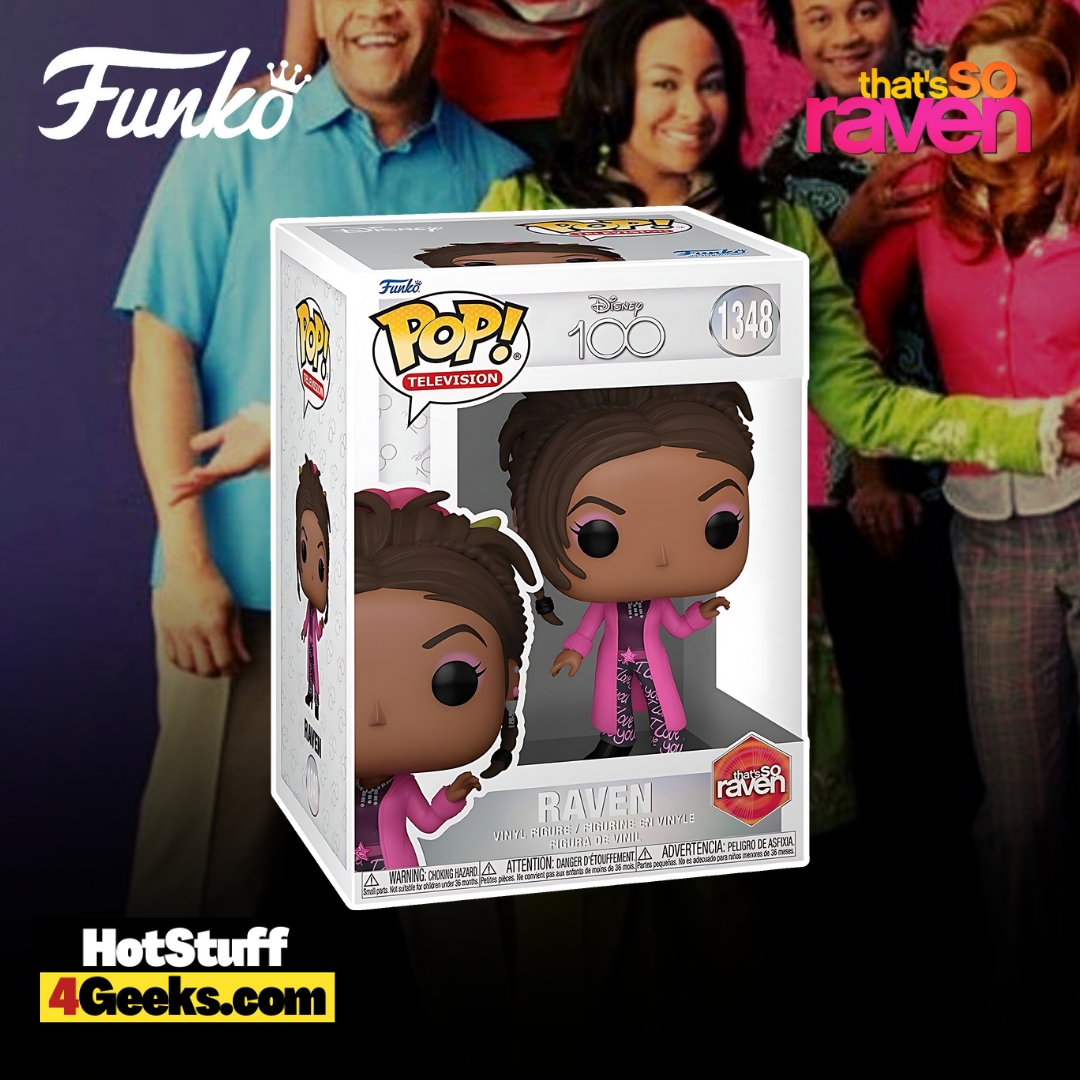 Unveiling the Magic Behind "That's So Raven": A Walk Down the Memory Lane
Ah, the golden era of Disney Channel, home to many iconic shows that became the bedrock of countless childhood memories.
Amid the myriad of sitcoms, one particular show captured hearts like no other – "That's So Raven."
Let's journey back in time to those simpler days and reminisce about a show that broke boundaries, tickled our funny bones, and left a lasting legacy.
Unraveling the narrative of "That's So Raven," we find ourselves following the eccentric yet endearing journey of the teenage psychic, Raven Baxter.
Played by the extraordinarily gifted Raven-Symoné, the sitcom unveiled the comic chaos ensuing from Raven's misinterpreted visions, always leaving us in fits of laughter.
With her closest pals, Chelsea and Eddie, by her side, every episode was a unique blend of mischief and camaraderie, a testament to the power of friendship.
A showrunner's dream, "That's So Raven," reaped high ratings and critical acclaim, extending its run beyond the network's standard three seasons to an impressive four.
Beyond its numerical success, the series stood out for its pioneering casting decisions, featuring Disney's first-ever African American female lead.
The charm and charisma of the youthful Raven-Symoné transformed the landscape of children's television, shattering ceilings in the industry.
The sitcom didn't shy away from the realities of life either. Amid the fun and laughter, there were moments of unexpected emotional weight.
The shocking exit of T'Keyah Crystal Keymáh, who played Raven's mother, was one such moment.
The narrative attributed her departure to Tanya's pursuit of higher education in England, while in reality, Keymáh had chosen to care for her ailing grandmother.
This poignant blend of real-life struggles with on-screen stories was a testament to the show's maturity.
The show's final season brought with it a bittersweet transition.
Raven-Symoné, at the tender age of 19, took on the producer's hat, contributing to decisions about scripts and casting.
But as the lead trio aged out of their teenage roles and began to venture into adulthood, it was clear the end was on the horizon.
The show's high school charm began to fade, and with a heavy heart, the curtain was finally drawn.
Despite its end, "That's So Raven" left behind an enduring legacy.
The show ventured into uncharted territories by addressing socially relevant issues like racism, societal pressure, and eating disorders, packing a punch of reality into its otherwise light-hearted narrative.
In the larger picture, it pushed the envelope for what children's television could and should be.
That's So Raven's journey didn't end with the final curtain call.
It continued to echo through the halls of Disney Channel, inspiring the spin-off series "Cory in the House" and later, "Raven's Home," allowing new generations to experience the charm and hilarity that we once did.
In retrospect, "That's So Raven" wasn't just a show.
It was an era of transformation, a platform for breaking barriers, and a beacon of joy for its viewers.
So, here's to the magic of "That's So Raven," a show that continues to live on in the hearts of its fans, its legacy embedded in the very fabric of Disney's history.
Starting now, you can receive 10% off in-stock items with my special link at Entertainment Earth!
 Enjoy!
As an Amazon Associate I earn from qualifying purchases
Want more stuff like this?
Get the best viral stories straight into your inbox!
Don't worry, we don't spam