2023 NEW The Amazing Spider-Man #300 Funko Pop! Comic Cover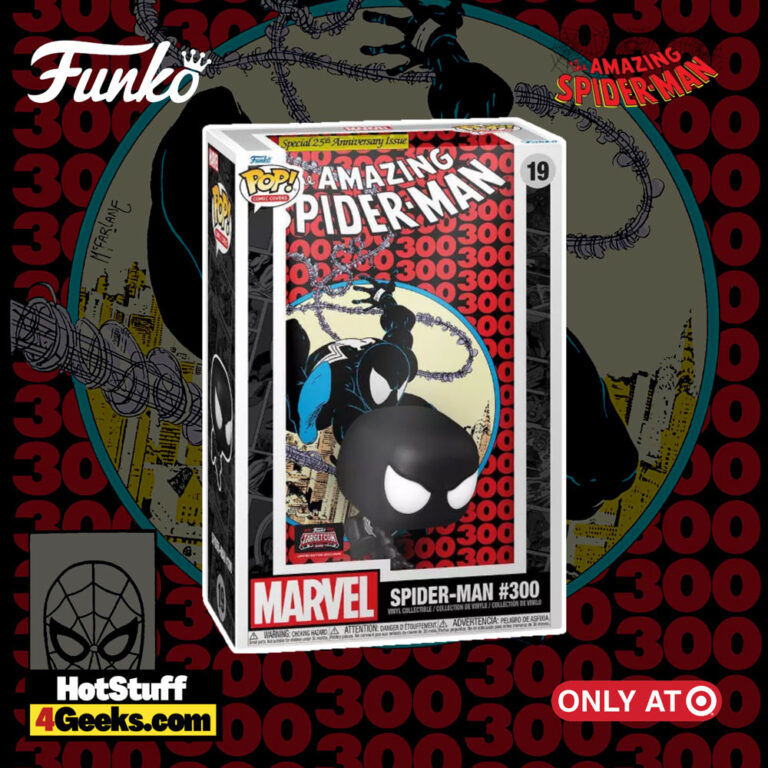 Funko POP! Comic Covers: The Amazing Spider-Man #300 Funko Pop! Comic Cover Vinyl Figure – Target-Con 2023 exclusive
The pop figure is releasing today at 2.30 AM CST at the links below – click to jump or scroll to continue reading!
The Amazing Spider-Man #300 Funko Pop! Comic Cover is a timeless collector's item due to its tremendous cultural, historical, and artistic significance.
The comic, released in May 1988, this iconic comic book issue featured the first full appearance of Venom.
Since then, this storyline has had an enormous impact on Marvel's entire universe and has been described as one of the most influential moments within Spider-Man's story arc.
This Pop! cover immortalizes Todd McFarlane's penciling artwork, renowned for its sense of movement and dynamic composition.
Longtime fans, hobbyists, and new collectors would be wise to seek out this unique limited edition cover Pop! – a true marvel!
The Target-Con 2023 exclusive The Amazing Spider-Man #300 Funko Pop! Comic Cover can be found at the links below (click to jump!)
The Amazing Spider-Man Vol. 1, Issue #300, is a pivotal moment in the history of one of Marvel Comics' most beloved superheroes, Spider-Man.
Released back in May 1988, it is legendary for introducing one of the most notorious villains in Spider-Man's rogue gallery – Venom!
Venom's introduction was a game-changer for Spider-Man comics.
He is the alter-ego of Eddie Brock, a journalist who becomes bonded with an alien symbiote.
This creates an unstoppable villain with all of Spider-Man's powers and a burning hatred for our friendly neighborhood hero.
It's safe to say that Venom has become a fan favorite, appearing in movies, TV shows, and video games to this day.
The creative team behind this epic issue was a match made in heaven.
David Michelinie wrote the story, and the one and only Todd McFarlane illustrated the art.
McFarlane's dynamic and highly detailed style gave Spider-Man comics a new energy level, and his rendition of Venom is nothing short of spectacular!
The story itself is packed with action, drama, and a dash of romance.
Spider-Man has to fight off a gang of robbers, all while dealing with his feelings for his ex-girlfriend Mary Jane Watson.
And let's not forget the cliffhanger ending where Venom finally reveals his true identity to Spider-Man!
Starting now, you can receive 10% off in-stock items with my special link at Entertainment Earth!
 Enjoy!
As an Amazon Associate I earn from qualifying purchases
Want more stuff like this?
Get the best viral stories straight into your inbox!
Don't worry, we don't spam