2023 NEW The Boys: Soldier Boy Glow Funko Pop! Exclusive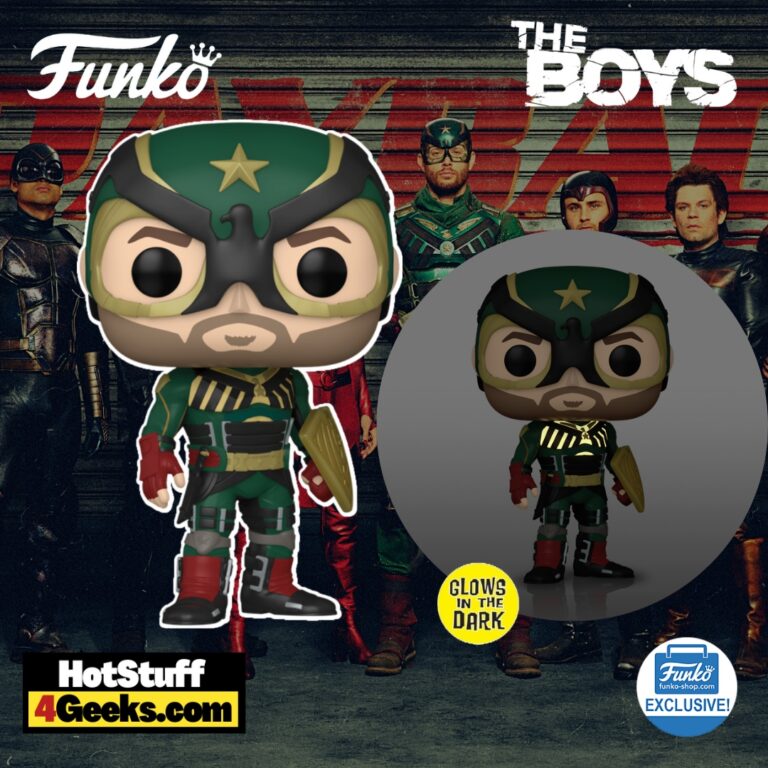 Exciting news for all "The Boys" fans out there – the release of a new Funko Pop! Television: The Boys – Soldier Boy Glow-In-the-Dark (GITD) Funko Pop! Vinyl Figure – Funko Shop Exclusive is on the horizon. An irresistible addition to any collector's treasure trove, this unique piece pays homage to the enigmatic character who continually keeps us guessing.
To get your hands on this Pop Vinyl Figure at its release, be sure to check out the links I've provided below – click to jump or scroll to continue reading!
A Beacon in the Dark: Soldier Boy GITD Funko Pop Exclusive
This glow-in-the-dark Soldier Boy figurine represents a compelling dichotomy that defines the essence of his character: A hero, a villain, or perhaps something caught in the realm in between.
It's precisely this depth of character that the GITD Funko Pop! encapsulates.
As the lights go out, it glows a tangible reminder of the hero's undying spirit, persistent even in the harshest darkness.
Remember, Soldier Boy stands against the veneer of faux-heroism propagated by the Vought International corporation.
So, the arrival of this vinyl figure isn't just about another addition to your collection.
It's a symbol of resistance, an emblem of authenticity amid a world riddled with deception.
Sure, you can't single-handedly combat corporate corruption or keep unchecked superpowers in line, but with this GITD Funko Pop! on your shelf, you're making a statement.
You're championing the real, the genuine, and the brave – just like Soldier Boy himself.
Whether you're an avid collector or a newcomer, this exclusive Funko Pop! Figure is an invitation to celebrate Soldier Boy in all his complexity.
Light up your collection with this symbol of unwavering heroism.
The Funko Shop Exclusive Soldier Boy Glow Funko Pop! from The Boys TV Series can be found at the links below (click to jump!)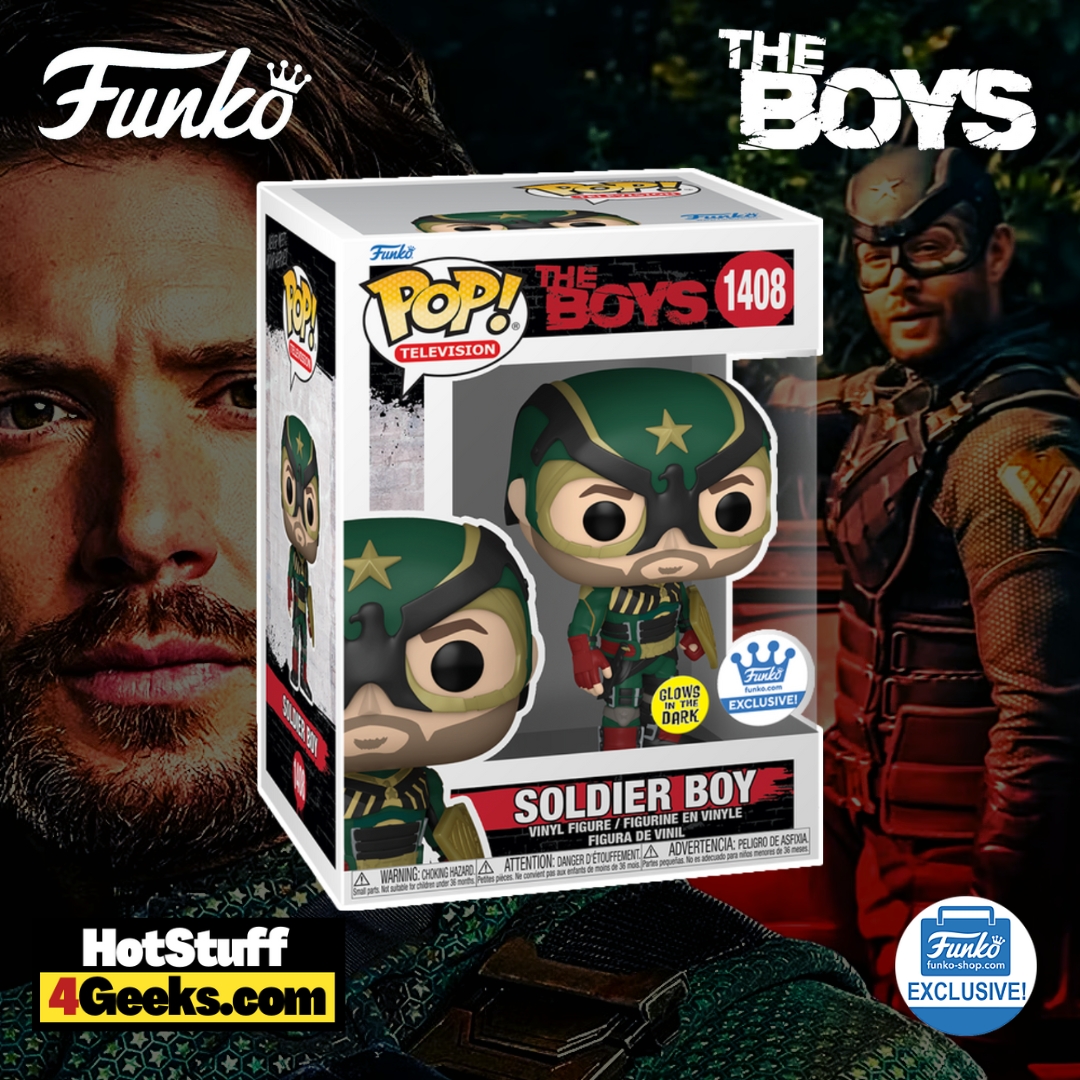 Soldier Boy: A Beacon of Valor, Then and Now
Bearing the emblem of an era far removed from our own, Soldier Boy embodies a tapestry of antiquity, and modernity blended together with threads of valiant valor.
Remember, this is not a tall tale spun from the yarn of nostalgic comic book enthusiasts – it's the story of a true icon, one that wields a circular shield and a piercing gaze, a figure at once historical and contemporary.
Born out of the quintessential era of American comic books, Soldier Boy roared into life in the '40s, a period when patriotism and heroism weren't just buzzwords but ingrained into the very soul of society.
His story brims with facets of the real world, reflecting our shared history.
Like Captain America, he served as a hero on the home front and abroad, symbolizing the courage and sacrifice of those who stood up against the tides of oppression.
From World War II's violent maelstrom, his character emerged as a beacon of hope, a champion of justice that resonated with millions.
With his innate courage and an unwavering sense of duty, Soldier Boy quickly earned a spot among the revered ranks of comic superheroes.
His presence echoed through the pages of comic books, whispering tales of audacity, sacrifice, and nobility.
While many of his contemporaries faded into the annals of comic book history, Soldier Boy steadfastly remained, his character becoming a tangible thread woven through the fabric of comic book culture.
Decades later, Soldier Boy found a new lease of life in "The Boys," a gritty and provocative series.
In this incarnation, Soldier Boy is not just a symbol of patriotism but a living testament to the complexities of heroism in the modern world.
The irony of a character born out of an age of innocence navigating the murky waters of our morally ambiguous world is not lost on the viewers, and his portrayal offers a powerful commentary on the nature of heroism itself.
His character represents a bridge between two eras, a link that brings together the simplicity of yesteryears with the perplexities of today.
It's a testament to Soldier Boy's enduring appeal that he's still relevant in a world where heroes often come cloaked in layers of grey.
Whether it's the wide-eyed optimism of the '40s or the hard-edged realism of today, Soldier Boy remains a steadfast figure, a symbol of our collective desire for justice and a better world.
Unmasking Soldier Boy isn't just a journey through the history of comic books but a deep dive into the evolution of our societal values and the concept of heroism.
The tale of Soldier Boy serves as a mirror reflecting the trials, tribulations, and triumphs of the eras he has traversed, reminding us that even in our complex world, there's always room for heroes who embody timeless values.
Funko Pop! Television: The Boys – Soldier Boy Glow-In-the-Dark (GITD) Funko Pop! Vinyl Figure – Funko Shop Exclusive
Available at:
Starting now, you can receive 10% off in-stock items with my special link at Entertainment Earth!
 Enjoy!
As an Amazon Associate I earn from qualifying purchases
Want more stuff like this?
Get the best viral stories straight into your inbox!
Don't worry, we don't spam