2023 NEW The Crow: Eric Draven on Tombstone Funko Pop! Excl.
If you're a fan of the classic gothic drama The Crow, you'll be excited to hear about the new Funko Pop! The Crow: Eric Draven on Tombstone Funko Pop! Vinyl Figure – Funko Shop Exclusive. This collectible masterfully captures the essence of the enigmatic Eric Draven, embodied by Brandon Lee, rising from the tombstone, ready to embark on his mission of vengeance.
Eric Draven Pop! is releasing today at 9.30 AM PT! To get your hands on this Vinyl Figure, be sure to check out the links I've provided below – click to jump or scroll to continue reading!
With the typical Funko charm, this vinyl figure manifests Draven's melancholic yet fierce persona.
Clad in his signature attire, his face painted white with dark accents, it perfectly encapsulates the haunting presence he carries throughout the film.
But there's more—the sorrowful gaze and the slight tilt of his head bring depth to this figure, echoing the complex emotions of our antihero.
This exclusive Funko Pop! figure is a beautiful tribute to the tragic hero, celebrating the elements of love, loss, and vengeance that define Eric Draven.
It's a must-have piece for any fans of The Crow, a reminder of the timeless allure of this brooding gothic icon.
The Funko Shop Exclusive Eric Draven on Tombstone Funko Pop! can be found at the links below (click to jump!)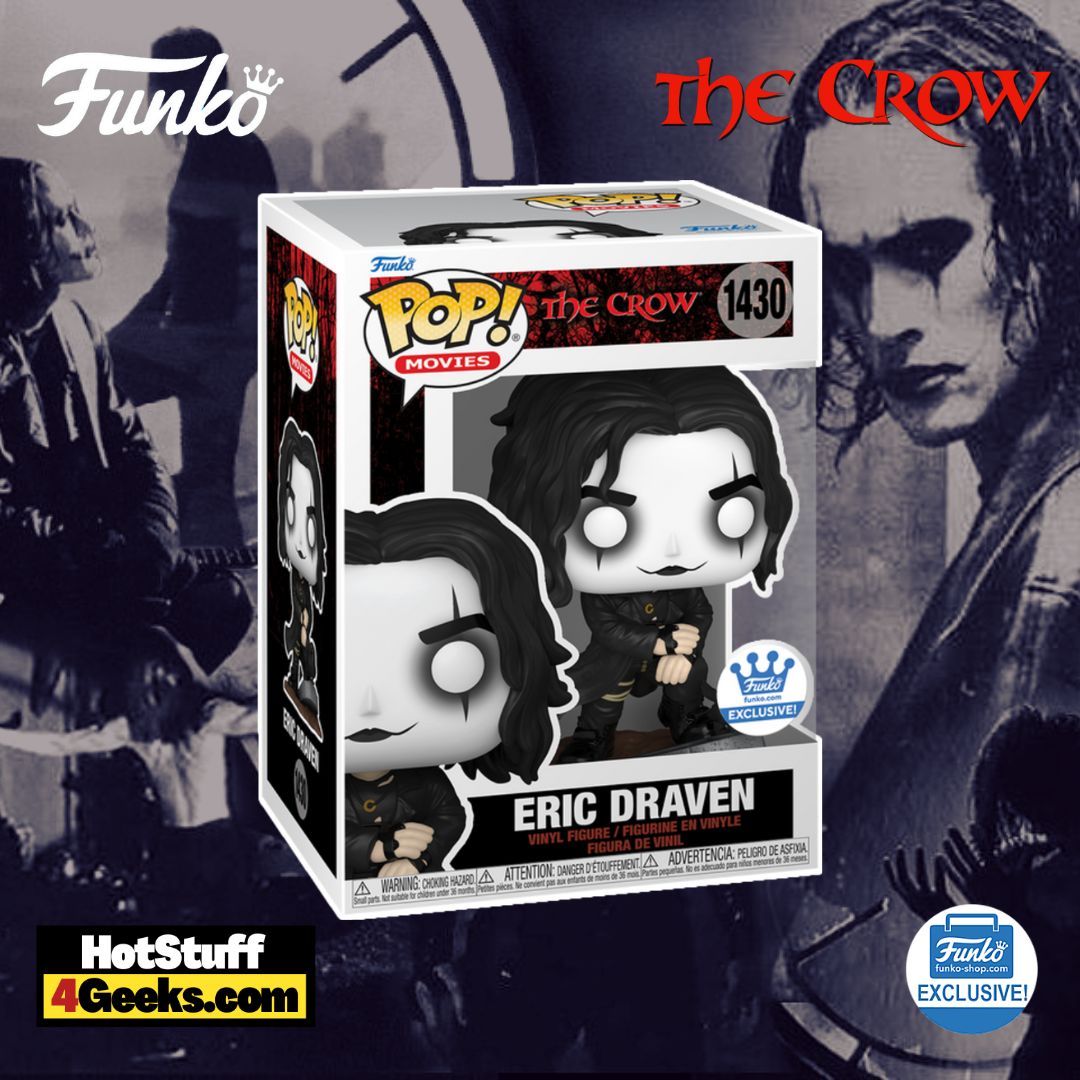 Oh, Eric Draven. The mere mention of his name is enough to conjure images of blackened streets, roaring guitars, and a brooding figure set against a moonlit night.
The Crow's iconic antihero, brought to life by the late great Brandon Lee, was more than just a character—he was a symbol, an embodiment of the gothic romance of the 90s.
Draven is the epitome of the classic vigilante.
Outfitted in shadowy attire and wielding his terrifying powers, he weaves through the night on a blood-soaked mission of vengeance.
But underneath the exterior of a relentless avenger, he's a tragic lover mourning the loss of his beloved Shelly. His essence merges love, loss, and vengeance—echoing the dramatic underpinnings of gothic storytelling.
Yet, Draven's appeal isn't only found in his actions. It's in the words he speaks.
Quoting Poe and marking his acts of revenge with a cryptic symbol, he emanates an air of morbid sophistication that seems eerily poetic.
His dialogue? A rich cadence that shivers down your spine, leaving an imprint that's hard to shake off.
However, Draven's most striking feature is his portrayal of death itself. Eric Draven is the mystery of death personified, a living question mark that dances on the line between life and the afterlife.
Yet, despite his supernatural status, he remains profoundly human, highlighting the duality of his character—somewhere between an immortal avenger and a man ravaged by loss.
Brandon Lee's portrayal of Eric Draven stands tall in the annals of cinema, a tribute to the actor's immense talent.
The blend of romantic gothic storytelling and neo-noir aesthetics in Eric Draven's character has captivated generations of viewers.
It's no wonder that the Crow, and by extension, Eric Draven, continues to fascinate audiences, making him a timeless symbol of gothic allure.
Funko Pop! The Crow: Eric Draven on Tombstone Funko Pop! Vinyl Figure – Funko Shop Exclusive
Available at:
Starting now, you can receive 10% off in-stock items with my special link at Entertainment Earth!
 Enjoy!
As an Amazon Associate I earn from qualifying purchases
Want more stuff like this?
Get the best viral stories straight into your inbox!
Don't worry, we don't spam