2023 NEW The Last Airbender: Appa (Flocked) Funko Pop! & Bag
Get ready for a high-flying adventure in collectibles because the Funko – Avatar: The Last Airbender – Appa (Flocked) Funko Pop! Vinyl Figure and Loungefly Backpack Bundle – Funko Shop Exclusive is here to whisk you off to the Four Nations. This isn't just your ordinary swag; this limited edition bundle combines the softness of a flocked Appa figure with a stylish, intricately detailed Loungefly backpack.
UPDATE: Appa (Flocked) Funko Pop!  drops today at 9:30 AM PST! To get your hands on this bundle at its release, be sure to check out the links I've provided below – click to jump or scroll to continue reading!
The Ultimate Appa Flocked Experience: Funko's Exclusive Pop! and Backpack Combo
Hold on to your cabbage carts because something amazing has just touched down. Ever feel like your fan gear is missing something special? Funko's got you covered.
Their new Appa (Flocked) Funko Pop! Vinyl Figure and Loungefly Backpack Bundle isn't just another item to put on your shelf—it's an experience.
Now, what makes this bundle truly extraordinary? It goes beyond just visuals. The flocked variant of Appa is a tactile treat, adding an extra layer of depth to the already adorable collectible. It's Appa, but like you can almost feel his fur!
But where the bundle truly excels is in its storytelling. The Loungefly mini-backpack, made from vegan leather, features adjustable straps adorned with shiny silver hardware.
The bag is an artwork in itself, capturing an action-packed scene where Aang, Katara, and Sokka are trying to keep up with Appa. Oh, and let's not forget Momo, who pops up when you flip the bag around.
Add to this the airbending symbol zipper charm and the secret pocket it protects. It's like each feature reveals another layer of Appa's complex character and role in Team Avatar.
So why is this a must-have? It's a limited-edition tribute that honors Appa in a unique, multi-faceted way. With only 4,000 pieces available, this isn't just another collectible—it's an intricate homage to one of the most beloved characters in the Avatar universe. Grab it before it flies off the shelves!
The Funko Shop Exclusive Appa (Flocked) Funko Pop! and Bag can be found for order at the links below (click to jump!)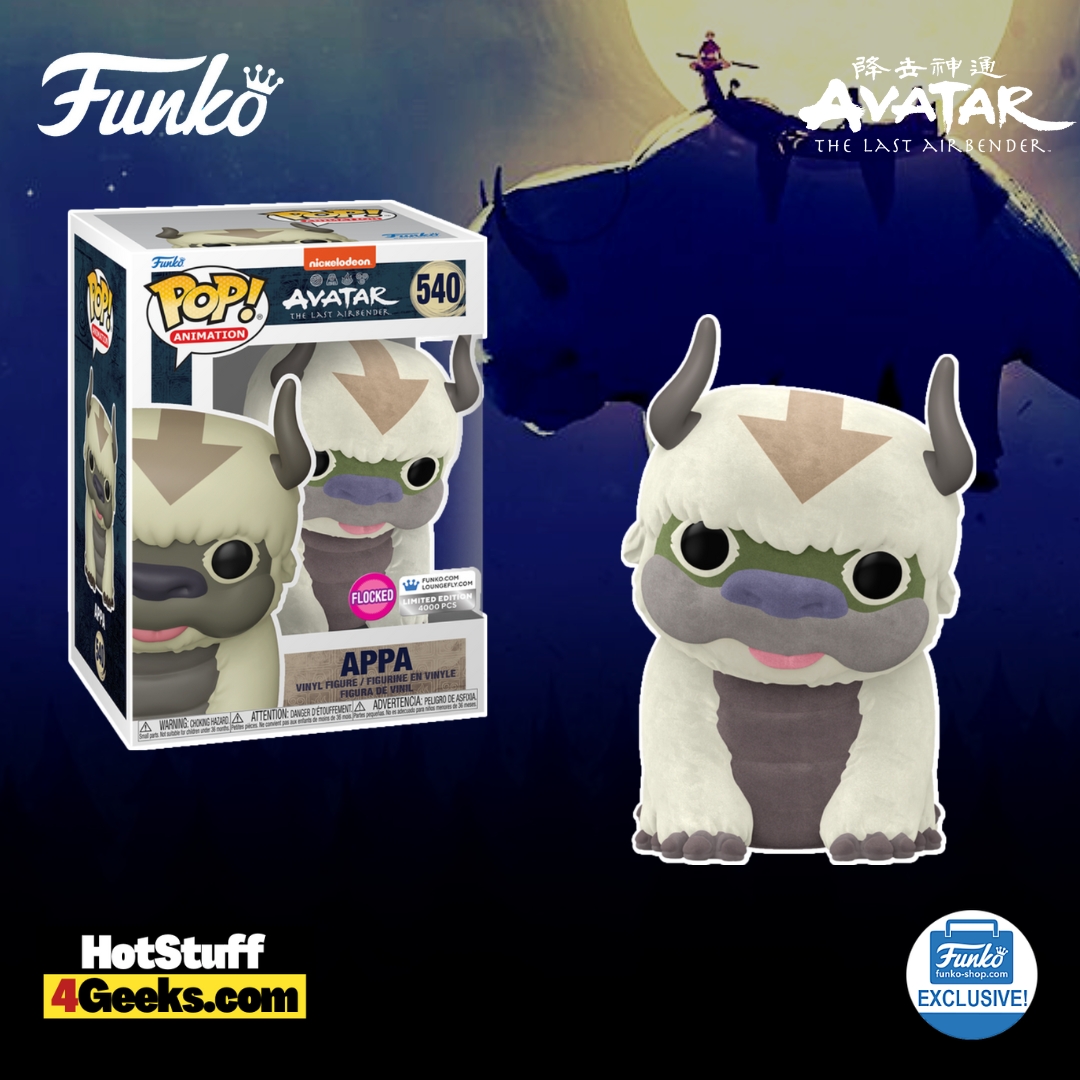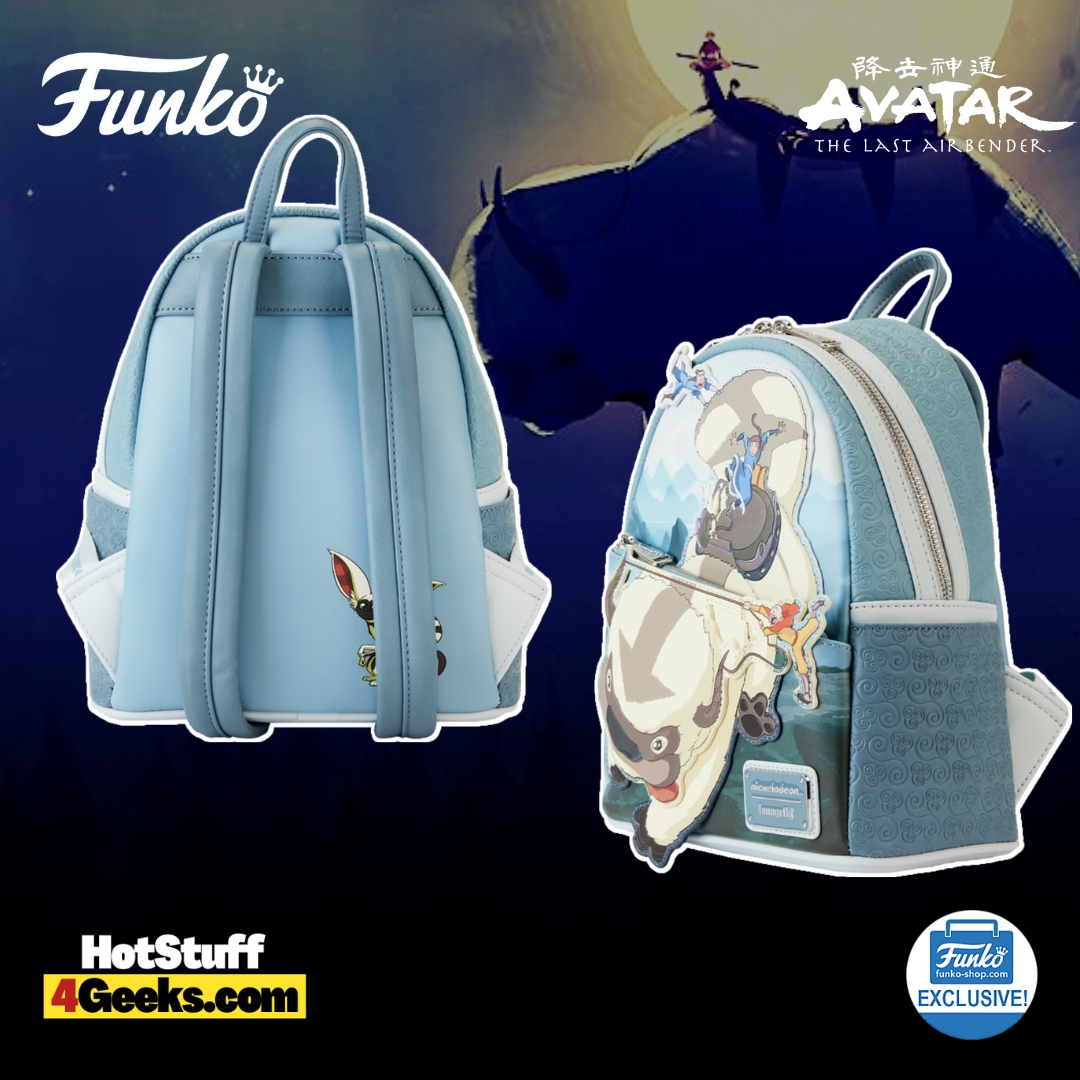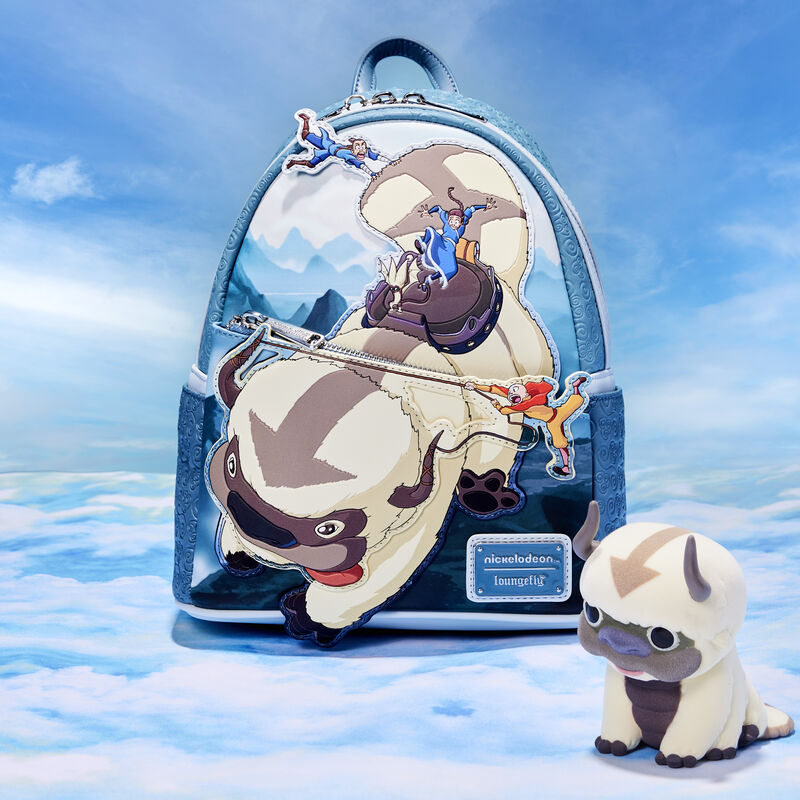 The Hidden Layers of Appa: Unveiling the Mysteries of Aang's Faithful Sky Bison
So, you thought you knew everything there is to know about Appa, Aang's loyal sky bison from the iconic series "Avatar: The Last Airbender," didn't you?
Well, prepare to be enlightened! You might want to sit down because this creature isn't just an adorable mountain of fur and six-legged mobility; he's a multi-dimensional being with a story arc as compelling as any human character on the show. Let's dive in!
Firstly, let's talk about the beginnings of Appa and Aang's relationship. Unlike the common pet-owner dynamic where the human picks the animal, Appa had a say in choosing Aang. That's right!
This mighty sky bison accepted a young Aang's offering of fruit and sealed their lifelong pact. It's not just about the pet and owner; it's about mutual respect and understanding.
But get this: Appa wasn't even initially designed to be a sky bison. The early concept had him more canine-like, something akin to a sky puppy if you will.
The transformation into the majestic beast we now know was not only an excellent choice but also led to the creation of another character—Korra's Naga—in the sequel series.
Ah, but there's more. How many of you are aware that Appa underwent several stylistic revisions before the animators settled on his final, iconic design?
The early sketches showed him looking more like a sea cow than a bison. Can you imagine Appa channeling more "sea cow vibes" than "majestic sky bison energy?"
I can't either! Oh, and those helical horns he was supposed to have? Scrapped! They would have been too complicated to animate given the show's hand-drawn style.
But let's not forget about Appa's intelligence. Though he can't speak in human tongues, he has a profound understanding of human language.
Aang may be the only one who claims to understand Appa's grunts and bellows, but it's clear Appa comprehends the humans around him. He even has his own language system with Momo, and who wouldn't kill to understand that dialogue?
As for his diet, Appa is not a strict vegetarian. He may love his fruits and leaves, but this sky bison has an omnivorous diet. If push comes to shove, he's not opposed to expanding his culinary horizons, as was evident in the episode "Appa's Lost Days."
Last but definitely not least, let's talk about his weight— a whopping estimated 20,000 pounds! If you're ever in a tight spot, having a 20,000-pound sky bison on your side is akin to having a living, breathing fortress. No wonder Team Avatar felt safer with him around.
To cap it all off, Appa's life is inexplicably tied to Aang's. Their spiritual bond is so strong that they are believed to have left the mortal realm together. It's melancholic but also beautiful, symbolizing their inseparable fates and adventures, even in the afterlife.
Funko – Avatar: The Last Airbender – Appa (Flocked) Funko Pop! Vinyl Figure and Loungefly Backpack Bundle – Funko Shop Exclusive
Available at:
Starting now, you can receive 10% off in-stock items with my special link at Entertainment Earth!
 Enjoy!
As an Amazon Associate I earn from qualifying purchases
Want more stuff like this?
Get the best viral stories straight into your inbox!
Don't worry, we don't spam