2023 NEW The Marvels: Funko Pop! Moment (Ms.Marvel, Captain Marvel, and Photon )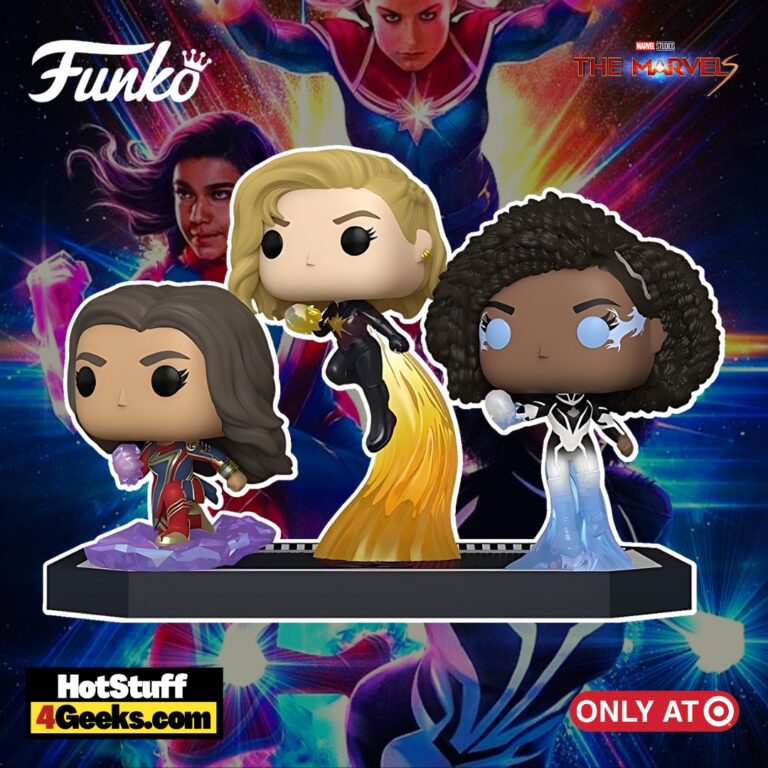 Pop culture enthusiasts, rejoice! The spirit of the much-anticipated "The Marvels" movie has been exquisitely captured in the new Funko Pop! Marvel Studios: The Marvels: Ms.Marvel, Captain Marvel, and Photon Funko Pop! Moment Vinyl Figure – Target Exclusive. As you'd expect, the figure features the leading ladies: Ms. Marvel, Captain Marvel, and Photon.
To get your hands on this Pop Vinyl Figure at its release, be sure to check out the links I've provided below – click to jump or scroll to continue reading!
Three Superheroines, One Captivating Collectible: Marvel Studios' "The Marvels" Funko Pop! Moment
Get ready to bring home the power, personality, and allure of the Marvel universe's formidable leading ladies, thanks to Funko Pop!
The company is launching a Target-exclusive vinyl figure inspired by "The Marvels," the upcoming movie that promises to take superhero storytelling to new heights.
In this Funko Pop! Moment, you'll find Ms. Marvel, Captain Marvel, and Photon captured in vibrant detail.
Our beloved teenage hero, Kamala Khan, stands tall with her signature costume and emboldened expression, a nod to her dynamic journey in the movie.
Carol Danvers, the mighty Captain Marvel, strikes a heroic pose, radiating power and determination.
Then we have Monica Rambeau as Photon, her transformation beautifully encapsulated with meticulous craftsmanship.
Together, these characters create a scene that tells a story of unity, strength, and tenacity.
The intricacy of the design and the meticulous attention to detail make this figure a must-have for fans.
So, mark your calendars and prepare your shelves – this super trio is set to land at Target!
Target Exclusive Ms.Marvel, Captain Marvel, and Photon Funko Pop! Moment can be found at its release at the links below (click to jump!)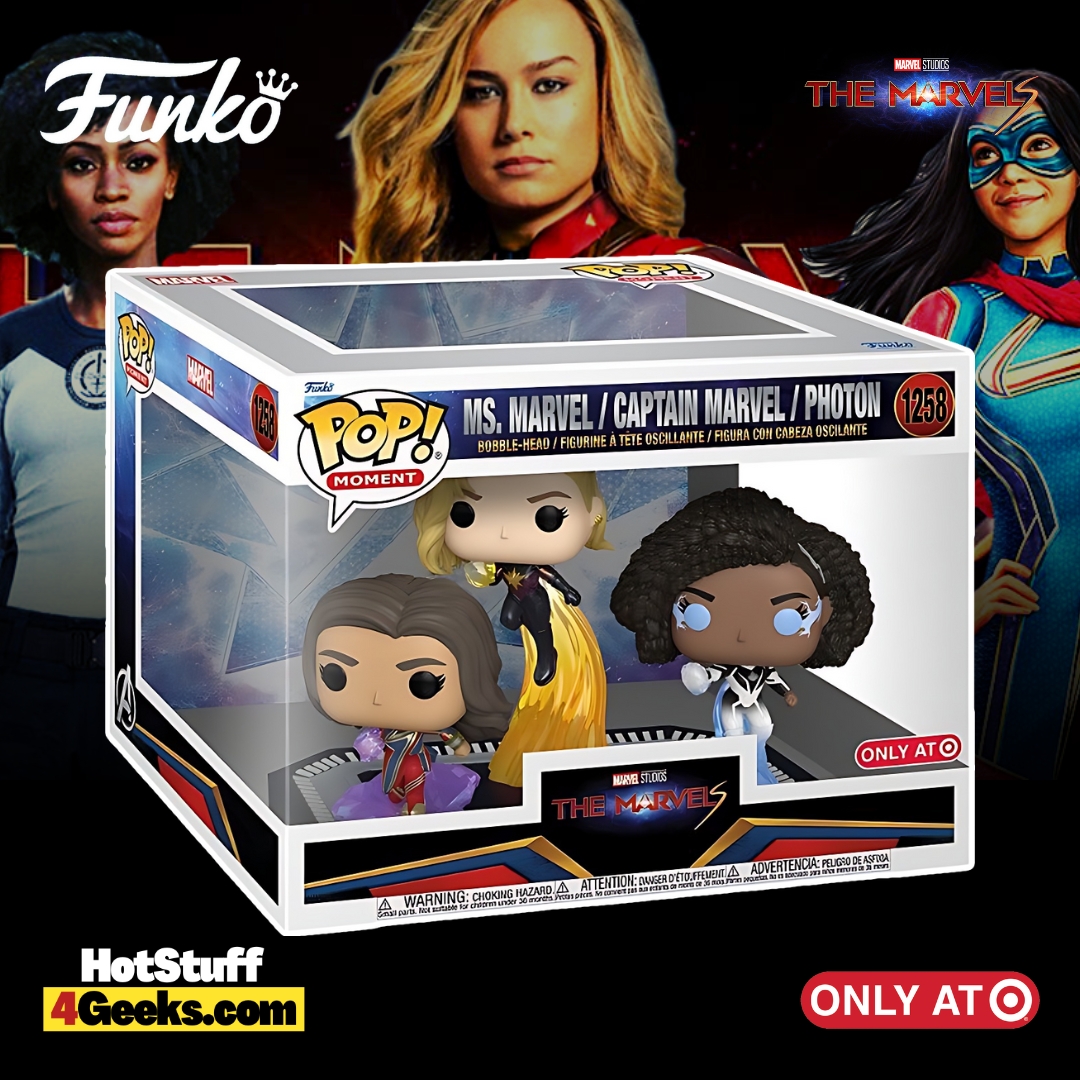 The Marvelous Trio: An Exploration of Ms. Marvel, Captain Marvel, and Photon in 'The Marvels' Movie
Marvel Studios has always been a powerhouse in conjuring stories that captivate audiences, and their latest offering, "The Marvels," is no exception.
With its powerhouse trio of leading ladies, this film introduces a new era of superhero adventures that simply sparkles with a mesmerizing charm.
At the heart of "The Marvels" is Ms. Marvel, a.k.a. Kamala Khan.
An American teenager of Pakistani descent, she is the epitome of the modern, multicultural superhero. Fans are just head over heels for Kamala.
She's relatable, she's real, and she's got a heart of gold.
Khan embodies the daily struggles of any young adult attempting to balance cultural heritage, personal identity, and the peculiarities of high school life.
Add superpowers into the mix, and you've got yourself an engaging, complex protagonist who is as captivating as she is courageous.
Enter Captain Marvel, the formidable Carol Danvers. She's not just any superhero – she's one of the most powerful beings in the entire Marvel Universe.
If you thought her previous cinematic outings were impressive, you haven't seen anything yet.
In "The Marvels," Captain Marvel reaches new heights, her abilities soaring as high as her character arc.
Her journey, replete with trials, tribulations, and triumphs, underlines her heroism and provides the narrative backbone of the movie. Danvers is more than just a figure of authority or a symbol of power.
She is a testament to the tenacity of the human spirit.
Finally, we have Monica Rambeau, who fans will know as Photon.
The legacy character in this dynamic trio, Monica's character evolution, is one of the most significant story arcs in the film.
Her journey from a supportive friend in "WandaVision" to a fully-fledged superheroine in "The Marvels" is an exhilarating ride.
Her character showcases the balancing act of juggling newfound powers, personal loss, and the weight of a heroic legacy.
Rambeau's transformation into Photon is compelling, leaving audiences rooting for her every step of the way.
"The Marvels" unites these three distinct characters in a film that fuses heart, humor, and heroism.
The narrative threads of Ms. Marvel, Captain Marvel, and Photon intertwine beautifully, creating a tapestry that's both visually and emotionally rich.
Through their unique backgrounds, powers, and character arcs, the film's creators weave an engaging story that reaffirms the power of diversity and the enduring appeal of superheroes.
In conclusion, "The Marvels" movie shines a spotlight on these three phenomenal characters, bringing their stories to life in a dazzling display of cinematic brilliance.
It's a testament to the enduring power of well-crafted superhero stories and a celebration of the diverse heroes that make up the Marvel Universe.
Through the journey of Ms. Marvel, Captain Marvel, and Photon, the movie reminds us all of the power within ourselves to be marvels.
Starting now, you can receive 10% off in-stock items with my special link at Entertainment Earth!
 Enjoy!
As an Amazon Associate I earn from qualifying purchases
Want more stuff like this?
Get the best viral stories straight into your inbox!
Don't worry, we don't spam