2023 NEW The Marvels: Ms. Marvel (Embiggen Punch) Funko Pop!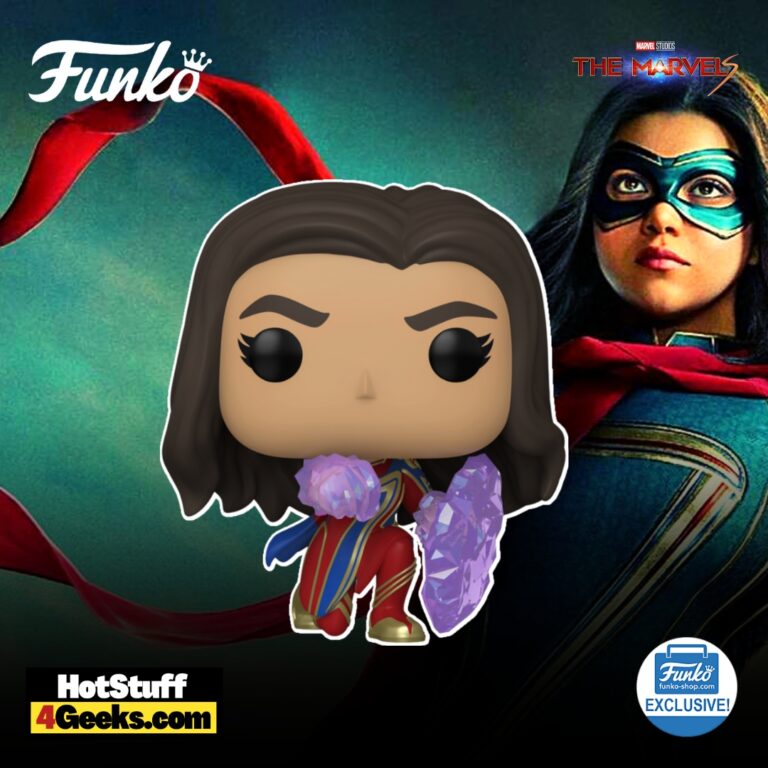 Welcome to a universe where dreams meet reality and superheroes come to life – not on the big screen or comic book pages, but right in your living room. The latest addition to this universe is the new Funko Pop! Marvel Studios: The Marvels – Ms. Marvel (Embiggen Punch) Funko Pop! Vinyl Figure – Funko Shop Exclusive.
To get your hands on this Pop Vinyl Figure at its release, be sure to check out the links I've provided below – click to jump or scroll to continue reading!
The Enthusiastic Hero: Funko Pop! Ms. Marvel (Embiggen Punch)
Get ready for a fantastic blend of charm, power, and fun with the new Funko Pop! Vinyl Figure featuring our beloved hero, Ms. Marvel.
This exclusive Funko Shop release, dubbed as 'Ms. Marvel (Embiggen Punch)', is a must-have collectible for every Marvel enthusiast and Funko fanatic.
This figure showcases Ms. Marvel, or Kamala Khan, showcasing her signature 'embiggening' power.
The energy and determination she's known for in the Marvel Studios' upcoming film "The Marvels" are encapsulated perfectly in this figurine.
One can't help but feel a sense of adventure and joy radiating from the figure.
The details on this Funko Pop! are delightful, from the expressive eyes to the dynamic pose.
It brings Kamala's character to life, making it seem like she's about to leap off your shelf and into her following heroic deed.
It's time to join Kamala on her exciting journey, mastering her newfound powers.
Add this piece to your collection and let Ms. Marvel's enthusiasm and bravery inspire you every day.
Let's not forget it's also a fantastic way to show support for Marvel's diversity and representation.
This exclusive Funko Pop! figure is more than a mere representation of Ms. Marvel; it's a tribute to her spirit, inviting us to embrace the power of being unique and unapologetically ourselves.
The Funko Shop Exclusive Ms. Marvel (Embiggen Punch) Funko Pop! from the Marvels can be found at the links below (click to jump!)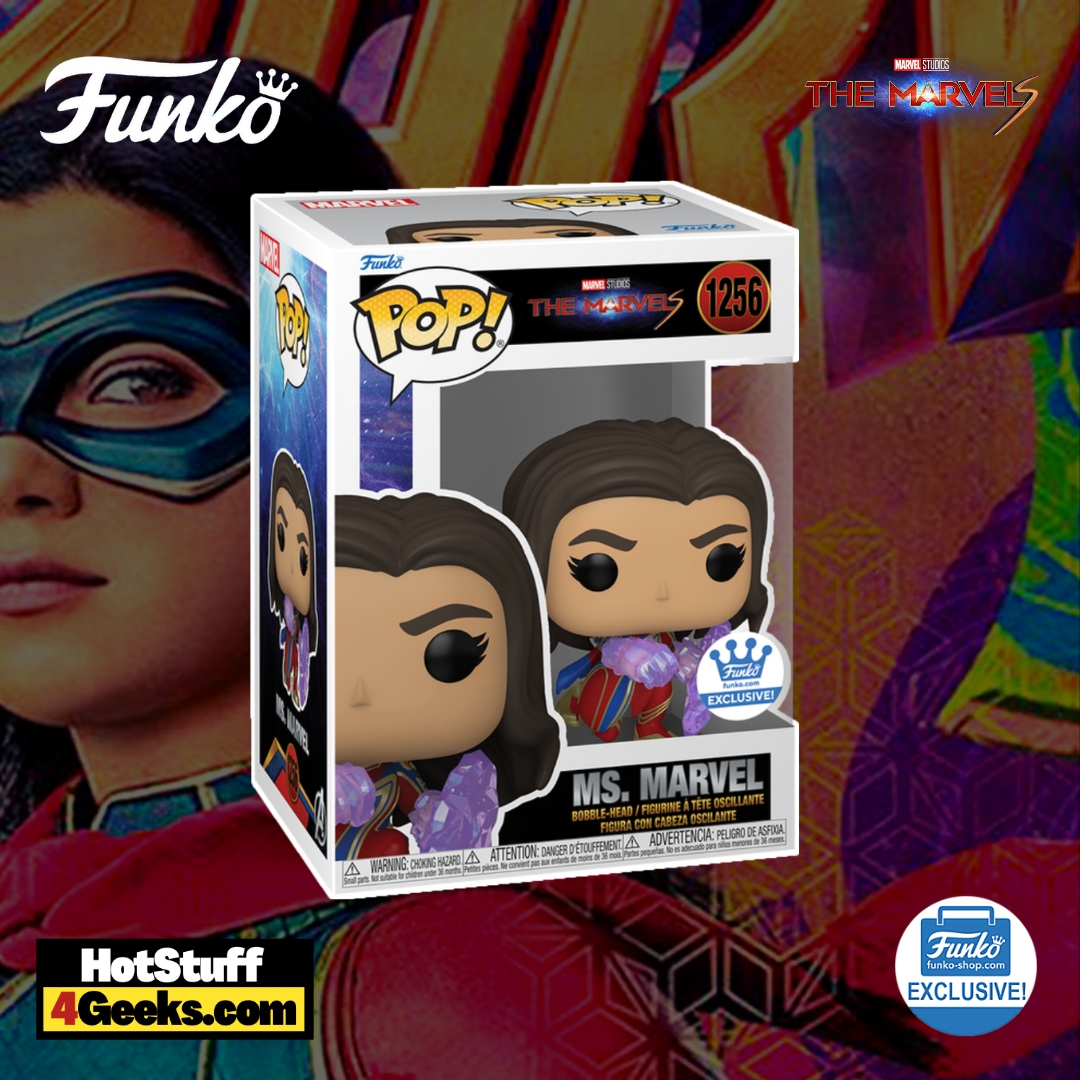 Ms. Marvel: A Superhero for Our Times
In the dynamic landscape of the Marvel Cinematic Universe (MCU), an emerging hero has gripped the heartstrings of fans everywhere.
Her name is Ms. Marvel, also known as Kamala Khan, and she is a superhero who is as relatable as she is extraordinary.
Kamala Khan, a teenage Muslim girl from Jersey City, is about to reshape the narrative of what it means to be a superhero.
Gifted with the power to alter her size – a power she refers to as "embiggening" – she brings a fresh perspective and genuine appeal to the MCU.
This isn't merely about her physical abilities; it's also about the strength she embodies when dealing with real-world issues while simultaneously trying to save her city.
The comic book universe first introduced us to Kamala Khan in 2014, courtesy of creators G. Willow Wilson and Adrian Alphona.
She was a groundbreaking addition as Marvel's first Muslim character to headline her own comic series.
Since then, she has found a special place in readers' hearts, serving as a beacon of representation and inclusivity.
And now, Kamala Khan is going to the big screen in the much-anticipated movie, "The Marvels."
The inclusion of a young Muslim woman with superpowers in a mainstream Hollywood film is a decisive move.
It sends a message of acceptance and illustrates the evolving narratives of superhero stories.
What makes Ms. Marvel unique? She's not your typical hero. Kamala is a fan turned superheroine, her life previously revolving around writing fan fiction about her favorite heroes.
When she gains her powers, she continues to live her everyday life, adding a dose of relatability often absent in superhero narratives.
Kamala Khan's transition into Ms. Marvel is a testament to her courage and resilience.
The tale of this everyday teenager turned superhero gives us a new archetype to admire: a hero who juggles school, personal values, and the overwhelming responsibility of her powers.
"The Marvels" is poised to be a thrilling journey into the life of Ms. Marvel.
It promises to showcase a young hero balancing high school and superhero duties – a narrative that reflects the struggles faced by teenagers in today's world.
This isn't just a superhero film; it's a celebration of diversity and representation, a testament to Marvel's dedication to evolving and adapting.
As we await the arrival of "The Marvels," the significance of Ms. Marvel's story is more evident than ever.
As she embarks on her superhero journey, Kamala Khan will inspire audiences, reminding them that heroes come in all shapes, sizes, and backgrounds.
In the ever-expanding MCU, Ms. Marvel is genuinely a superhero for our times.
Funko Pop! Marvel Studios: The Marvels – Ms. Marvel (Embiggen Punch) Funko Pop! Vinyl Figure – Funko Shop Exclusive
Available at:
Starting now, you can receive 10% off in-stock items with my special link at Entertainment Earth!
 Enjoy!
As an Amazon Associate I earn from qualifying purchases
Want more stuff like this?
Get the best viral stories straight into your inbox!
Don't worry, we don't spam