2023 NEW The Marvels: Photon Glow Funko Pop! PX Exclusive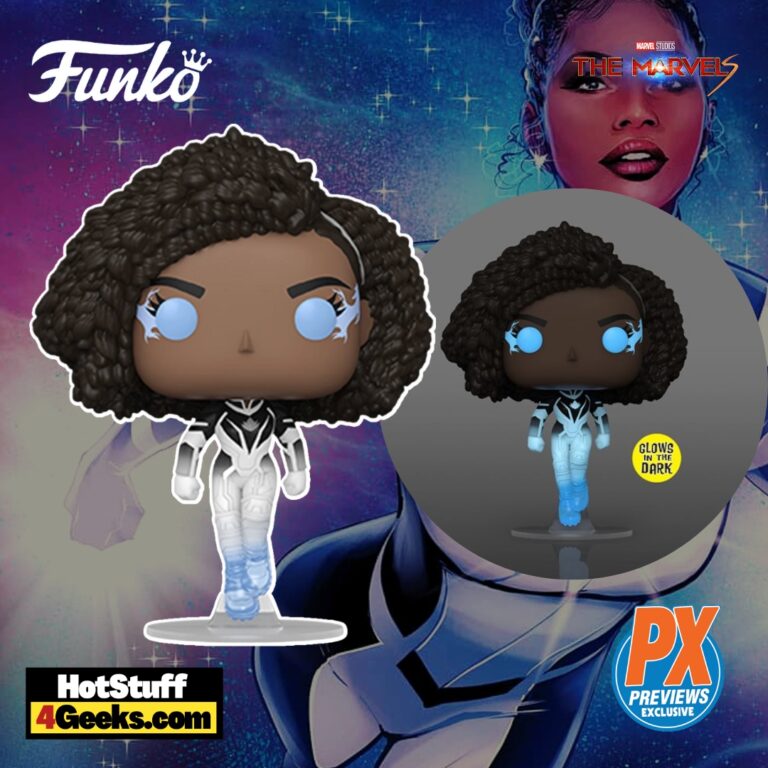 Emanating an aura of brilliance as bright as the character it represents, Funko Pop! has unveiled its latest masterpiece — the new Funko Pop! Marvel Studios: The Marvels: Photon Glow-In-The-Dark (GITD) Funko Pop! Vinyl Figure –  PX Previews Exclusive, the powerful superhero persona of Monica Rambeau. This PX Previews Exclusive release is a delightful homage to her upcoming appearance in Marvel Studios' "The Marvels."
To get your hands on this Pop Vinyl Figure at its release, be sure to check out the links I've provided below – click to jump or scroll to continue reading!
This Funko Pop! figurine captures the essence of Photon's character. Its GITD feature mirrors Monica's ability to manipulate electromagnetic energies, effectively bringing her powerful presence to life.
As if plucked straight from "The Marvels," the detailed design pays tribute to the comic-book aesthetics and the on-screen vibrancy of Photon's image.
Whether you're an ardent Funko collector, a Monica Rambeau enthusiast, or a Marvel fan in general, this unique GITD figure perfectly encapsulates Photon's interstellar magnificence.
It's not just another Funko Pop! – it's a miniature beacon of light from the Marvel Universe, ready to illuminate your collection!
The PX Previews Exclusive Photon Glow Funko Pop! can be found at its release at the links below (click to jump!)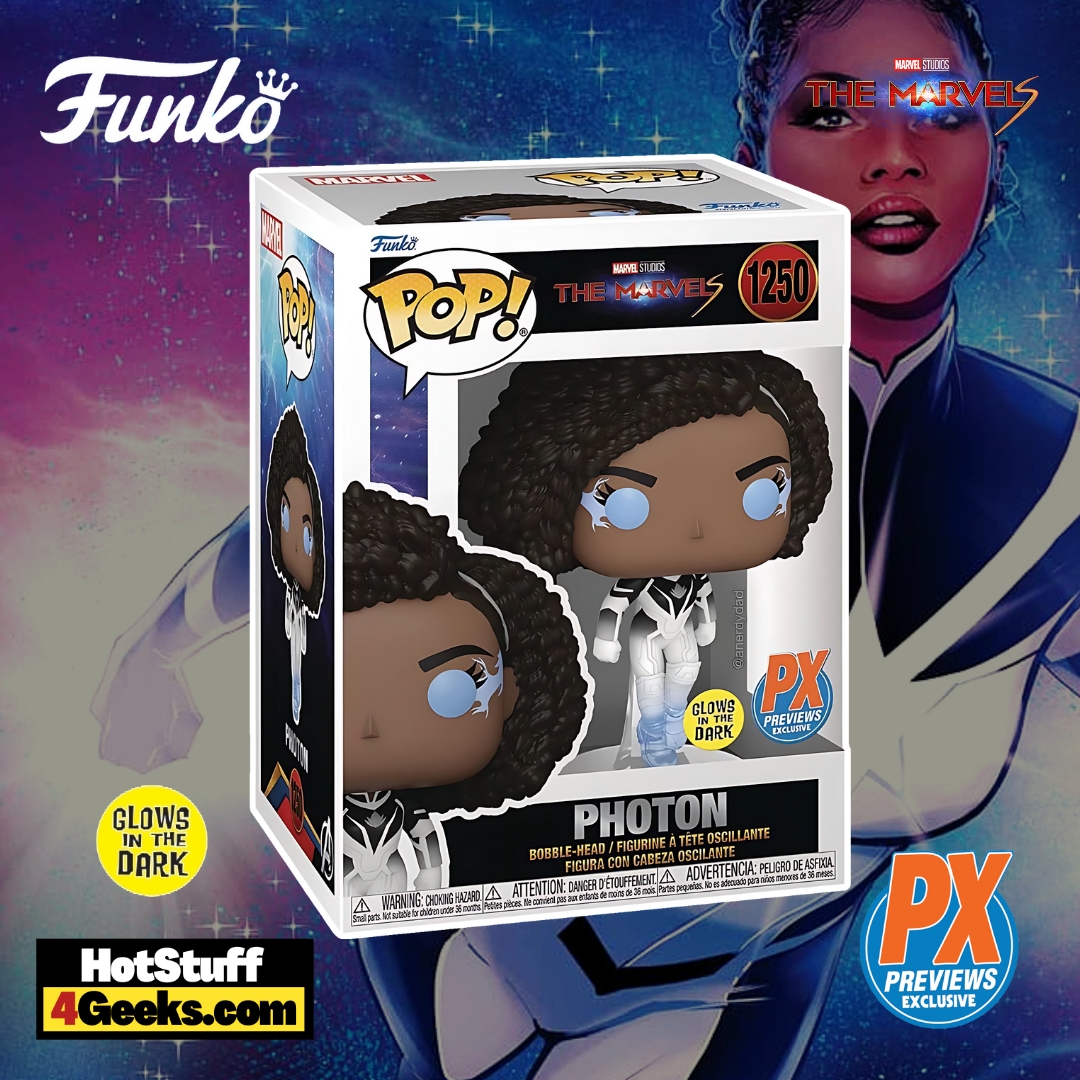 Shining Bright: The Evolution of Monica Rambeau into Photon and Her Role in "The Marvels"
Marvel has a knack for delivering fascinating characters who reflect the depth and diversity of the human experience. One such standout hero is Monica Rambeau.
Known by multiple aliases over the years, Monica has journeyed from humble beginnings to the precipice of interstellar adventures.
Let's delve into how she embraced her destiny as Photon and how her story is set to unfold in the highly-anticipated movie, "The Marvels."
Born and raised in New Orleans, Monica's life took a dramatic turn when she used her intuitive, albeit unorthodox, methods to save lives, leading to her transformation.
While she was initially just a harbor patrol lieutenant, the energy disruptor incident catapulted Monica into a world, she could have hardly imagined, filled with electromagnetic energies, superpowers, and a sense of responsibility to do more for humanity.
What followed was a series of transformative experiences with the Fantastic Four and the Avengers, where she learned to wield her newfound power and transitioned from a novice to a leader.
Monica absorbed energy and wisdom, experience, and resilience, turning adversities, like the loss of her powers and the subsequent struggle to regain them, into opportunities for personal growth.
Monica's journey was not without its trials.
Her fight against villains, difficult tenure as the Avengers' chairwoman, and even the constant tug-of-war over her superhero name all added layers to her character.
Yet, she stood firm, finding solace in the support of her parents and her relentless spirit. After all, being a hero isn't about the title; it's about the journey.
And what a journey it's been! From Photon to Pulsar and then Spectrum, Monica's path has been vibrant, teeming with cosmic threats, team-ups, and leadership roles.
Alongside luminaries like Luke Cage, America Chavez, Black Panther, and Captain Marvel, she took on a bevy of universal dangers and has repeatedly proved her mettle.
Now, Monica is set to soar higher than ever in "The Marvels," the upcoming blockbuster from Marvel Studios.
The film sees her joining forces with Captain Marvel and Ms. Marvel to save the universe from the vengeful Dar-Benn.
They'll need to navigate their light abilities and a universe destabilized by Kree machinations. The family ties between Carol Danvers and Monica add another level of complexity to this intriguing narrative.
Moreover, "The Marvels" intertwines with the storyline of Marvel Studios' Disney+ series, Secret Invasion, linking Monica's story to a broader canvas involving shapeshifting Skrulls and their attempted takeover of Earth.
The film promises not just another superhero adventure but also a deeper exploration of Monica's character and her relationships.
In the true spirit of a Marvel hero, Monica Rambeau, our very own Photon, continues to shine bright, illuminating the Marvel Universe with her strength and resilience.
Her evolution from a harbor patrol lieutenant to an intergalactic hero has been nothing short of inspiring.
And as she steps into her role in "The Marvels," we know this is just another chapter in her incredible story.
Starting now, you can receive 10% off in-stock items with my special link at Entertainment Earth!
 Enjoy!
As an Amazon Associate I earn from qualifying purchases
Want more stuff like this?
Get the best viral stories straight into your inbox!
Don't worry, we don't spam