2023 NEW The Muppet Christmas Carol Funko Pops!
Welcoming the charmingly whimsical Funko Pop! incarnations of The Muppet Christmas Carol cast! The Funko Pop! Movies: The Muppet Christmas Carol Funko Pops! (2023) release has sparked a sensation, with figures capturing this timeless classic's soulful essence in vivacious vinyl.
UPDATE: Now available at Amazon! To get your hands on these Pop Vinyl Figures at their release, be sure to check out the links I've provided below – click to jump or scroll to continue reading!
First, let's welcome Bob Cratchit with Tiny Tim, a heart-tugging twosome immortalized in Funko style. Dressed in his humble attire, Bob Cratchit's Pop bears an unmistakable likeness to Kermit's endearing portrayal, while Tiny Tim, tenderly clutched in his arm, tugs at our heartstrings.
Mrs. Cratchit, the unsung heroine of the tale, joins the Funko family too. Her figure stands proud, reflecting her tireless optimism and warmth in the face of adversity.
Fozziwig, Scrooge's former employer, is another delightful addition. His cheerful spirit shines through his Funko and his festive holiday outfit.
What's a Muppet lineup without Scrooge? His Pop figure replicates his iconic gruff countenance and period attire, resonating with the essence of his character.
Equally noteworthy is the Charles Dickens with Rizzo figure. Their dynamic chemistry is charmingly captured in this two-in-one Pop.
Lastly, we can't overlook the Marley Brothers 2-Pack, where Statler and Waldorf haunt as Jacob and Robert Marley, amusingly rendered in chains and ghastly pallor.
This new Funko release really brings the whole gang together, perfectly embodying the spirit of The Muppet Christmas Carol in a fresh, fun way.
So, here's the breakdown for all the Muppet Christmas Carol Funko Pop! Figures for this release:
Kermit and Robin as Bob Cratchit with Tiny Tim Funko Pop! Vinyl Figure
Miss Piggy as Mrs. Cratchit Funko Pop! Vinyl Figure
Fozzie Bear as Fozziwig Funko Pop! Vinyl Figure
Scrooge Funko Pop! Vinyl Figure
Gonzo as Charles Dickens with Rizzo Funko Pop! Vinyl Figure
Statler and Waldorf as Marley Brothers 2-Pack Funko Pop! Vinyl Figures
Statler and Waldorf as Marley Brothers Glow-In-The-Dark (GITD) 2-Pack Funko Pop! Vinyl Figure – Funko Shop Exclusive
The Muppet Christmas Carol Funko Pop! Vinyl Figures (2023) can be found at the links below (click to jump!)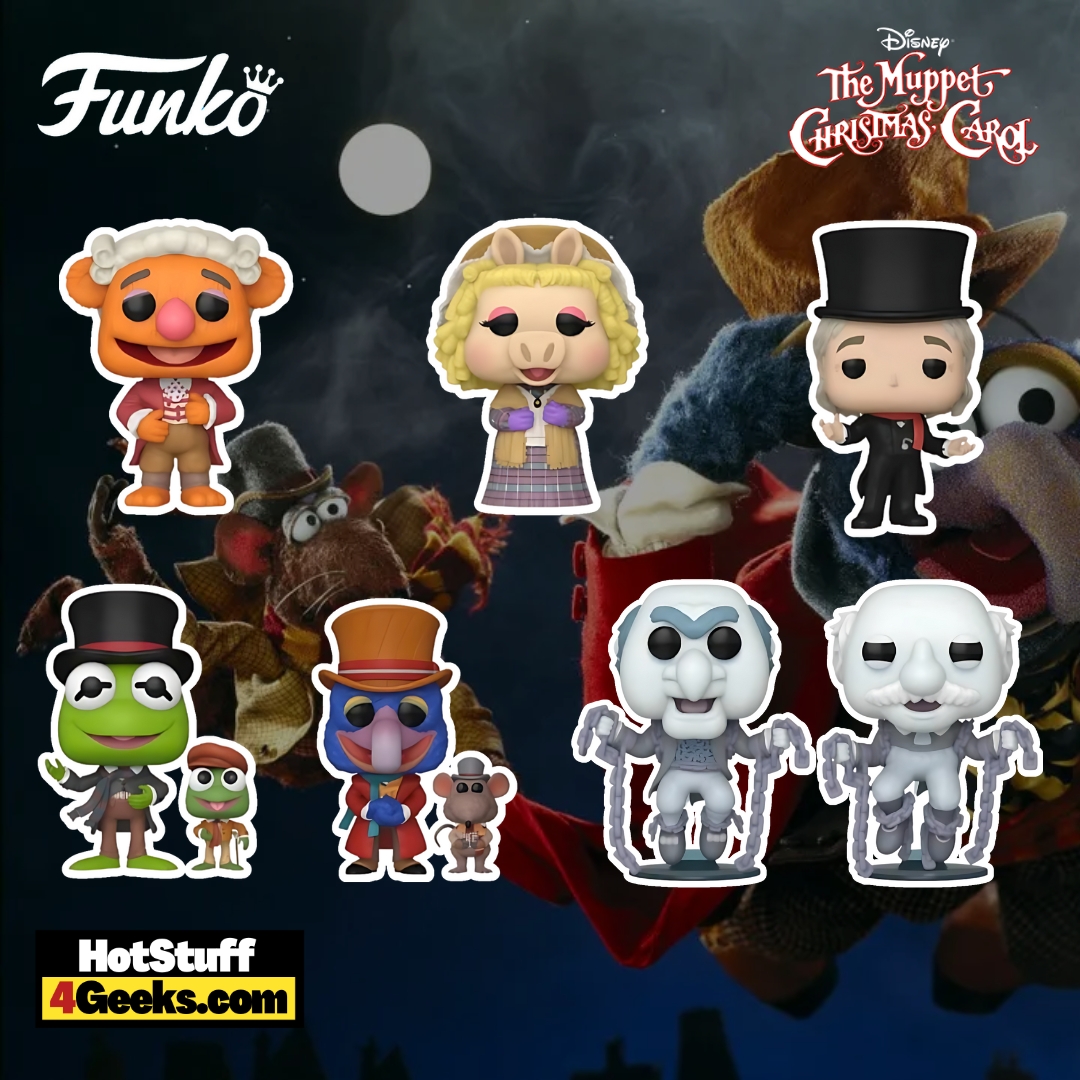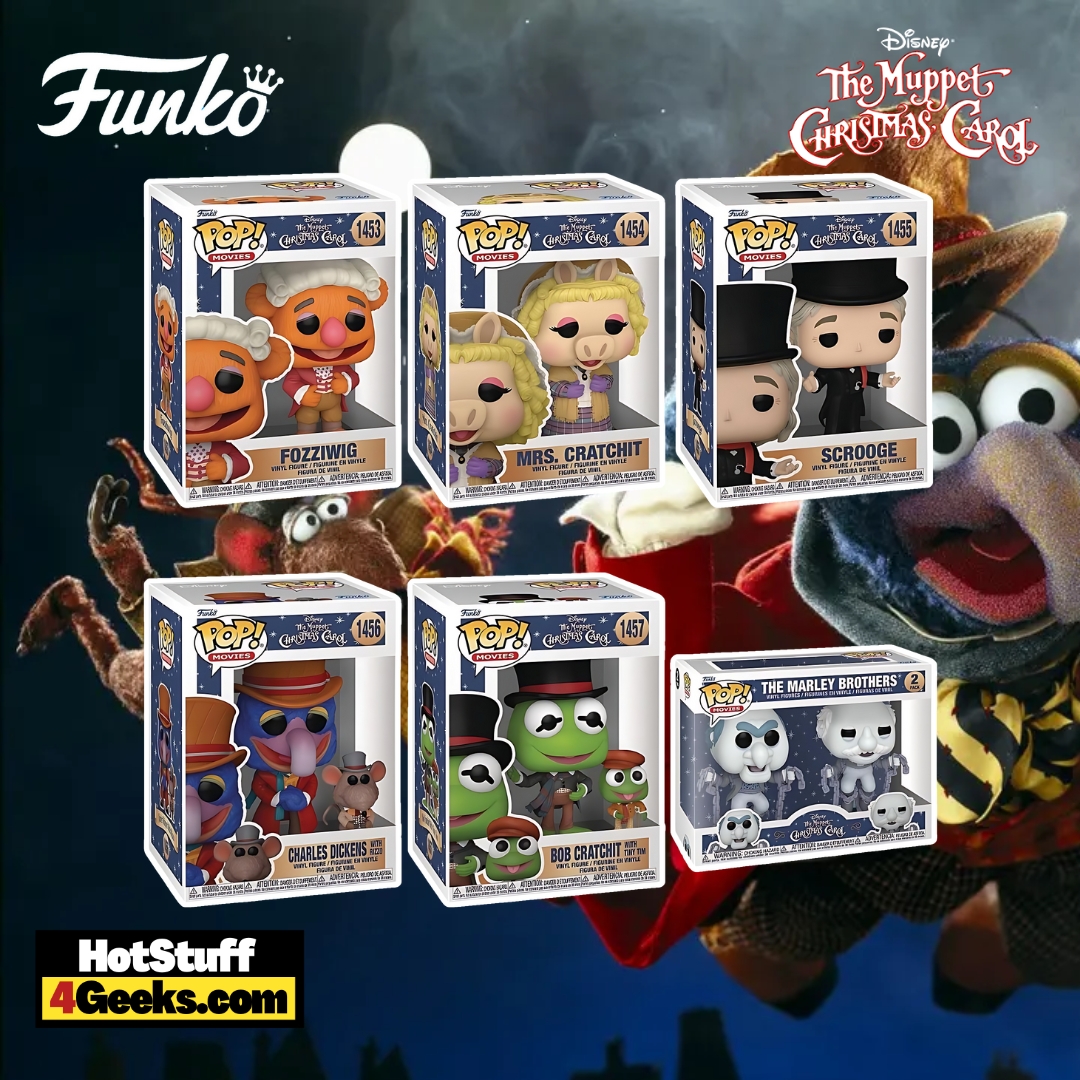 A Timeless Christmas Treasure: Diving Deep into The Muppet Christmas Carol
As the holiday season rolls around, one film stands tall amidst the plethora of Christmas movies, and that's none other than The Muppet Christmas Carol.
This heartwarming cinematic gem, which celebrated its 30th anniversary in 2022, continues to touch hearts and enliven the holiday spirit, despite its original box office performance, which could only be described as lukewarm.
The magic of The Muppet Christmas Carol lies in its unique blend of authenticity and whimsy.
While it may seem unusual for a classic Charles Dickens tale to be relayed through the antics of a ragtag group of Muppets, it's a combination that surprisingly works.
Gonzo, taking up the mantle of an "omniscient" Charles Dickens, and Rizzo the Rat, our hilarious food-loving commentator, together set a new standard for postmodern narrative genius.
What's remarkable about this film is its commitment to the original story.
Even as Kermit, our affable frog, steps into Bob Cratchit's shoes and Statler and Waldorf take up the roles of the miserly Marley brothers, the film manages to preserve the essence of Dickens's classic tale, not to mention the brilliant casting of Michael Caine, who seamlessly steps into Scrooge's boots, adding an unmistakable touch of gravitas to the Muppet mayhem.
But not just the delightful mix of characters gives this film its charm.
The Muppet Christmas Carol also boasts a robust soundtrack, courtesy of Paul Williams, a recovering drug addict who infused the music with his experiences and feelings about recovery and redemption.
From the opening notes of "Scrooge" to the poignant strains of the recently rediscovered "When Love Is Gone," each song is a testament to the power of music to touch hearts and deliver profound messages.
A captivating quality of this film is its sheer earnestness. In a world often fraught with cynicism, this Muppet masterpiece stands as a beacon of innocence and good intentions.
Its message is simple and timeless: It's better to be kind. And while this principle is presented through humor and catchy tunes, the sincerity of it resonates with viewers of all ages.
But perhaps the most profound allure of The Muppet Christmas Carol lies in the nostalgia it invokes.
Memories of childhood Christmases, cozy family gatherings, laughter, and joy — all are stirred afresh every time you watch this film. It's a reminder of simpler times and the value of love, warmth, and generosity.
So, as we embark on yet another holiday season, let's revisit this timeless classic that has rightfully earned its cult status.
The Muppet Christmas Carol offers us a cherished opportunity to laugh, reminisce, and, most importantly, remember the true spirit of Christmas.
Starting now, you can receive 10% off in-stock items with my special link at Entertainment Earth!
 Enjoy!
As an Amazon Associate I earn from qualifying purchases
Want more stuff like this?
Get the best viral stories straight into your inbox!
Don't worry, we don't spam