2023 NEW The Office: Fun Run Funko Pops! An Office Special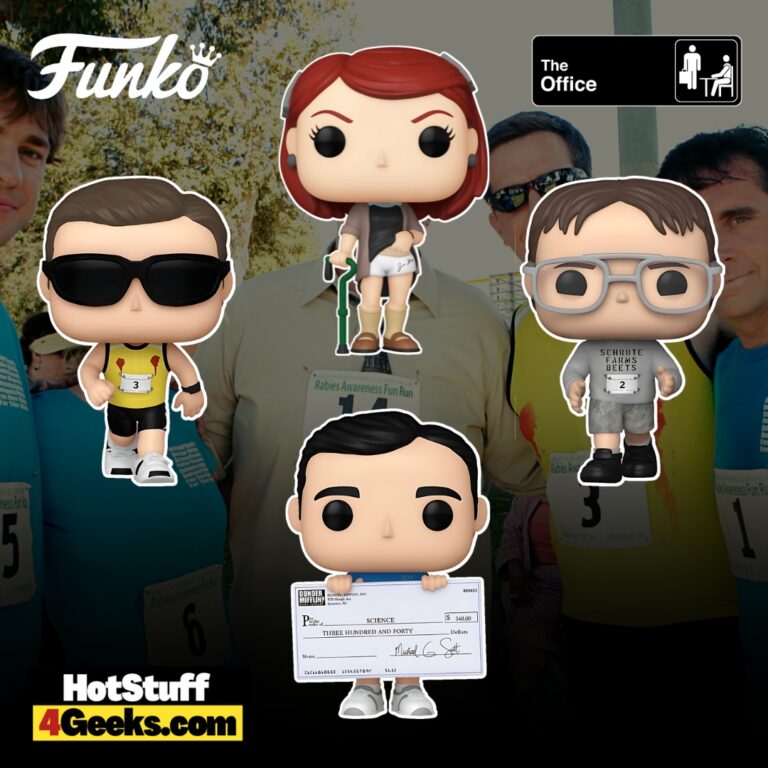 The Office has given fans a generous dose of laughter over the years. Now, Funko has decided to immortalize some of the iconic moments from the beloved 'Fun Run' episodes in their latest collection of The Office: Fun Run Funko Pops! (2023 release) Just imagine reliving that unforgettable race with pint-sized caricatures of your favorite characters
Now available at Amazon! To get your hands on these Pop Vinyl Figures at their release, be sure to check out the links I've provided below – click to jump or scroll to continue reading!
Run into Nostalgia: Unveiling The Office 'Fun Run' Edition Funko Pops!
As an ardent fan of The Office, let me share some exciting news. Funko Pops! has decided to add more giggles to our collections by releasing four new figures based on the iconic Fun Run episode.
Yes, you heard it right – Michael, Dwight, Andy, and the ever-so-unlucky Meredith are immortalized mid-race in their Fun Run glory!
Our first figure is Michael Scott, wearing his proud race organizer's outfit and holding the oversized charity check. It's a classic Michael moment, encapsulating his endearing eccentricity.
Next up, we have Fun Run Dwight. Funko has nailed his stern expression as he prepares to dominate the race, a hilarious reminder of Dwight's overly competitive spirit.
There's also a Fun Run Andy, and this one's a gem. The figure, complete with its sunglasses and pre-race confidence, perfectly captures Andy's constant need to impress.
Oh, and how could we forget Meredith? After her unfortunate run-in with Michael's car earlier in the season, she's here in her Fun Run tee, making a stride of triumph, reminding us of her indomitable spirit!
These new Funko Pops! are an ideal way to reminisce about that chaotic and unforgettable run.
An amusing tribute to the beloved sitcom, they're perfect for anyone looking to bring a dash of Dunder Mifflin into their collection.
And remember, in this race to get these, it's not about winning. It's about finishing (before stocks run out!).
So, here's The Office Fun Run Funko Pops List for this release:
The Office Fun Run: Dwight Funko Pop! Vinyl Figure
The Office Fun Run: Andy Funko Pop! Vinyl Figure
The Office Fun Run: Michael with Check Funko Pop! Vinyl Figure
The Office Fun Run Funko Pop! Vinyl Figures (2023 release) can be found for purchase at the links below (click to jump!)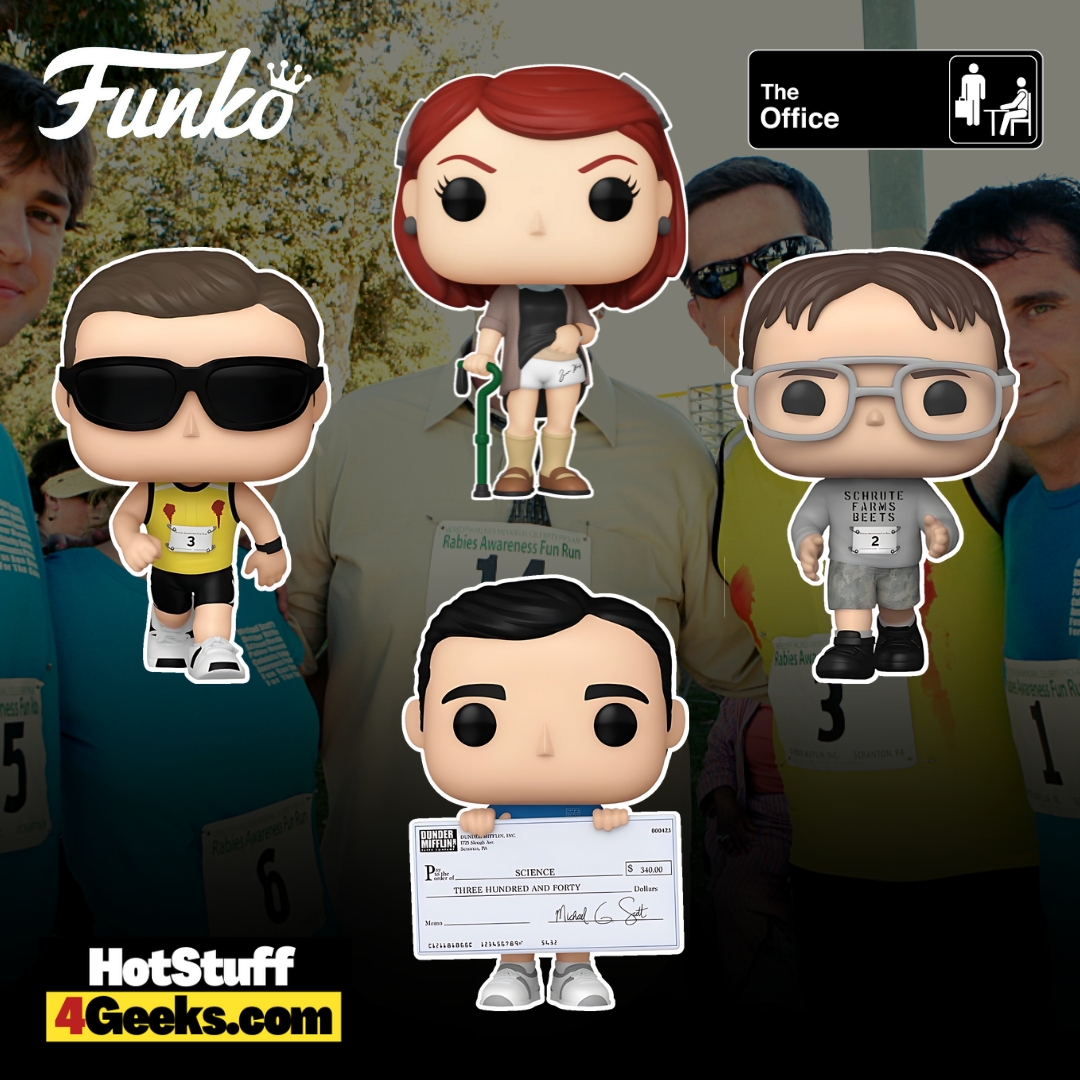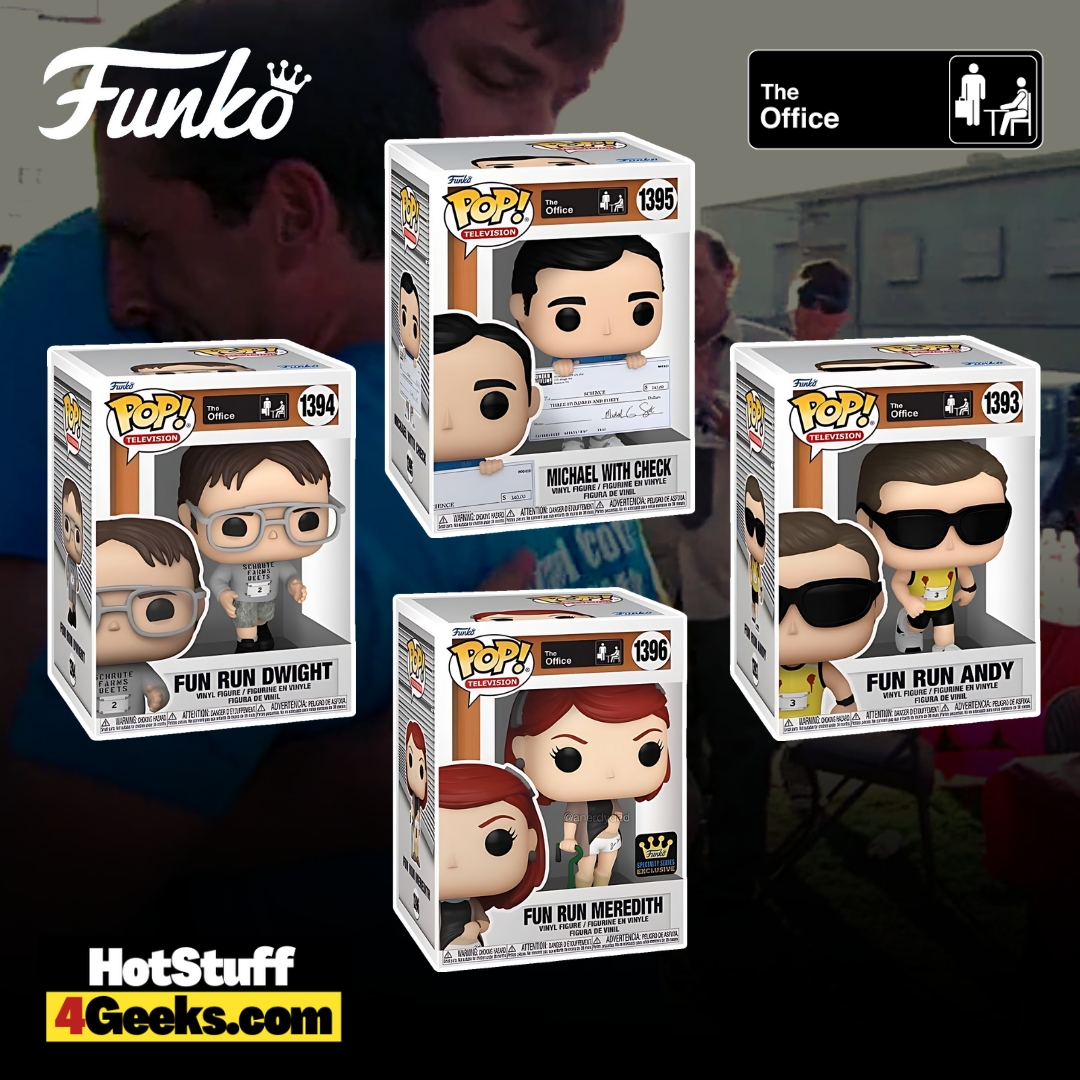 A Marathon of Laughs: The Office's Fun Run Episode Dissected
Running is often a trial of human endurance, a testament to the perseverance of our species.
But in the world of Dunder Mifflin, everything takes a quirky twist, and this is perfectly embodied in the "Fun Run" episodes from The Office.
No ordinary race, this 5k fun run was not about athletic prowess or smashing personal records.
Instead, it was filled with the hilarity and absurdity we have come to love from this renowned sitcom.
The episodes (Season 4, Episodes 1 and 2) expertly blended humor, character development, and heartwarming moments into a cohesive narrative, making them a standout in the series.
The race was the brainchild of Michael Scott, the well-meaning but clueless boss, who unwittingly hit Meredith with his car.
In a bid to offset his guilt and turn the incident into a positive, he established the "Michael Scott's Dunder Mifflin Scranton Meredith Palmer Memorial Celebrity Rabies Awareness Pro-Am Fun Run Race for the Cure."
With a name as mouthful as that, we already get a glimpse of the chaos that ensues.
As we see the staff begrudgingly prepare for the event, their motivations are as diverse as their personalities.
Some, like Jim and Pam, join to support the cause (or lack thereof), while others, like Stanley, participate only under duress.
Dwight's bid to prove his superiority, and Angela's reluctance to witness it, add another layer of comic relief.
The manner in which the showrunners take a simple premise and turn it into a microcosm of the characters' dynamics is nothing short of genius.
However, the run is more than just a comedic spectacle. It offers a deeper insight into the characters' relationships and self-perceptions.
Pam's realization that she is not bound by others' expectations, Jim's revelation about his feelings for Pam, and Michael's self-inflicted suffering in an attempt to appease his guilt; are a few examples of the depth embedded within these episodes' hilarious facade.
Equally memorable is the scene where the race begins.
Andy, trying to impress Angela, pushes himself to a state of dehydration, while Toby, the perennial office outcast, emerges as the surprising victor.
Michael's insistence on consuming Fettuccine Alfredo before the run and his resulting struggle encapsulates the delightful absurdity we have come to expect from him.
But let's not forget the race isn't about winning. It's about participating. It's about supporting your boss, no matter how ridiculous the cause.
It's about running, in spite of not being an athlete. It's about finishing, even if you're the last one across the line.
It's about the camaraderie, the spirit, and the belief that even a simple run can lead to moments of unexpected revelation, bonding, and plenty of laughs.
The "Fun Run" episodes from The Office offer a brilliant blend of humor, pathos, and absurdity.
They're not just about a fun run; they're a showcase of the human condition, a testament to the power of community, and a reminder that humor can be found in even the most ordinary events.
In this marathon of laughs, we all end up winners.
Starting now, you can receive 10% off in-stock items with my special link at Entertainment Earth!
 Enjoy!
As an Amazon Associate I earn from qualifying purchases
Want more stuff like this?
Get the best viral stories straight into your inbox!
Don't worry, we don't spam