2023 NEW The Office: Michael as Jesus Funko Pop! Exclusive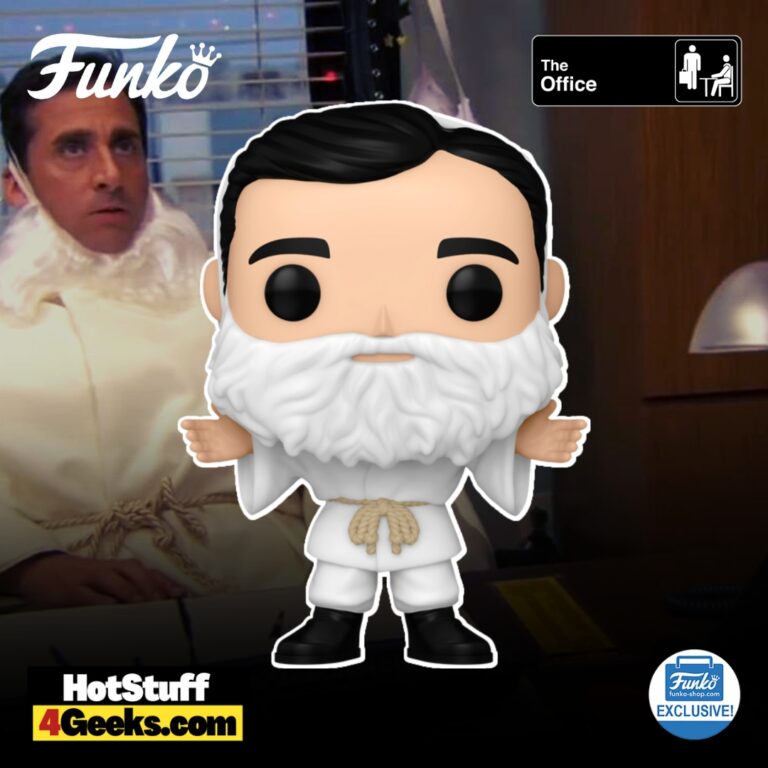 Remember when Dunder Mifflin's Scranton branch celebrated the holidays, and Michael Scott transformed himself into an impromptu Jesus in a somewhat unpredictable twist? Well, guess what? That iconic, quirky, and utterly hilarious moment has been captured forever by the new Funko Pop! The Office: Michael as Jesus Funko Pop! Vinyl Figure – Funko Shop Exclusive (2023 release).
To get your hands on this Pop Vinyl Figure at its release, be sure to check out the links I've provided below – click to jump or scroll to continue reading! 
The Office Holiday Hilarity: New Michael as Jesus Funko Pop!
Dunder Mifflin's zaniest boss, Michael Scott, is back, not in a new episode, but in an exclusive Funko Pop! avatar.
Ah, that unforgettable Christmas episode where Phyllis was bestowed the honor of Santa, triggering Michael's unparalleled improvisation skills.
The result? A hilariously reimagined, slightly unholy Jesus look.
This defining moment has now been immortalized in vinyl form!
With signature inside-out Santa garb and that distinct Michael Scott expression, it's a nod to the delightful absurdity we've come to associate with the World's Best Boss.
Fans would remember Michael's unique interpretation of Jesus, and now, this Funko Shop Exclusive lets you have a piece of that quirky Scranton magic.
Perfect for those who cherish the blend of awkwardness and genius that Michael Scott brings to the festive table.
Dive into the holiday vibes, Office style!
The Funko Shop Exclusive Michael as Jesus Funko Pop! from The Office TV Show can be found for purchase at the links below (click to jump!)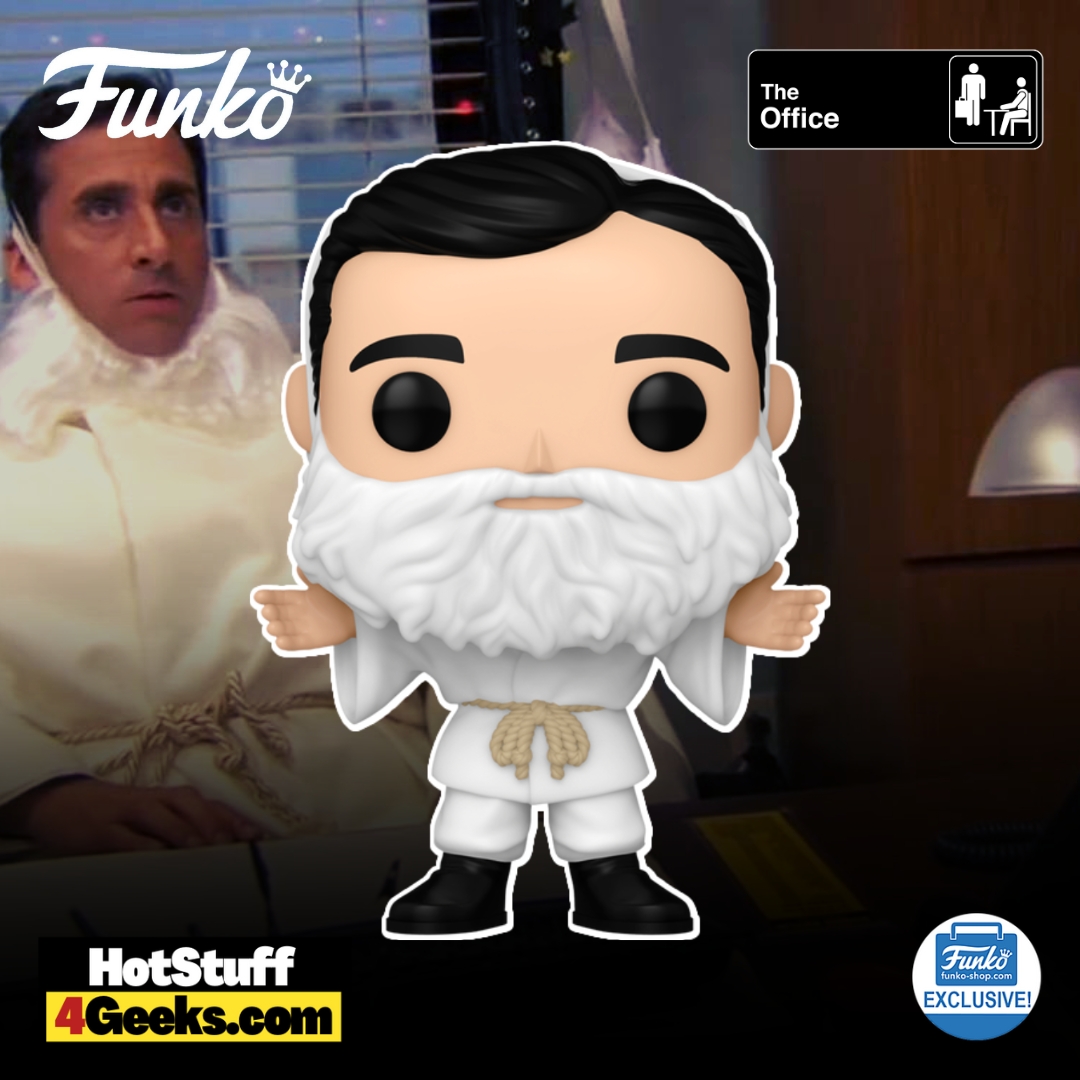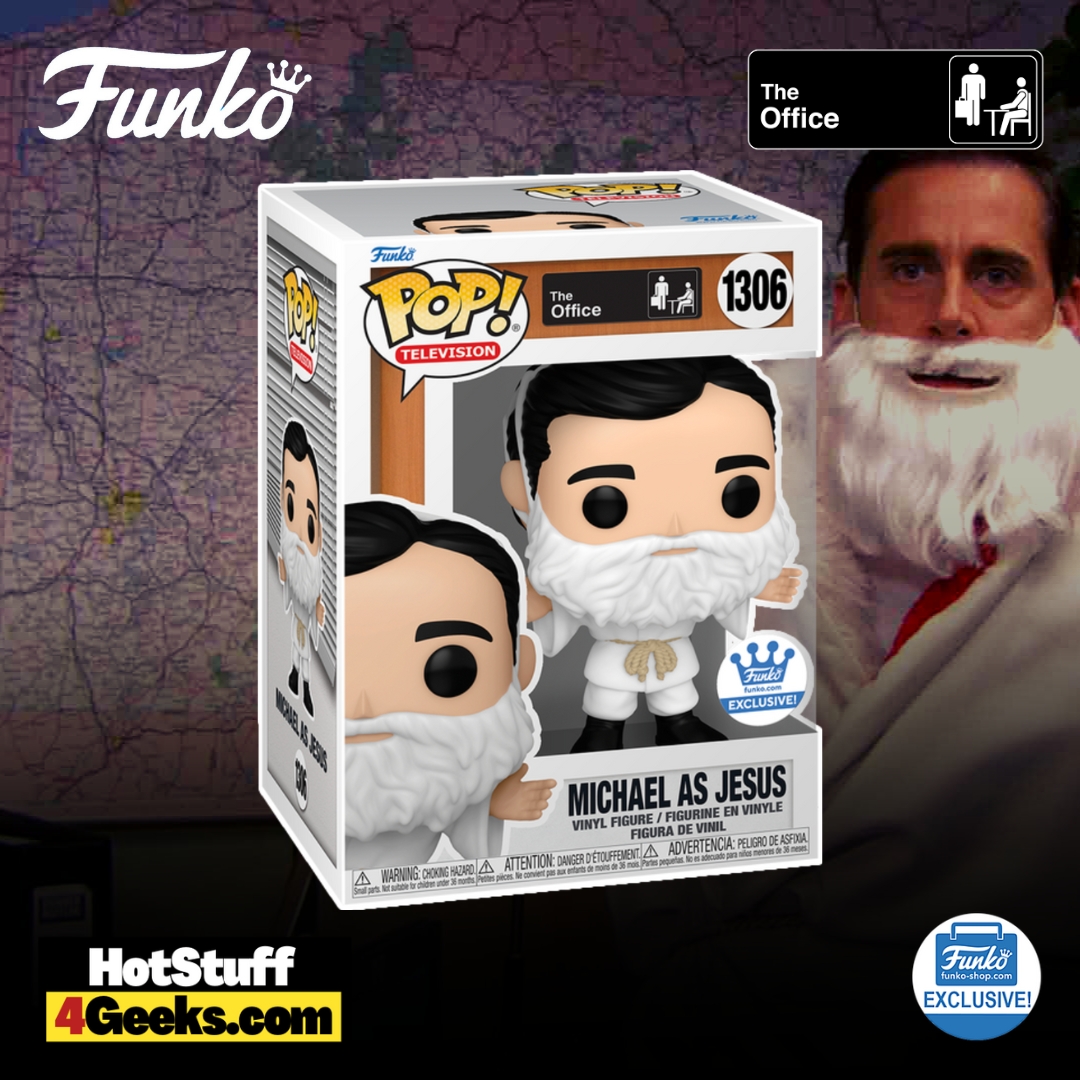 Michael Scott: From Santa to Savior in "Secret Santa"
Christmas at Dunder Mifflin's Scranton branch.
It's always a spectacle, isn't it? Just when you think you've seen all the quirky antics this office could produce, they pull out a brand-new bag of tricks—or in Michael Scott's case, a completely unexpected costume.
In the "Secret Santa" episode, viewers were treated to a classic Michael meltdown (surprise, surprise).
It all began with the simple promise of letting Phyllis be Santa for the office party.
Who would've thought that such a seemingly innocuous decision by Jim would ignite a flare of jealousy in Michael, leading him to not only dress as Santa himself but also to a bizarre yet hilariously classic transformation later on?
Let's talk about Michael's brief, yet iconic, stint as Jesus.
When Michael's attempts to play Santa didn't gain the desired attention and admiration, he pulled an unexpected move from his bag of theatrics.
Turning his Santa suit inside out, he emerged from his office not as jolly ol' St. Nick, but as… Jesus.
Yes, Jesus. And who can forget Angela's approving nod, an expression that screamed, "Finally, someone gets it!"
While many might view this as just one of Michael's over-the-top reactions, it also reflects his constant need to be at the center of everything.
He's the boss, after all.
And if you remember, this isn't the first time Michael's displayed a messiah complex.
But, in this episode, his characterization of Jesus was… well, let's just say it wasn't exactly Sunday School material.
From confusing leprosy with leopards to proclaiming that Jesus could fly, Michael's interpretation was more Marvel superhero than the biblical figure.
His performance did have some shining moments of classic Michael Scott wisdom, though.
Remember his heartfelt, albeit misguided, confrontation with Stanley about adultery?
And the way he used his "powers" to dub Toby as the Antichrist?
Oh, and let's not forget the touching (and slightly awkward) moment where he dubbed Pam as his wife in the family dynamic of the Scranton branch.
Ultimately, the episode serves as another testament to Michael's overblown reactions and his desperate attempts to be the center of attention.
Despite the chaos he often brings, the underlying theme remains his genuine love for the people in his office—even if his way of showing it is by dressing up as Jesus at a Christmas party.
"Secret Santa" is a delightful mix of holiday cheer, classic Michael Scott antics, and the ever-present chaos that is Dunder Mifflin Scranton.
As fans, we're reminded once again that underneath the veneer of a seemingly ordinary paper company lies a world of hilarity, heart, and, yes, sometimes a boss who thinks he can walk on water.
Funko Pop! The Office: Michael as Jesus Funko Pop! Vinyl Figure – Funko Shop Exclusive (2023 release)
Available at:
Starting now, you can receive 10% off in-stock items with my special link at Entertainment Earth!
 Enjoy!
As an Amazon Associate I earn from qualifying purchases
Want more stuff like this?
Get the best viral stories straight into your inbox!
Don't worry, we don't spam