2023 NEW Thor: Ragnarok – Loki Black Light Funko Pop!
Funko Pop! Marvel Studios – Thor: Ragnarok – Loki Black Light Funko Pop! Vinyl Figure – Funko Shop Exclusive
Available at:
The new Funko Pop! Marvel Studios – Thor: Ragnarok – Loki Black Light Funko Pop! Vinyl Figure – Funko Shop Exclusive is a must-have for all die-hard Marvel fans. This collectible based on the fan-favorite Marvel character from Thor: Ragnarok is complete with eerie vibrant yellow, blue, and purple coloring that shines even brighter under a black light.
The pop figure drops today at 9:30 AM PT at the links below – click to jump or scroll to continue reading!
For fans of the Marvel Cinematic Universe (MCU), there's no denying the enigmatic charm and allure of Loki, the God of Mischief.
Thor: Ragnarok saw him transform before our eyes in an engaging storyline that left us all eagerly waiting for more. If you've been pining for a piece of this Asgardian chaos, your prayers have been answered with the all-new Loki Black Light Funko Pop!
Inspired by his captivating role in the movie, this collectible figure perfectly captures Loki's struggle between hero and villain – a story so unique it'll leave any Marvel fan hooked!
Perfect for any MCU enthusiast, the figure is an ode to the Asgardian's heroic-villainous journey that left everyone wanting more – because, let's face it, why would anyone be satisfied with just one taste of chaos?
Loki Black Light Funko Pop! from Thor: Ragnarok is now available for order at the links below (click to jump!)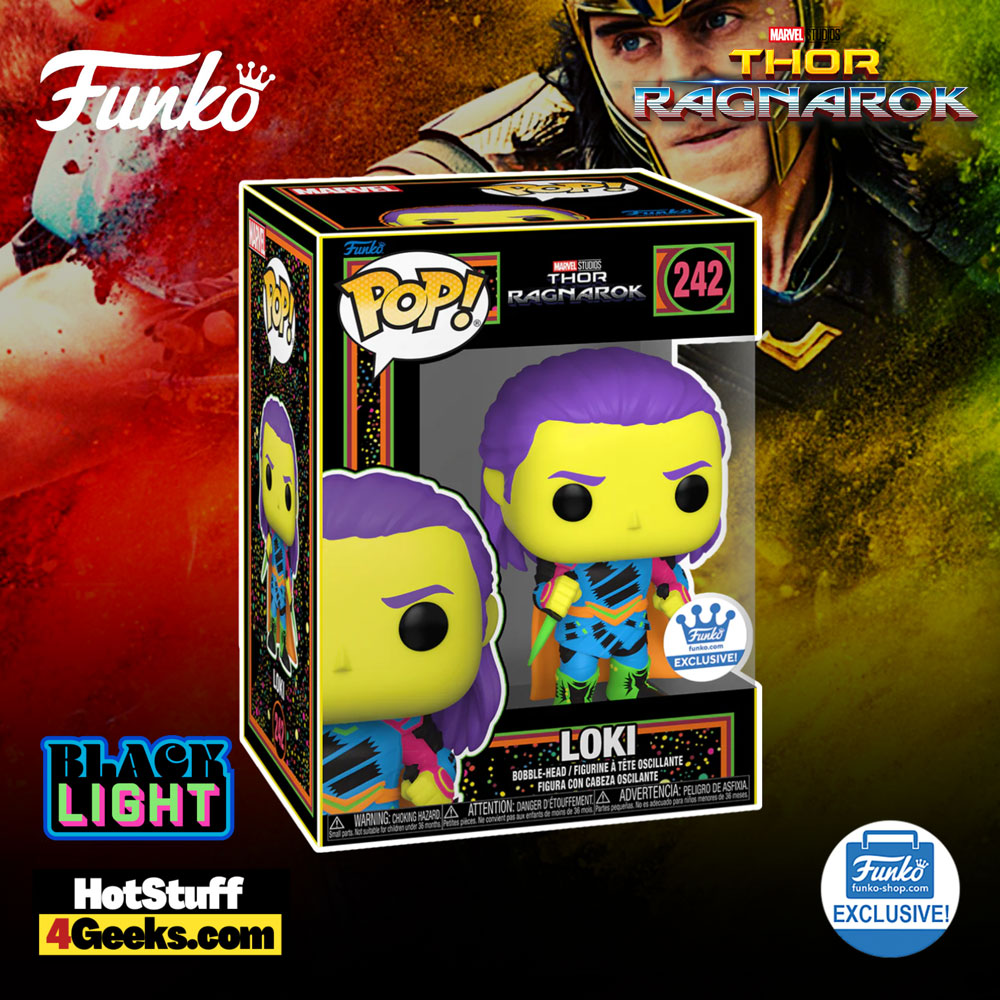 The Marvel Cinematic Universe (MCU) is known for its vibrant tapestry of characters, and few of them have captured the hearts and minds of fans quite like Loki.
With Thor: Ragnarok, the enigmatic Asgardian finally comes into his own, shedding his villainous skin and embracing his true chaotic neutral nature.
From his ambitious coup in the original Thor movie to his deceptive heroics in Thor: The Dark World, Loki has always been in flux.
But it's in Thor: Ragnarok that he finds his footing, no longer confined to a box labeled good or evil.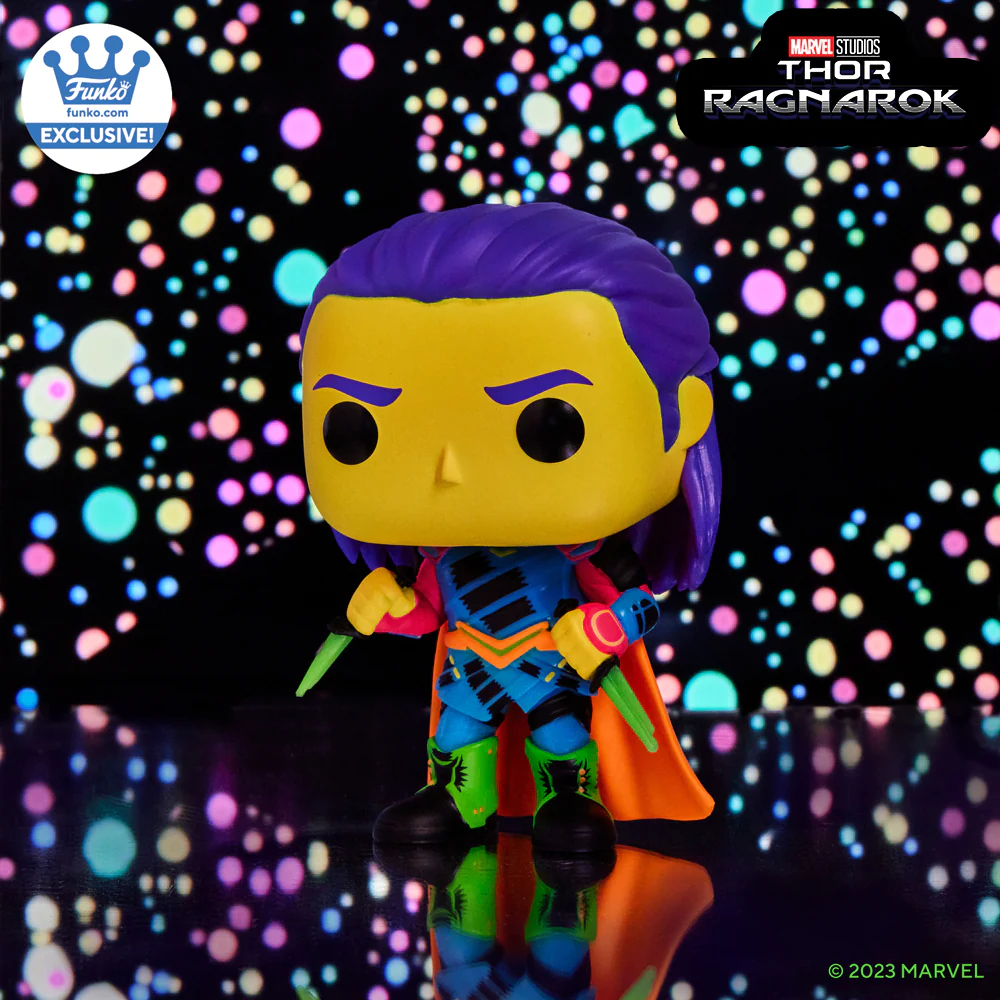 Ragnarok opens with Loki ruling Asgard under the guise of Odin, basking in the glory of his deception with extravagant theatrical performances celebrating his own supposed heroism.
However, the status quo is disrupted when Thor returns and sets into motion a chain of events that ultimately shape the Asgardian brothers' relationship.
One of the key elements of Thor: Ragnarok is the evolution of Thor and Loki's bond.
As Thor matures and grows, Loki finds himself struggling with his own past and his inability to move forward.
The once fiery rivalry between the brothers cools, leaving Loki to face his own inner demons and seek self-redemption.
A poignant scene in Ragnarok captures this dynamic when Thor casually suggests that Loki should follow his own path, whether dark or light.
It's a subtle gesture of love that no longer demands anything in return from Loki, allowing him the freedom to discover his own identity.
As the story unfolds, Loki realizes he can no longer coast through life as a playful prankster.
He must face the consequences of his actions and take responsibility for the chaos he's created.
This emotional development propels Loki into uncharted territory, culminating in a breaking point that aligns more closely with his comic book counterpart.
In the comics, Loki revels in orchestrating chaos, less concerned with controlling outcomes than observing the ensuing mayhem.
Thor: Ragnarok finally allows Loki to embrace this role, allowing him to experience the highs and lows of both hero and villain while ultimately settling somewhere in between.
With this film, the MCU achieves the seemingly impossible task of reinventing Loki, providing him with a fitting platform to shine as a complex and captivating character.
The film masterfully captures Loki's essence, injecting him with a newfound depth and ensuring he remains a fan-favorite in the ever-expanding Marvel universe.
As an Amazon Associate I earn from qualifying purchases
Funko Pop! Marvel Studios – Thor: Ragnarok – Loki Black Light Funko Pop! Vinyl Figure – Funko Shop Exclusive
Available at:
Want more stuff like this?
Get the best viral stories straight into your inbox!
Don't worry, we don't spam