2023 NEW TMNT – Bebop Funko Soda with Mettalic Chase! EXCL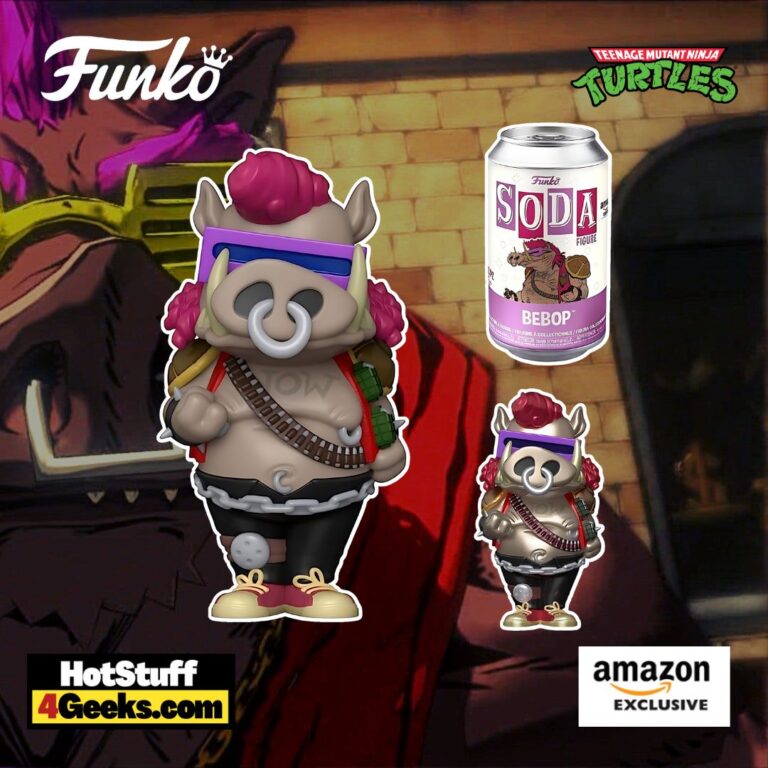 With a can-do attitude as beefy as the mutant warthog himself, the new Funko Soda! TMNT – Bebop Funko Soda with Chance of Mettalic Chase – Amazon Exclusive is ready to add some punch to your collectibles. This Amazon Exclusive pops with character, quite literally, capturing the essence of Bebop in all his rough-and-tumble glory.
To get your hands on this Soda Figure, be sure to check out the links I've provided below – click to jump or scroll to continue reading!
This isn't just a figure. It reflects Bebop's personality – chaotic, vibrant, and unmissable.
Every detail, from his sharp tusks to his punk-rock mohawk, has been carefully crafted to pay tribute to the most famous warthog from the TMNT universe.
For the lucky few, there's a chance to score the coveted Metallic Chase version.
Think of it as striking gold in the mine of TMNT memorabilia. This is Bebop ramped up to eleven – shimmering with a metallic sheen that throws his character into bold relief.
This isn't just a Funko Soda figure – it's a head-banging, jazz-swinging salute to Bebop's unforgettable rhythm in the symphony of TMNT lore.
The Amazon Exclusive Bebop Funko Soda with Chance of Mettalic Chase is now available for pre-order at the links below (click to jump!)
Bebop. Even the name screams music, rhythm, and chaos.
This iconic character from Teenage Mutant Ninja Turtles (TMNT) – a towering figure of a warthog with an attitude to match – is undoubtedly one of the most fascinating elements of the TMNT universe.
Born from the imagination of Peter Laird, co-creator of TMNT, Bebop started life not in the comics but as a concept for a toy line.
Back then, he was just a thought, a sketch, a piece to bolster a budding merchandise empire.
But little did anyone know, Bebop, along with his partner in crime, Rocksteady, would eventually cement their place in the TMNT world.
Bebop's journey began as an average African-American street thug, running rampant on the gritty city streets. But destiny had other plans.
When Shredder, the iconic villain, needed an answer to the Turtles' power, Bebop, along with Rocksteady, volunteered for an experimental procedure.
The result was a towering, powerful warthog armed with an attitude and strength to match the Turtles. However, what Bebop gained in power, he lost in brains.
This brings us to one of Bebop's defining traits – his staggering lack of intellect.
Despite his imposing stature and brute strength, intelligence, or lack thereof, he has often led to his downfall.
The Turtles, always quick to outwit their adversaries, frequently bested him, showcasing brains over brawn.
Bebop's transformation is not just physical.
His moniker is inspired by the artful syncopation of jazz music, named Bebop – a nod to his street origins and the chaotic rhythm he brings to the TMNT narrative.
His intelligence may not be his strong suit, but his charm and humor, despite his brute exterior, have endeared him to fans worldwide.
One fascinating twist in Bebop's tale is his connection to Slash, another prominent mutant in the TMNT universe.
Thanks to Rocksteady's mischief, Bebop's pet turtle would later become Slash, a formidable enemy to the Turtles.
As Bebop's journey unfolds, from his toyline origin to becoming one of the most recognized faces in the TMNT universe, his transformation is a testament to his enduring appeal.
A jazz-loving street thug turned mutant warthog, Bebop's character dances to a rhythm all its own, and we can't help but tap along.
Starting now, you can receive 10% off in-stock items with my special link at Entertainment Earth!
 Enjoy!
As an Amazon Associate I earn from qualifying purchases
Want more stuff like this?
Get the best viral stories straight into your inbox!
Don't worry, we don't spam