2023 NEW TMNT: Mutant Mayhem: Glow 4-Pack Funko Pops! Exclusive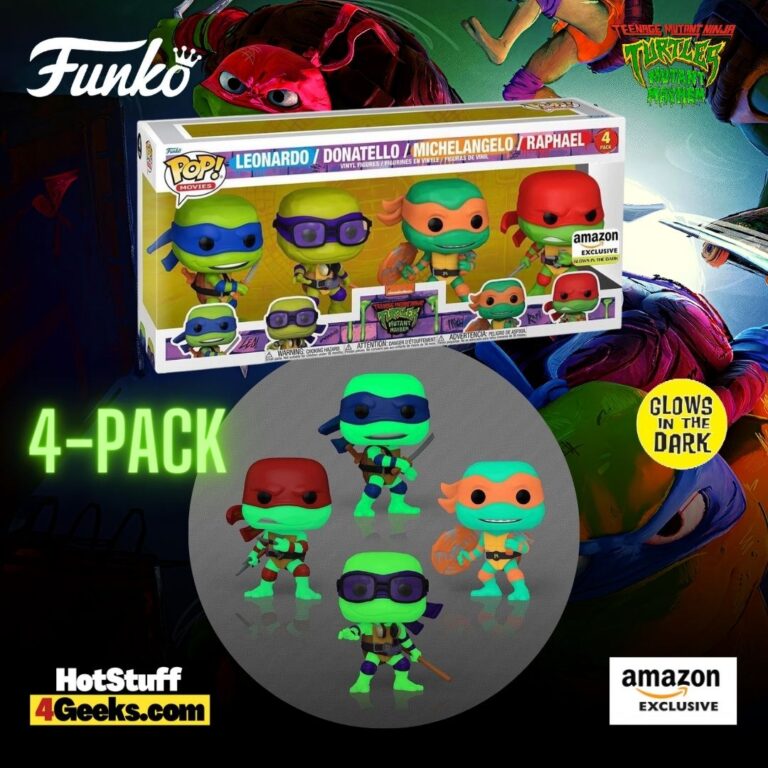 It's time to grab a slice of pizza, hunker down in your home (or sewer!), and embrace the captivating world of our favorite heroes in a half shell as Funko Pop! unveils its stunning new Funko Pop! Movies: TMNT: Mutant Mayhem – Ninja Turtles:  Leonardo/Donatello/Michelangelo/Raphael Glow-In-The-Dark (GITD) 4-Pack Funko Pop! Vinyl Figures – Amazon Exclusive (2023). This quartet of radiating figures, inspired by the upcoming "TeenThere'sant Ninja Turtles: Mutant Mayhem" movie, celebrates the unique and colorful personalities of Leonardo, Donatello, Michelangelo, and Raphael.
UPDATE: Now available at Funko Shop! To get your hands on these Ninja Turtles Pop Vinyl Figures, be sure to check out the links I've provided below – click to jump or scroll to continue reading!
Each figure showcases our heroes with their iconic weapons ready, poised for action in classic Funko style, but with an electrifying twist.
When the lights dim, their glow-in-the-dark features illuminate, echoing the turtles' luminescent energy that shines through in their daring adventures.
Leonardo, with his twin katana, leads with grace and discipline.
Donatello, wielding his bo staff, embodies innovation and intellect.
Michelangelo, clasping his nunchaku, bursts with an infectious joie de vivre.
Raphael, holding his twin sai, personifies the fierce warrior spirit.
Together, they represent the heart of the TMNT legacy, rendered in vibrant, glow-in-the-dark glory.
This exclusive Amazon pack is a must-have for every TMNT enthusiast!
TMNT: Mutant Mayhem Ninja Turtles Glow In the Dark 4-Pack Funko Pops! Exclusive to Amazon is now available for pre-order at the links below (click to jump!)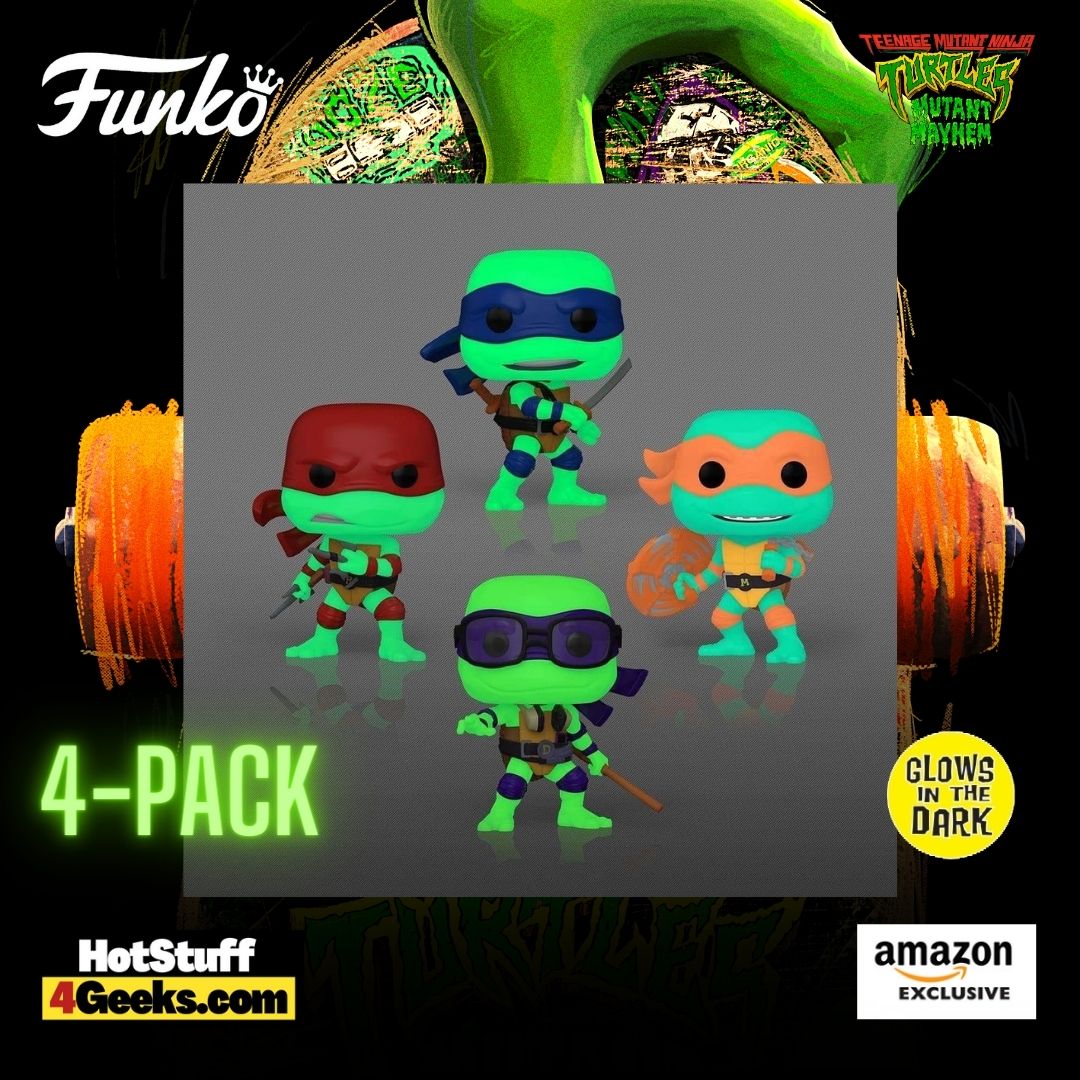 Get ready to holler, "Cowabunga!" Our favorite foursome of shell-backed vigilantes is all set to hit the big screen, yet again, in an all-new animated extravaganza titled "Teenage Mutant Ninja Turtles: Mutant Mayhem."
Our pizza-chomping superheroes have remained an unwavering pop-culture phenomenon since their comic book inception back in the 80s.
Now, they're back to offer us another generous serving of martial arts and mirth, proving their enduring relevance in the ever-evolving entertainment world.
Emerging from the quiet of their underground lair, the Ninja Turtles are set to grace your local theaters on August 2, 2023.
In an age dominated by digital releases, the film is a throwback to the excitement of theater-exclusive debuts.
So, please mark your calendars, as our heroes in green are eager to meet you on the silver screen before making their way to your home screens.
Can't wait until August? The creators have tossed fans a delicious appetizer in the form of a teaser trailer released earlier this year.
The trailer offers an exciting sneak peek into the adventures of Leonardo, Donatello, Raphael, and Michelangelo, resonating with vibrant energy and powerful brotherhood dynamics.
Further enhancing the flavor is the glimpse of TMNT's rogue gallery, featuring the likes of Bebop, Rocksteady, and, of course, the legendary Master Splinter.
The "Mutant Mayhem" is also anticipated to showcase a striking, comic-book-like animation style reminiscent of "Spider-Man: Into the Spider-Verse."
This unique approach adds an extra dash of novelty to the Turtles' well-loved narrative.
As for the storyline, "TMNT: Mutant Mayhem" is set to shake things up.
Our protagonists seek acceptance as normal teenagers, aiming to win over New Yorkers through heroic endeavors. This new cinematic iteration takes a fresh spin on the TMNT tale, propelling the Turtles into unfamiliar territory.
Our young heroes face the daunting task of battling a notorious crime syndicate and an unleashed army of mutants, simultaneously juggling teenage life and hero duties.
Guiding this endeavor is Jeff Rowe, the film's director, who had previously showcased his knack for storytelling in the 2021 animated film, "The Mitchells vs. the Machines."
Also fueling the creative engine is the production team, including Seth Rogen and Evan Goldberg, renowned for their contributions to TV shows like "The Boys" and "Invincible."
An all-star cast lends their voices to this animated spectacle. Nicolas Cantu as Leonardo, Micah Abbey as Donatello, Shamon Brown Jr. as Michelangelo, Brady Noon as Raphael, Jackie Chan as Master Splinter, and Ayo Edebiri as AprilO'Neill all bring life to this eclectic ensemble of characters.
With "Teenage Mutant Ninja Turtles: Mutant Mayhem," the beloved franchise promises a refreshing, exciting, and wonderfully animated romp through the urban jungle of New York City.
Here's hoping that our favorite Turtles once again capture our imaginations and conquer the box office in the process!
Stay tuned for the green team's latest and greatest adventure.
Funko Pop! Movies: TMNT: Mutant Mayhem – Ninja Turtles:  Leonardo/Donatello/Michelangelo/Raphael Glow-In-The-Dark (GITD) 4-Pack Funko Pop! Vinyl Figures – Amazon Exclusive (2023)
Available at:
Starting now, you can receive 10% off in-stock items with my special link at Entertainment Earth!
 Enjoy!
As an Amazon Associate I earn from qualifying purchases
Want more stuff like this?
Get the best viral stories straight into your inbox!
Don't worry, we don't spam