2023 NEW Toy Story Bitty Funko Pops! Mini Figures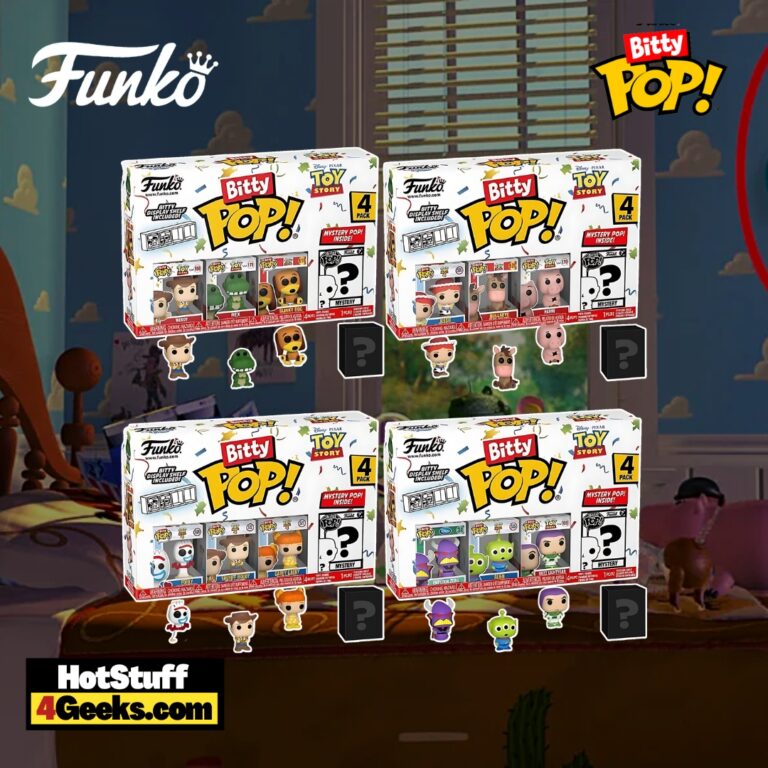 The magic of Toy Story continues to captivate fans, young and old. With the unveiling of the 4 NEW Toy Story 4-Pack Bitty Pops (2023 release), this beloved franchise offers enthusiasts a fresh way to celebrate its iconic characters and tales. Dive into a miniature world where nostalgia meets novelty.
To get your hands on these Bitty Pops, be sure to check out the links I've provided below – click to jump or scroll to continue reading!
The Miniature Magic of Toy Story's New Bitty Pops
Prepare yourselves, Toy Story fans! The franchise that has seamlessly traversed generational lines is stepping into the collectible realm with panache.
With the 2023 release of Toy Story 4-Pack Bitty Pops, your favorite characters are not just downsized; they are encapsulated into approximately 1-inch tall figures, each a paragon of Pixar's cinematic artistry.
What sets these Bitty Pops apart? Well, the uniqueness lies in their intricately designed acrylic boxes and detachable base lids, creating a presentation as memorable as the franchise itself.
You won't just get Woody or Buzz; there's also the thrill of unveiling a mystery figure in each set!
Whether it's a 'rare' or 'hyper rare' inclusion, the suspense echoes the series' ever-twisting narrative arcs.
Sure, they might be small, but each Bitty Pop is a pocket-sized homage to Toy Story's grand themes of friendship, growth, and the continual grappling with existential toy dilemmas.
Yet again, the franchise finds another avenue to sustain its resonance.
These aren't mere trinkets; they're small monuments to a story that's writ large in our hearts.
The Toy Story Woody Funko Bitty Pop! Mini-Figure 4-Pack includes:
1x Woody Bitty Pop! Mini-Figure
1x Rex Bitty Pop! Mini-Figure
1x Slinky Dog Bitty Pop! Mini-Figure
1x Mystery Bitty Pop! Mini-Figure
The Toy Story Jessie Funko Bitty Pop! Mini-Figure 4-Pack includes:
1x Jessie Bitty Pop! Mini-Figure
1x Bullseye Bitty Pop! Mini-Figure
1x Hamm Bitty Pop! Mini-Figure
1x Mystery Bitty Pop! Mini-Figure
The Toy Story Forky Funko Bitty Pop! Mini-Figure 4-Pack includes:
1x Forky Bitty Pop! Mini-Figure
1x Sheriff Woody Bitty Pop! Mini-Figure
1x Gabby Gaby Bitty Pop! Mini-Figure
1x Mystery Bitty Pop! Mini-Figure
The Toy Story Emperor Zurg Funko Bitty Pop! Mini-Figure 4-Pack includes:
1x Emperor Zurg Bitty Pop! Mini-Figure
1x Alien Bitty Pop! Mini-Figure
1x Buzz Lightyear Bitty Pop! Mini-Figure
1x Mystery Bitty Pop! Mini-Figure
The Toy Story Bitty Pop! Mini-Figures can be found for pre-order at the links below (click to jump!)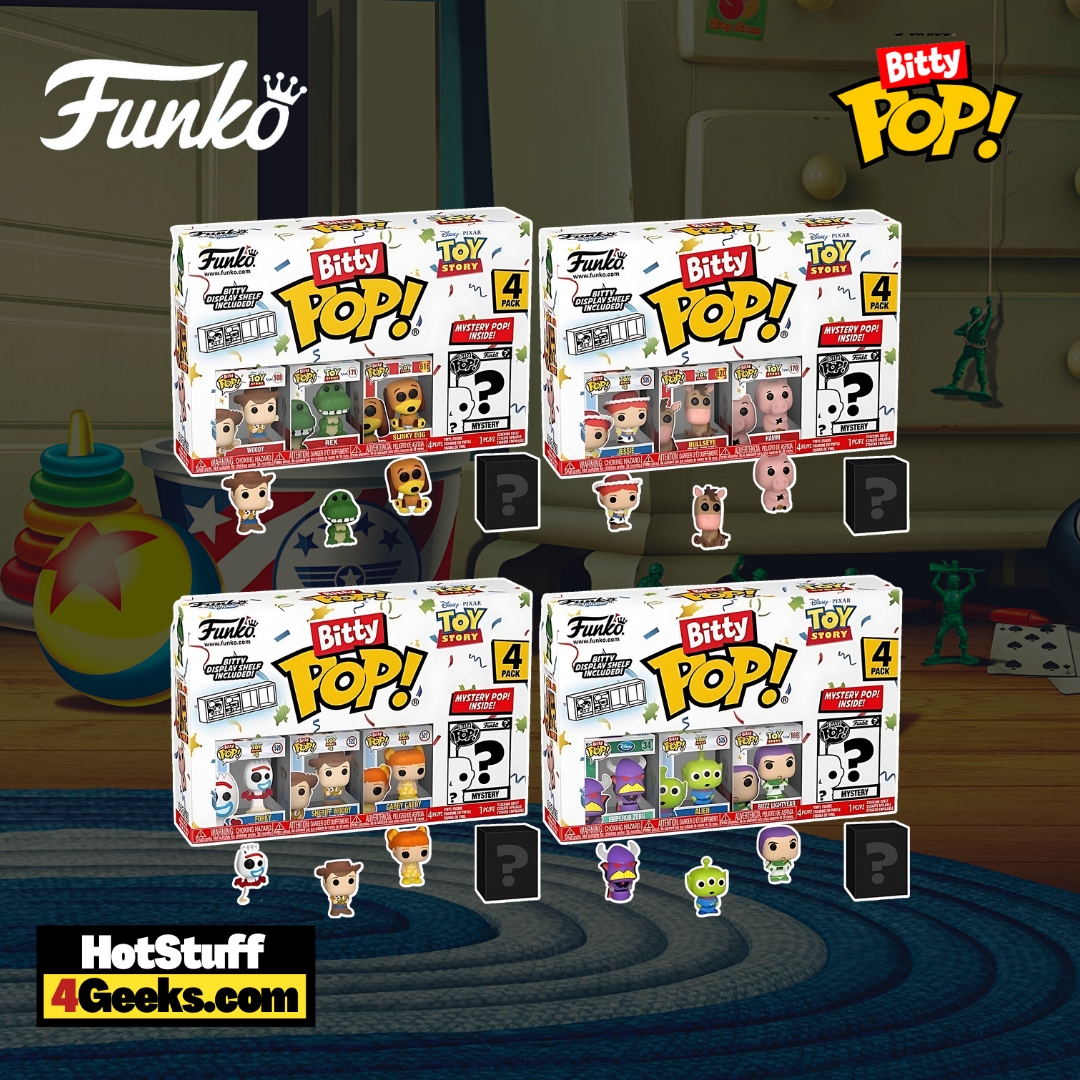 The Enduring Resonance of Toy Story for the Millennial Odyssey
Toy Story, the iconic franchise from Disney/Pixar, has grown into more than a mere nostalgic touchstone for its millennial audience.
It serves as a curious parallel to the generational journey that these individuals have experienced.
But what makes this series resonate deeply, transforming it from a whimsical children's tale into a lifelong companion?
The reasons are manifold and span several aspects of the human experience, from humor and friendship to the harsh realities of growing up.
Toy Story's narrative is a trove of evolving wit. Its humor matures alongside its audience.
One-liners that might have sailed over our heads as children become freshly amusing and deeply resonant as adults.
This sense of humor is a constant companion, evolving as we do and offering something new at every life stage.
But the films go beyond humor.
In a world where friendships are often fickle, maintained through quick texts or social media likes, the genuine and sometimes messy bond between Woody and Buzz serves as a poignant counterpoint.
This analog allegory, which captures the complexities of friendship in its purest form, remains relevant whether you're navigating the playground or the workplace.
Furthermore, Toy Story gives us Rex, the anxiety-ridden T-Rex, as an emotionally complex character that resonates with adults who struggle with stress and worry.
In an era defined by its high levels of uncertainty, Rex offers a relatable, if comedic, face to the modern condition of anxiety.
The franchise also doesn't shy away from the harsher realities of growing up.
Whether it's Andy packing for college or Woody grappling with his own existential purpose, these storylines tap into the uncertainties and fears we all face as we transition from one life stage to another.
These narratives feel particularly poignant for millennials, who've come of age amid seismic shifts in technology, economy, and culture.
Regarding technology, Toy Story subtly weaves in the generational experience of technological change.
From Woody's pull-string voice box to Buzz Lightyear's more advanced features, each toy represents a different phase of technological development, mirroring the tech boom that has profoundly influenced the millennial experience.
And let's not forget the overarching themes of abandonment and purpose that course through the franchise.
These elements speak directly to a generation grappling with a shifting societal landscape where traditional paths to success and fulfillment are constantly being rewritten.
In sum, Toy Story transcends its origins as a children's film to become an intergenerational narrative, rich with themes that grow more profound and resonant as its audience matures.
It is a chronicle of toys that come to life and the deeply human experiences that shape us all, making it a true odyssey for the millennial generation.
Starting now, you can receive 10% off in-stock items with my special link at Entertainment Earth!
 Enjoy!
As an Amazon Associate I earn from qualifying purchases
Want more stuff like this?
Get the best viral stories straight into your inbox!
Don't worry, we don't spam