2023 NEW Trick 'r Treat: Sam w/ Razor Candy (Flocked) Funko Pop!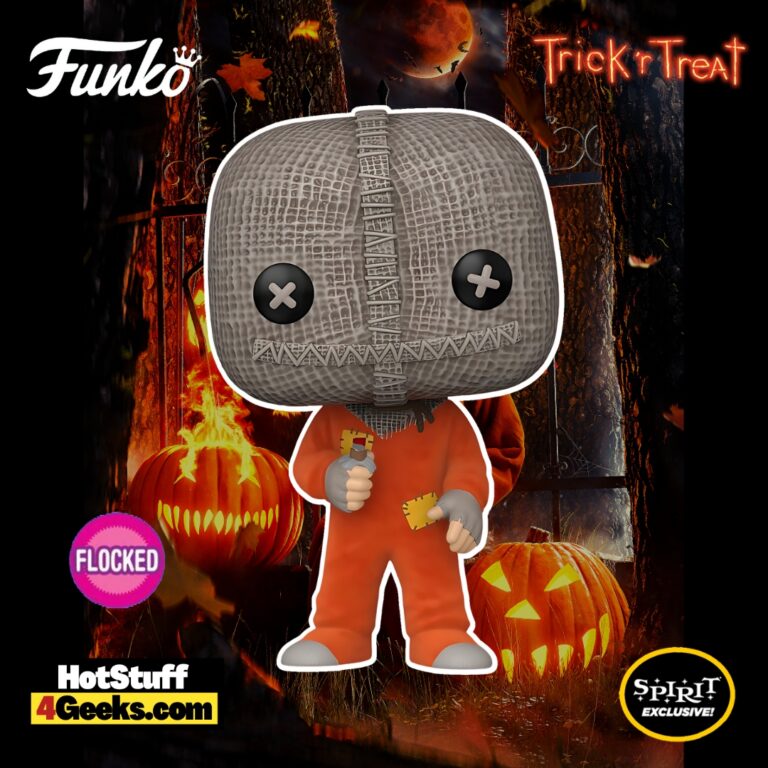 It's a great day to be a fan of "Trick 'r Treat"! Adding another iconic character to their impressive lineup, Funko Pop! Movies recently unveiled their new Funko Pop! Movies: Trick 'r Treat – Sam with Razor Candy (Flocked) Funko Pop! Vinyl Figure – Spirit Halloween Exclusive. This isn't your average Funko figure. Oh no, this is Sam, the enigmatic mascot of Halloween and the beloved antihero of our favorite horror anthology.
Now available! To get your hands on this Pop Vinyl Figure, be sure to check out the links I've provided below – click to jump or scroll to continue reading!
Razor Sharp Charm: Funko Pop! Releases Flocked Sam Figure
Flocked and full of detail, the figure encapsulates Sam's paradoxical blend of innocence and dread.
His burlap sack mask and orange jumpsuit are recreated with care, capturing his unique charm.
But what really elevates the figure is the razor-sharp candy in Sam's hand – a playful yet unnerving detail that adds a touch of dark humor.
The figure's flocked design also sets it apart. The fuzzy, soft texture mirrors Sam's appearance in the film, making it a real treat for fans and collectors alike.
This Flocked Sam figure truly brings our favorite Halloween guardian to life.
Just remember to respect the holiday, or else…
The Spirit Halloween Exclusive Sam Flocked Funko Pop! from Trick 'r Treat movie can be found for purchase at the links below (click to jump!)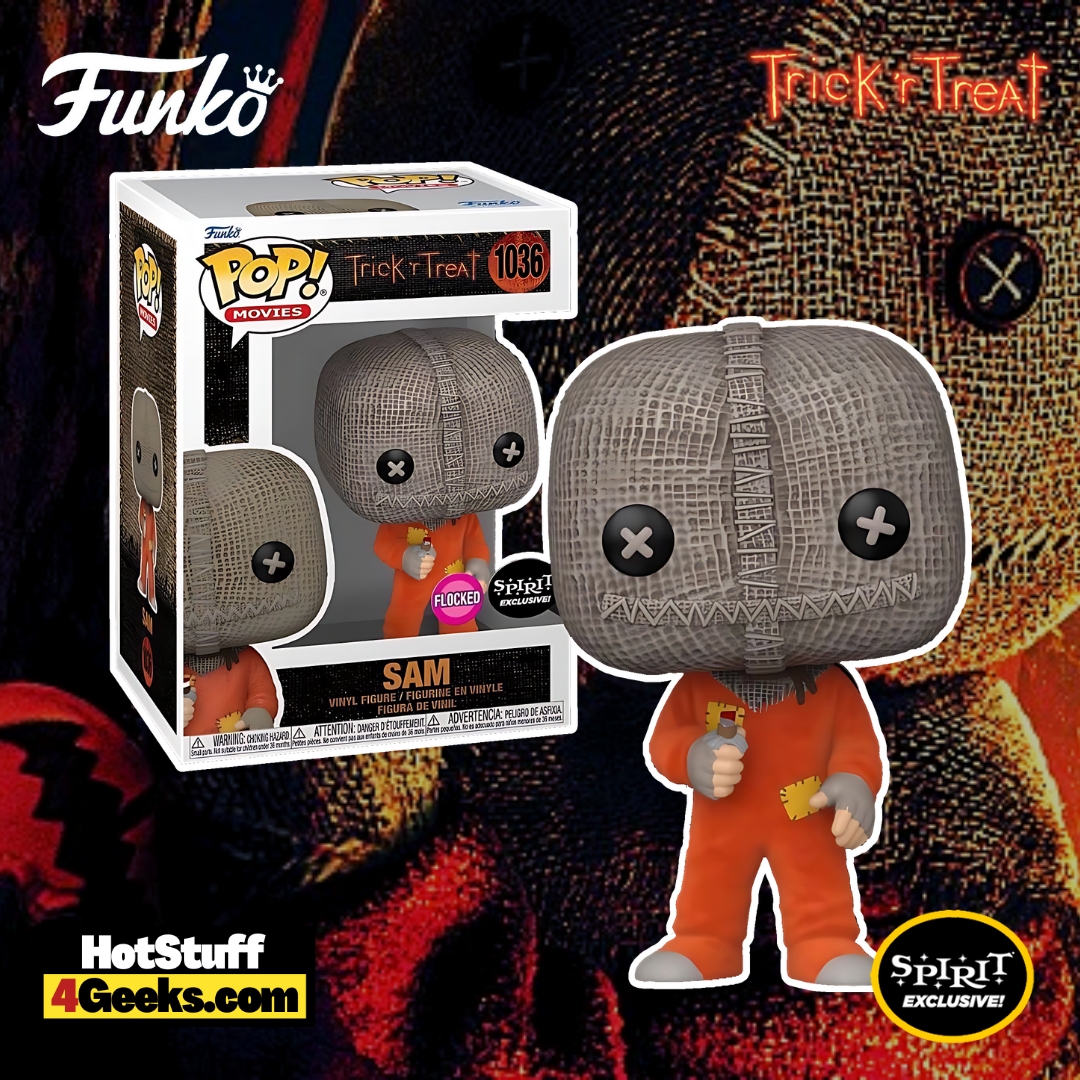 Honoring Halloween's Heart: A Close Look at "Trick 'r Treat."
"Trick 'r Treat" isn't just another name on the long list of horror anthologies; it's a profound love letter to the revered traditions of Halloween.
Directed by Michael Dougherty, the film weaves together four intricate stories, all bound by the mischievous and chilling presence of Sam, a pint-sized harbinger of Halloween justice.
Don't be mistaken by Sam's diminutive stature – his commitment to upholding Halloween's sanctity is unwavering and absolute.
Disrespect the holiday at your peril, as Leslie Bibb's character Emma found out in the gruesome opening sequence.
Here, Dougherty establishes the film's central tenet: Halloween isn't to be trifled with; it's a sacred event deserving our respect and admiration.
What makes "Trick 'r Treat" stand out is its embodiment of the quintessential Halloween aesthetic.
Thanks to Glen MacPherson's masterful cinematography, the film is awash in a spooky, shadow-filled atmosphere, perfectly capturing the essence of a chilly October night.
The clever blend of chilling narrative and visceral gore delivers a potent cocktail that'll make even the bravest audience members shudder.
As we follow Sam's nocturnal journey through these interconnected tales, we are reminded of the cruel consequences that befall those disregarding Halloween's sacred traditions.
Each story unravels the grim fate of those who thoughtlessly act, from wanton destruction of pumpkins to cruel pranks at the expense of the unsuspecting.
In each instance, Dougherty is clear: indifference and disrespect towards Halloween's time-honored traditions are met with a brutal comeuppance.
Dougherty's narrative isn't solely about retribution, though. There's an underlying celebration of horror as a genre, reflected through the eyes of Sam, who becomes a stand-in for all die-hard horror enthusiasts. It's an ode to those who relish in the macabre, defend the genre with unyielding passion, and find solace in shared experiences of fear and excitement.
As "Trick 'r Treat" continues to captivate audiences, it's clear that it has secured its spot in the pantheon of iconic Halloween films.
More than just an anthology, it is an earnest representation of the resilience and communal spirit inherent in the horror community.
Dougherty's creation fearlessly explores societal standards and expectations, even as it delivers a potent punch of terrifying entertainment.
Overall, "Trick 'r Treat" is a firm reminder of why we cherish horror as a genre, continually seek out those adrenaline-inducing thrills, and, most importantly, why we should always respect Halloween's traditions.
Even sixteen years after its release, the film continues to resonate with its audience, a testament to its enduring relevance in a genre defined by the bizarre and terrifying.
So, next Halloween night, as you light up your jack-o'-lantern, remember Sam's message:
Honor the Halloween traditions, or be ready to face the horrifying consequences.
After all, every holiday has its protector, and Halloween has Sam.
Funko Pop! Movies: Trick 'r Treat – Sam with Razor Candy (Flocked) Funko Pop! Vinyl Figure – Spirit Halloween Exclusive
Available at:
Starting now, you can receive 10% off in-stock items with my special link at Entertainment Earth!
 Enjoy!
As an Amazon Associate I earn from qualifying purchases
Want more stuff like this?
Get the best viral stories straight into your inbox!
Don't worry, we don't spam