2023 NEW Ukulele Stitch (Flocked) Funko Pop! and Tee Bundle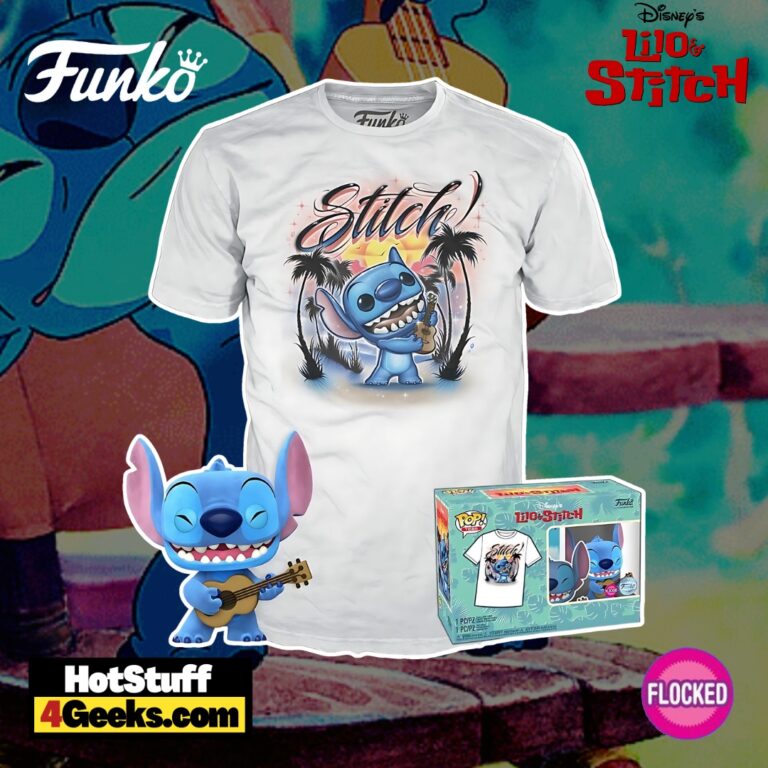 A wave of joy is about to crash onto Lilo & Stitch fans as Funko releases its newest gem – the Funko Pop! Tee: Lilo & Stitch – Ukulele Stitch (Flocked) Funko Pop! and Tee Bundle. The set captures the irresistible charm of Stitch strumming a ukulele, a delightful throwback to one of the most memorable scenes in the movie.
To get your hands on this Pop and Tee Bundle at its release, be sure to check out the links I've provided below – click to jump or scroll to continue reading!
Striking a Chord: The Ukulele Stitch Funko Pop! and Tee Bundle Unveiled
True to form, the figure depicts Stitch with his distinct blue hue, yet in a unique twist, Stitch has a flocked texture, providing a more tactile experience.
Stitch's bright, mischievous eyes, coupled with his enthusiastic ukulele strumming, instantly transport you back to the sunny Hawaiian vibes of the film.
Not to be overlooked, the accompanying tee flaunts a vibrant design featuring Stitch in his ukulele-playing glory.
This tee is the perfect canvas for Stitch's magnetic appeal, solidifying the bond between the beloved alien and his fans.
This bundle encapsulates Stitch's endearing personality, reminding us of the transformative journey of this one-of-a-kind Disney character.
The Ukulele Stitch Funko Pop! and Tee bundle does more than honor Stitch; it celebrates his spirit and zest for life, which continued to touch our hearts years after we first met him.
The Flocked Ukulele Stitch Funko POP! And Tee bundle can be found for purchase at the links below (click to jump!)
Stitch: An Unlikely Hero with a Cosmic Evolution
Disney characters often have a way of tugging at our heartstrings, but none do it quite like the mischievous blue alien, Stitch.
Born from the mind of a rogue scientist, Stitch initially lands on the Hawaiian island of Kauai as a force of destruction.
Yet, what unfolds is a story of growth, loyalty, and transformation that catapults Stitch into the realm of the most endearing Disney characters.
An impressive learning curve characterizes Stitch's journey. Initially, he is unfamiliar with the nuances of human interaction and struggles to fit in.
However, over time, Stitch learns to adapt, showcasing a level of growth that transcends his alien origins.
This journey from an uncontrollable alien to a character who understands and embraces the idea of family, or "Ohana," as it's so beautifully termed in the movie, forms the crux of his transformation.
One of Stitch's most noticeable traits is his unwavering loyalty.
In the beginning, Stitch grapples with the concept of loyalty.
However, as he grows closer to Lilo and experiences the warmth of a family, he evolves into a fiercely loyal companion.
His devotion to Lilo is heartwarming, and it's this love for his adoptive sister that propels him to become a better version of himself.
This trait has resonated with audiences, making Stitch a beloved character in Disney's pantheon.
No discussion of Stitch would be complete without mentioning his unique style of comedy.
Stitch's antics go beyond verbal humor, delving into the realm of physical comedy.
Whether mimicking Elvis Presley's dance moves or showcasing his extraterrestrial abilities, Stitch's physicality adds a fun and dynamic element to the movie.
This combination of humor and action keeps viewers hooked, further enhancing his appeal as a character.
Stitch also brings a dash of excitement to the narrative with his action-filled exploits.
Despite the movie focusing on family and emotional connections, Stitch adds a touch of adrenaline with his daring deeds.
Whether escaping intergalactic pursuers or rushing to Lilo's aid, Stitch proves he's more than just a cute, chaotic alien.
He's a character with depth, bravery, and readiness to protect those he loves.
In a sea of Disney characters, Stitch stands out. His journey from an emotionless experiment to a loving family member highlights the power of growth and change.
Stitch embodies the core values of family and loyalty, while his unique humor and action-packed adventures make him a truly memorable character.
His story is a testament to the transformative power of love and acceptance, showing us that everyone, even a destructive alien, has the potential for change and growth.
So, here's to Stitch – an unlikely hero whose journey continues to captivate and inspire us all.
Funko Pop! Tee: Lilo & Stitch – Ukulele Stitch (Flocked) Funko Pop! and Tee Bundle
Available at:
Starting now, you can receive 10% off in-stock items with my special link at Entertainment Earth!
 Enjoy!
As an Amazon Associate I earn from qualifying purchases
Want more stuff like this?
Get the best viral stories straight into your inbox!
Don't worry, we don't spam