2023 NEW WB 100: Bugs Bunny as Buddy the Elf Funko Pop!
In celebration of a century filled with iconic characters and unforgettable stories, Warner Bros. has pulled a delightful surprise from its hat. The new Funko Pop! Warner Bros. 100th Anniversary – Bugs Bunny as Buddy the Elf Funko Pop! (2023 release) fuses two legendary characters into a singular, memorable collectible. It's a playful nod to the vast universe of Warner Bros., creatively intertwining the classic charm of Bugs with the infectious spirit of Buddy the Elf.
To get your hands on these Pop Vinyl Figures at their release, be sure to check out the links I've provided below – click to jump or scroll to continue reading!
When Bugs Bunny Met Buddy the Elf: A Funko Fusion!
Talk about worlds colliding in the quirkiest, most delightful way!
Funko Pop! unveiled a new gem for collectors – merging the legendary Bugs Bunny with the endearing Buddy the Elf to celebrate Warner Bros.' 100th Anniversary.
Imagine that timeless, carrot-chewing rabbit donning the iconic green and yellow of Will Ferrell's beloved elfish character.
It's like your favorite Saturday morning cartoons met a Christmas classic in a whimsical pop culture dance!
This isn't just about celebrating a centenary; it's about blending two universes that, on the surface, seem galaxies apart.
But isn't that the beauty of it?
With Bugs' inherent mischievousness and Buddy's uncontainable enthusiasm, this Funko Pop! perfectly encapsulates the joy both characters bring.
Warner Bros. might be looking back on a century, but with such imaginative creations, they're clearly still setting the bar high for fun and creativity.
The Bugs Bunny as Buddy the Elf Funko Pop! (2023 release) can be found for purchase at the links below (click to jump!)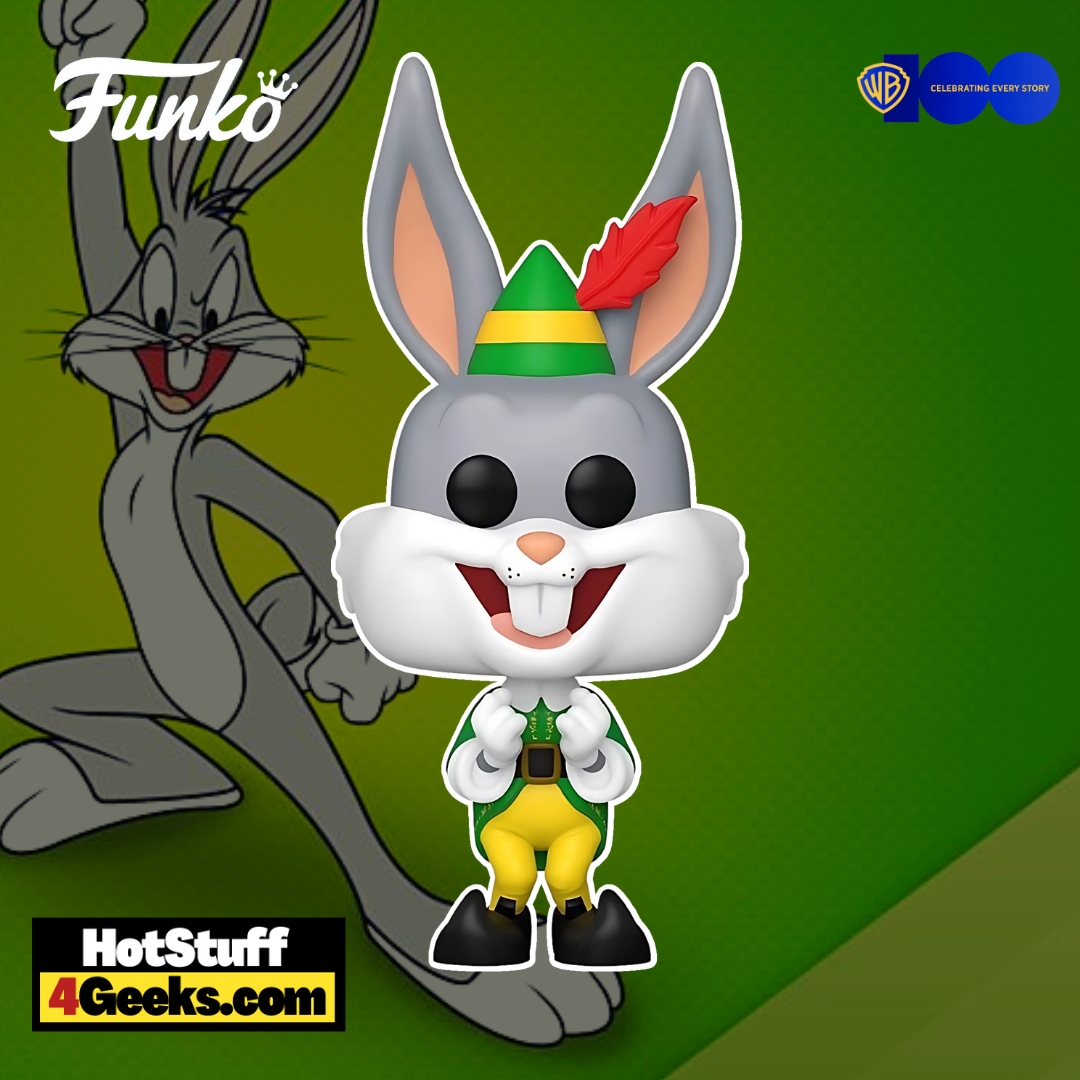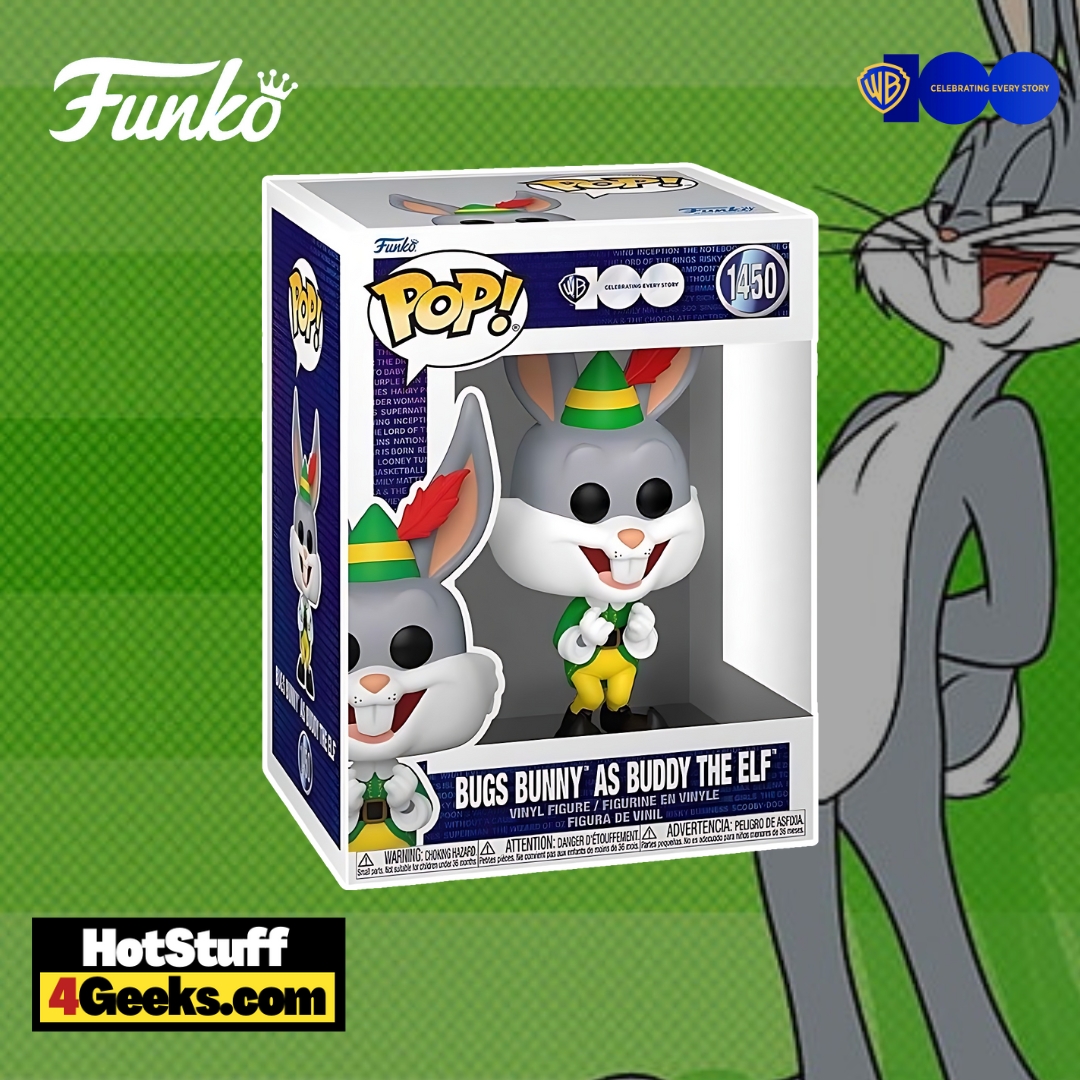 Bugs Bunny: The Timeless Genius of America's Favorite Rabbit
Bugs Bunny. Remember those lazy Saturday mornings, armed with a cereal bowl, diving into the whirlwind adventures of that wise-cracking rabbit
? As time passed, the memories of these classics have been etched into our collective conscience, sparking nostalgia and an undeniable admiration for that carrot-munching hare's antics.
Let's hop down memory lane and delve deeper into the genius of Bugs Bunny.
Why does Bugs Bunny resonate with us so profoundly?
Well, consider this. He's the master of adaptation, always winding up in scenarios that, by all accounts, shouldn't favor him.
Yet, every single time, he dances around adversaries, outwits foes, and confidently struts out, leaving audiences in splits.
And it's not just his misadventures that keep us enthralled.
His confrontations with characters like the sweet Playboy Penguin, spirited renditions in operas, or unexpected entry into a bullfighting arena display a wide range of storytelling, setting him apart in the animated world.
Chuck Jones, one of the legendary directors behind many Bugs episodes, shared in his biography the amusing story of how one episode was sparked by a producer's declaration that bullfighting wasn't comedic material.
But Bugs, in his quintessential style, proved otherwise.
And that's the beauty of it: Bugs Bunny shorts were never just about humor; they also had an underlying layer of wit and irony, something both kids and adults could appreciate.
Take, for instance, the episode where Bugs locks horns with Marvin the Martian, aiming to save the Earth simply because it obstructed Marvin's view.
On the surface, it's hilarious, but dig deeper, and there's a subtle nod to environmental themes and the inherent pettiness in destroying ecosystems for trivial reasons.
Sounds familiar, doesn't it?
Then there's the undeniable Shakespearean twist.
We have episodes littered with Shakespeare references, from the intricacies of parody, puns, and jests, paying homage to the bard while keeping us laughing heartily.
And let's not forget the episodes where Bugs graced the opera stage.
How he manages to poke fun at the grandiosity of operatic performances while belting out a tune is nothing short of genius.
Of course, Bugs doesn't always come out on top.
Remember the global trek to take a lost penguin home, only to discover the destination was just a few blocks away?
Such delightful misadventures, filled with vintage Hollywood references and recurring gags, are what make Bugs Bunny a timeless character.
In conclusion, Bugs Bunny, with his iconic voice, charming bravado, and undeniable intellect, remains a monumental figure in the annals of animation.
With a legacy spanning decades, he has proven that humor, when blended with wit and a touch of satire, never grows old.
So, next time you come across a Bugs Bunny short, stop and savor it.
There's more depth there than you might remember.
And always, always be on the lookout for that mischievous grin and a classic, "Eh, what's up, doc?"
Starting now, you can receive 10% off in-stock items with my special link at Entertainment Earth!
 Enjoy!
As an Amazon Associate I earn from qualifying purchases
Want more stuff like this?
Get the best viral stories straight into your inbox!
Don't worry, we don't spam