2023 NEW Werewolf by Night Funko Pops! Unveiled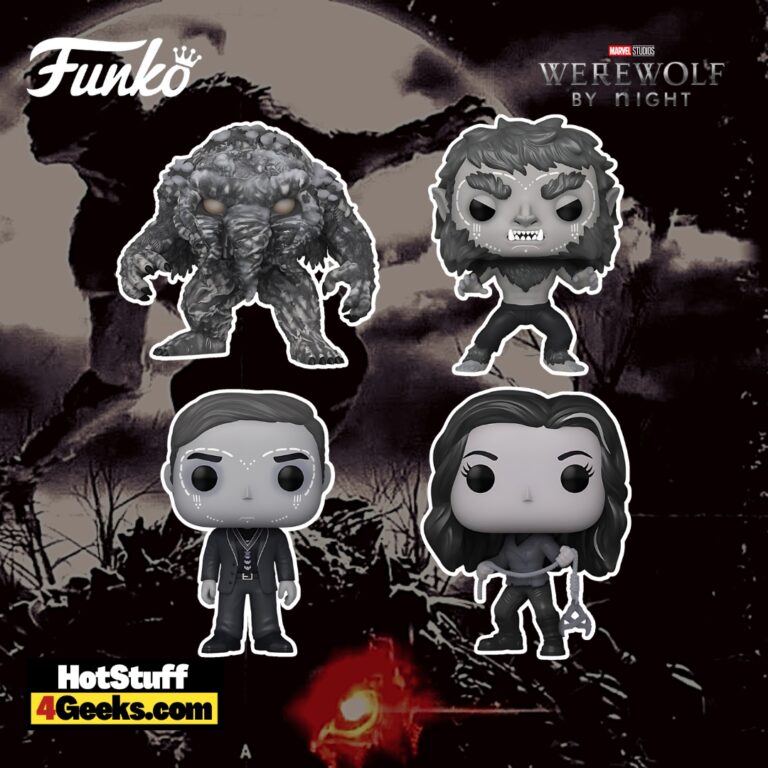 Calling all Marvel enthusiasts and horror fans alike! The magic of the "Werewolf by Night" film has been encapsulated beautifully into a stunning collection of Werewolf by Night Funko Pops! (2023) These aren't your regular adorable figures, though. Instead, they pay homage to the eerie allure of the film's central characters.
UPDATE: Now available for pre-order! To get your hands on these Pop Vinyl Figures, be sure to check out the links I've provided below – click to jump or scroll to continue reading!
The Night Comes Alive: Werewolf by Night Funko Pop Figures
The standout of the bunch? None other than our enigmatic hero, Jack Russell.
His character comes to life with a meticulously crafted vinyl figure, a miniaturized testament to the brooding mystery he embodies in the film.
Not to be outdone, Elsa Bloodstone, the film's captivating leading lady, and the huge Ted have their likenesses frozen in time as unique Funko Pops.
Each figure beautifully encapsulates their personalities, pulling you right back into the film's intoxicatingly eerie universe.
The pièce de résistance, of course, is the werewolf itself, rendered in chilling detail. It's more than a pop figure —it's a tiny, tangible slice of Marvel's mesmerizing foray into horror.
An absolute must for fans!
Werewolf by Night: The Werewolf Funko Pop! Vinyl Figure
Werewolf by Night: Jack Russell Funko Pop! Vinyl Figure
Werewolf by Night: Elsa Bloodstone Funko Pop! Vinyl Figure
Werewolf by Night: Ted 6-Inch Super-Sized Funko Pop! Vinyl Figure
The Werewolf by Night Funko Pop! Vinyl Figures can be found at the links below (click to jump!)
Monsters and Marvels: An Unconventional Journey into the Spectral Realm with "Werewolf by Night"
Marvel's latest creation, "Werewolf by Night," takes us on a spellbinding journey, flipping the script on the superhero narrative.
This isn't your everyday Marvel feature. Its brilliance lies in its divergence, drawing inspiration from Universal's iconic monster movies from the bygone golden era of the '30s and '40s.
At the helm of this unique project, we find Michael Giacchino demonstrating an uncanny knack for detail and a palpable love for the genre.
The movie is a visual banquet, with its black and white film style adding a certain allure of vintage authenticity.
Expect to see a purposeful and, dare I say, charming use of retro-style special effects that harken back to the days when cinema thrived on artful illusions.
Our protagonist is Jack Russell, portrayed masterfully by Gael Garcia Bernal. Russell, a monster hunter tangled in a plot laden with eerie mansions, power struggles, and hidden secrets, fits right into this spectral realm.
His encounters with Elsa Bloodstone, played by Laura Donnelly, carry a mysterious intensity that sparks intrigue and suspense.
The titular werewolf is depicted with breathtaking practical makeup, taking a page from the classic "The Wolf Man."
It doesn't skimp on the gore either; the werewolf's rampage is stark and thrilling, a surprising departure from Marvel's usually more restrained violence.
This film is a love letter to horror. It uses the power of implication over overt digital effects, reminiscent of the transformation scene in "An American Werewolf in London."
Giacchino's deft camera work and innovative use of light make for an eerily captivating experience.
Beneath the layers of silver screen nostalgia and horror homage, this is still a Marvel creation. It intertwines itself with the Marvel Cinematic Universe while offering a standalone spectacle.
So, gear up for an engaging blend of traditional horror and superhero mythology. "Werewolf by Night" promises a thrilling cinematic ride, perfect for those seeking a touch of old Hollywood with a side of Marvel charm.
Funko Pop! Movies: Werewolf by Night Funko Pop! Vinyl Figures (2023)
Available at:
Starting now, you can receive 10% off in-stock items with my special link at Entertainment Earth!
 Enjoy!
As an Amazon Associate I earn from qualifying purchases
Want more stuff like this?
Get the best viral stories straight into your inbox!
Don't worry, we don't spam