2023 NEW "What Ever Happened to Baby Jane?" Funko Pops! Now Available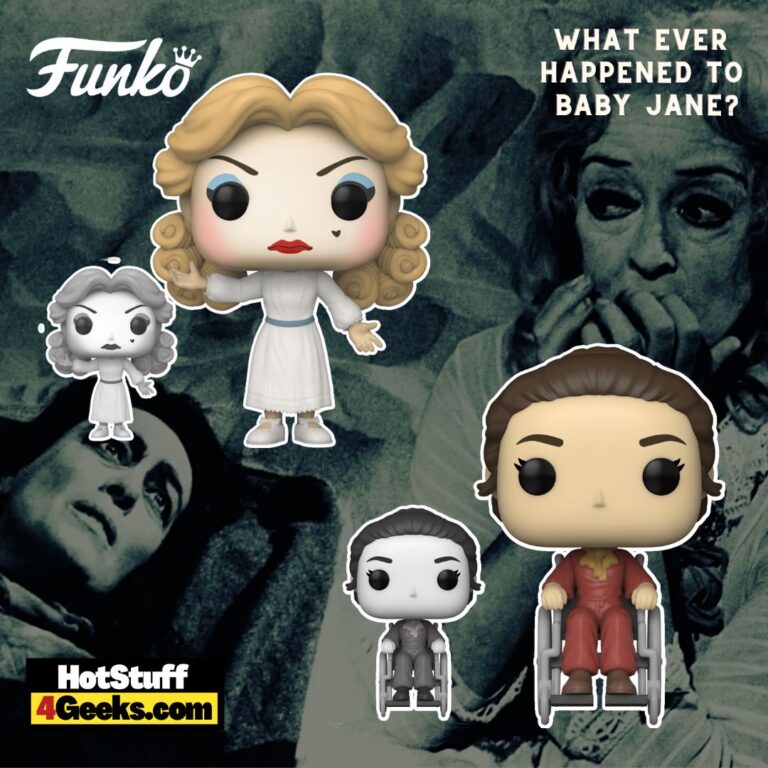 Ladies and gentlemen, let me introduce you to the showstopping sisters from the cult classic film, "Whatever Happened to Baby Jane?" Now, they're about to steal the spotlight in your collection with the new Funko Pop! Movies: What Ever Happened to Baby Jane? Funko Pop! Vinyl Figures (2023). As part of Warner Bros. 100th Anniversary, Baby Jane Hudson and Blanche Hudson are stepping out of their haunting narrative into a more playful, albeit still iconic, form.
To get your hands on this Pop Vinyl Figure at its launch, be sure to check out the links I've provided below – click to jump or scroll to continue reading!
Gaze upon Baby Jane Hudson, once the darling of Vaudeville, now eager for her encore in your collection.
Clad in her unforgettable school-girl attire, she's a symbol of unfulfilled ambition and simmering resentment – a starlet trapped in her own glory days. But hold onto your hats; there's a 1 in 6 chance you might discover a monochrome variant of Baby Jane!
Meanwhile, Blanche Hudson, the epitome of stoic suffering and ill-fated Hollywood darling, is plotting her next move from the comfort of your shelf.
Clad in her characteristic outfit, she silently whispers, "You mean all this time we could've been friends?" Just as with her sister, a grayscale version of Blanche might just be waiting in the wings for the lucky collectors.
These figures, capturing the essence of these complex characters, offer a fun twist to your collection while celebrating a monumental piece of cinema history.
So, get ready to lift the curtains for the Hudson sisters' big vinyl debut!
Now available:
Baby Jane Hudson Funko Pop! Vinyl Figure with Black & White Chase
Blanche Hudson Funko Pop! Vinyl Figure with Black & White Chase
Baby Jane Hudson and Blanche Hudson Funko Pops with Black & White Chases are now available for pre-order at the links below (click to ju jump!)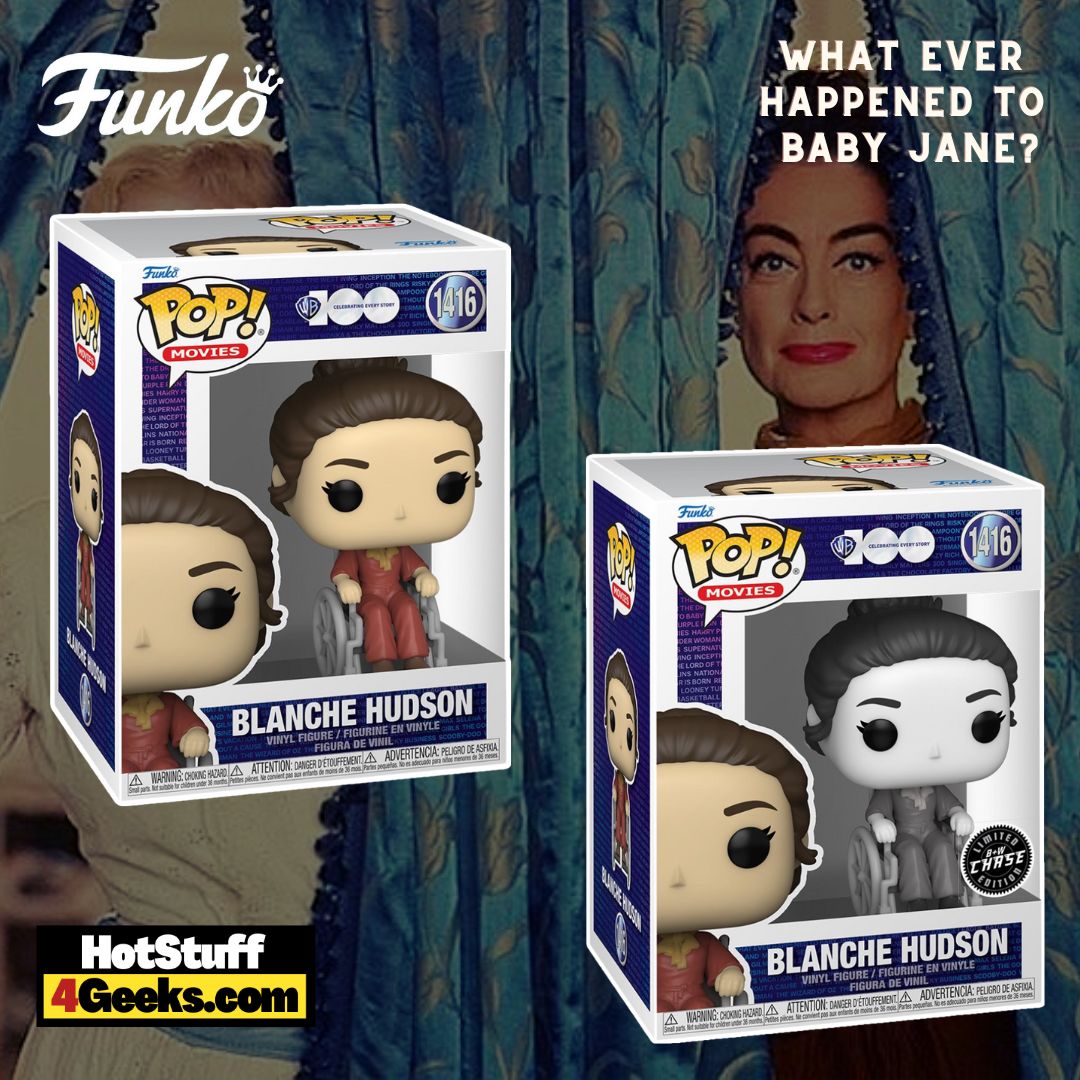 Sixty years on, the allure of 'What Ever Happened to Baby Jane?' remains as potent as ever.
This marvel of Grand Dame Guignol – a once-thriving genre of the 60s and early 70s, rich with family trauma, murder, and mysterious grand dames – is a testament to the formidable talents of its leading ladies, Joan Crawford and Bette Davis.
Our cinematic journey starts in 1917 with the young Baby Jane Hudson, a vaudeville superstar adored by her father and despised by her envious sister, Blanche.
By 1935, the tables have turned.
Blanche is now Hollywood's darling, while Jane's star has long faded. Fast forward to 1962, and we find a wheelchair-bound Blanche under the capricious care of Jane, who's plunged deep into a world of make-believe and long-lost fame.
The clash of Bette Davis's unhinged Jane and Joan Crawford's stoic Blanche lends the film an intoxicating dynamic.
Yet, despite rumors and dramatized tales, their off-screen relationship was not one of constant feuding but of mutual respect.
The darkly comical narrative twists and turns, ranging from embezzlement to murder, are spiked with the relish of Jane's attempts at a showbiz comeback.
She hires Edwin Flagg (Victor Buono), a phony-accented pianist who unwittingly enables her to reclaim her past glory.
'What Ever Happened to Baby Jane?' defied the odds with its gripping storyline, becoming a commercial and critical success and even sparking Oscar buzz.
In all its grotesque grandeur, the film offered Crawford and Davis a fresh lease on their careers.
Revisiting this masterpiece now, six decades later, it's clear why it remains a timeless classic.
Amid its shadowy secrets and the hauntingly captivating performances of its leads, 'What Ever Happened to Baby Jane?' continues to bewitch audiences even today.
Its enduring legacy is a testament to the beguiling power of good storytelling – a phenomenon that surely won't be fading anytime soon.
So, if you're up for a captivating cinematic journey, this film, now streaming on HBO Max, is your ticket.
Funko Pop! Movies: What Ever Happened to Baby Jane? Funko Pop! Vinyl Figures (2023)
Available at:
Starting now, you can receive 10% off in-stock items with my special link at Entertainment Earth!
 Enjoy!
As an Amazon Associate I earn from qualifying purchases
Want more stuff like this?
Get the best viral stories straight into your inbox!
Don't worry, we don't spam