2023 NEW Willy Wonka & the Chocolate Factory Funko Pops!
Funko Pop! Movies: Willy Wonka and the Chocolate Factory Funko Pop! Vinyl Figures
Available at:
Whisking you away to a world of pure imagination, the Willy Wonka and the Chocolate Factory Funko Pops (2023 release) offer a tangible slice of the candy-coated universe we've all dreamt of visiting. From the eccentric candy magnate himself to the whimsical and colorful supporting cast, these figures are a collector's gateway into the fantastical realm of everlasting gobstoppers, fizzy lifting drinks, and golden tickets.
Now available for pre-order! To get your hands on this Pop Vinyl Figure, be sure to check out the links I've provided below – click to jump or keep scrolling for more details!
In a whimsical twist of fate, the delightful characters from 'Willy Wonka and the Chocolate Factory' have sprung to life as Funko Pop! Vinyl Figures.
Let's welcome the dapper candy magnate himself, Willy Wonka, now immortalized in vinyl with his signature purple coat, brown top hat, and that mischievous glint in his eyes, his hand firmly gripping his cane, ready to lead us into a world of confectionery wonders.
Next, we have Noodle, the balloon-holding, overall-clad figure bringing a pop of color and cheer. Her hair is perfectly sculpted, and those innocent, wide eyes reflect the wonder of Wonka's magical realm.
Not to be outshined, Slugworth stands in stark contrast, his blue suit and nefarious expression perfectly capturing his role as the sly rival, yearning for Wonka's secrets.
Lastly, there's Prodnose, the bespectacled character donning a plaid suit, his gaze behind round glasses as if scrutinizing the next big scoop.
Each figure encapsulates the essence of the characters we've grown to love or eye with a hint of suspicion. They are ready to join any collection and spark conversations about the timeless tale they belong to.
Unveiling the Willy Wonka and the Chocolate Factory Funko Pops List for this release:
Willy Wonka with Briefcase Funko Pop! Vinyl Figure
Noodle Funko Pop! Vinyl Figure
Slugworth Funko Pop! Vinyl Figure
Prodnose Funko Pop! Vinyl Figure
The Willy Wonka and the Chocolate Factory Funko Pop! Vinyl Figures can be pre-ordered at the links below (click to jump). They're expected to be shipped in November 2023.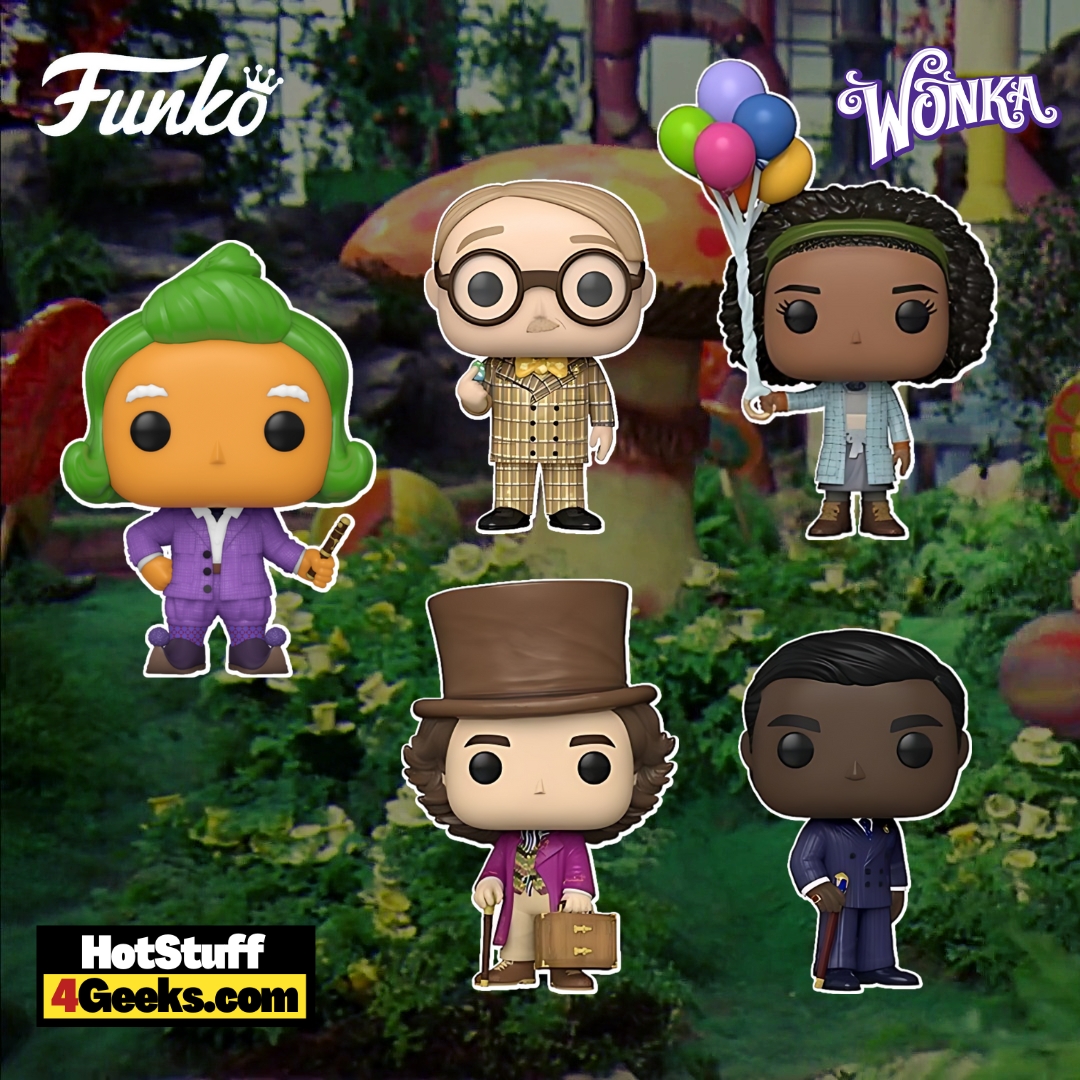 Unwrapping the Legacy: Willy Wonka's Timeless Charm
When chatter swirls around the magical world of Willy Wonka, it's a cascade of nostalgia and modern critique that flavors the conversation.
The 1971 classic adaptation remains a sweet spot in cinematic history, crafting an unforgettable journey through a world of pure imagination.
Its legacy? A mix of haunting melodies and Gene Wilder's incomparable portrayal of the eccentric candyman.
Wilder's Wonka, with a twinkle of mischief and a dash of enigma, served a performance that still captivates, balancing the light with the shadowy edges of a character that's become a cultural icon.
Flipping the page to 2005, Tim Burton's vision of the chocolate factory rebooted the tale with a contemporary zest.
Production values skyrocketed with advanced visual effects, manifesting a chocolate river that truly looked good enough to dive into, unlike its predecessor's less appetizing depiction.
Burton's eye for the gothic and fantastical dressed the factory in a more modern, albeit darker, wardrobe. The design, vivid and intricate, painted Dahl's narrative in bold, digital strokes, edging closer to the book's illustrative descriptions.
Yet, amidst the modern flair, the original's offbeat charm endures. The 1971 film spun melodies that wove themselves into the fabric of our collective memory.
Who could wander through a candy store without humming the tunes of "The Candy Man" or "Pure Imagination"? The music didn't just complement the film; it became a character in its own right, narrating the story with a rhythm that pulses through generations.
Child performances in both films were stellar beacons of talent, yet the children of '71 shone with an unpolished, raw authenticity.
Each brought their character to life with a vigor that resonated with the era's spirit, embodying the vices and virtues of Dahl's creations in a way that felt both fantastical and strikingly real.
Flash forward to the early 2000s, and you'll find Burton's adaptation took a faithful leap with the original songs from Dahl's pen, spun anew by Elfman's musical mastery.
The essence of each character was captured in melodies ranging from Bollywood beats to rock ballads, a testament to the film's commitment to honoring the source material with a Burtonesque twist.
As for the chocolate connoisseur himself, Johnny Depp's Wonka, while commendable, couldn't eclipse the shadow cast by Wilder's portrayal.
Wilder's Wonka was as unpredictable as his factory, and his performance cemented his status not just as a character but as a pop culture phenomenon.
Ultimately, each film brings its own flavor to the table, serving up a dish of delights that continues to resonate with audiences old and new.
Whether it's the spine-tingling thrill of the 1971 tunnel scene or the visual spectacle of Burton's exquisite design, the enigma of Wonka's world remains an enduring feast for the senses.
As an Amazon Associate I earn from qualifying purchases
Funko Pop! Movies: Willy Wonka and the Chocolate Factory Funko Pop! Vinyl Figures
Available at:
Want more stuff like this?
Get the best viral stories straight into your inbox!
Don't worry, we don't spam