2023 NEW Wolverine: Incredible Hulk 181 Funko Pop! Comic Cover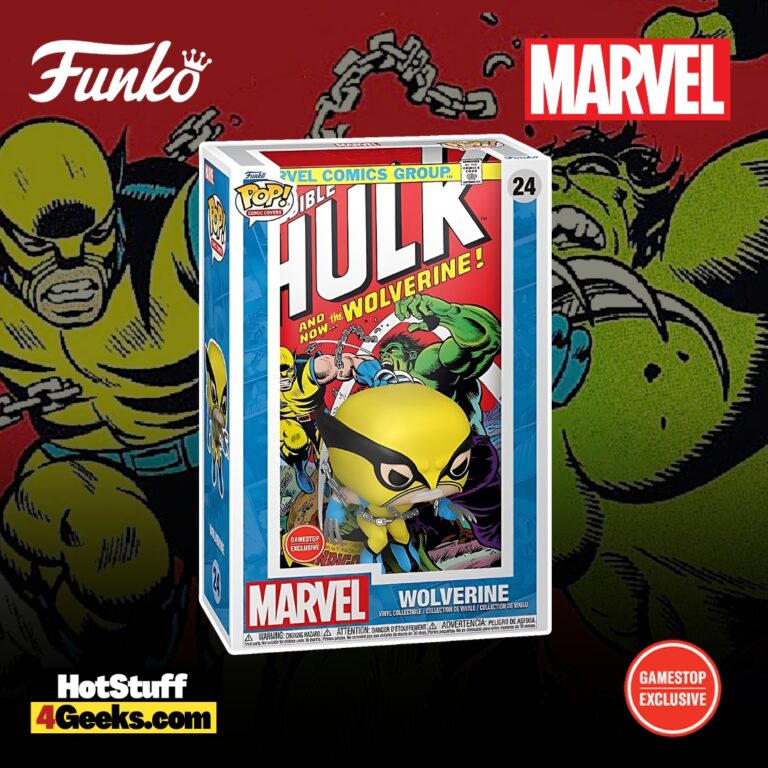 Wolverine's debut in "Incredible Hulk #181" was nothing short of legendary. In a flurry of sharp claws, forest battles, and cryptic origins, Wolverine stormed onto the scene, challenging both Hulk and Wendigo. Now, with the release of the new Funko Pop! Comic Covers: Wolverine (Incredible Hulk #181) Funko Pop! Comic Cover Vinyl Figure – GameStop Exclusive, we get to relive this electrifying entrance,
To get your hands on this Pop Vinyl Figure at its release, be sure to check out the links I've provided below – click to jump or scroll to continue reading!
Ever dived into the forested realms of Quebec with the Incredible Hulk #181 in hand, feeling the intensity of every "SKRAK!" and "CHUT!" as Wolverine's claws make their mark?
Well, prepare to dive again, but this time, into the world of collectibles.
The newest entrant to the Funko Pop! universe is none other than our clawed hero's dramatic debut – a Comic Cover Vinyl Figure capturing that very essence.
A moment where Wolverine wasn't just another superhero but an enigma whose every move against Hulk and Wendigo kept readers on the edge.
That tension, that burst of energy from the pages, has been captured with astonishing detail in this vinyl. And let's not forget, this isn't a generic Wolverine Funko.
No, sir.
This is Wolverine, raw, unrefined, and mysterious, straight from the heart of that iconic Quebec showdown.
Conversations about collectibles just got a lot more animated!
The GameStop Exclusive Wolverine (Incredible Hulk #181) Funko Pop! Comic Cover can be found for purchase at the links below (click to jump!)
The Unexpected Entry of Wolverine in Incredible Hulk #181
In the grand tapestry of comic book narratives, there's always that unique issue, that zesty twist, where the unexpected happens.
Let's navigate the cosmic labyrinth of "Incredible Hulk #181" where one such twist left fans a bit… bewildered, to say the least.
Oh, and did I mention?
This perplexing story introduces none other than – drumroll, please – Wolverine.
Now, Wolverine is no ordinary character. He's become a legend with his enigmatic origin and unmistakably lethal claws.
Yet, even the most ardent Wolverine fans might not know that his entry wasn't exactly as crystal clear as one might think.
Our Canadian hero, at first, seems more enigma than a man, with more questions than answers. But isn't that what makes a character legendary?
Our tale unfurls in the evergreen forests of Quebec.
And who's lurking here?
Not just our beloved Hulk but the mysterious creature, Wendigo.
The rendezvous in this issue isn't just your typical hero-meets-monster encounter.
Imagine a three-sided interplay, kind of like a dance, with Wolverine making his slashing debut.
Yet, the visual storytelling packs an intriguing twist – despite all the slashing and hacking, there's an uncanny absence of blood. It's these nuances that make this issue a collector's dream.
Speaking of artistry, let's tip our hats to Herb Trimpe.
The man gives our Hulk some wild, off-beat facial charm, making him look all the more monstrous.
And then there's Wendigo with that distinct nose.
It's amusing, it's unexpected, it's comic art at its playful best.
While the artistic stylings are sure to capture your attention, the story is what seals the deal.
The plot gets denser when two mysterious figures attempt a sneaky little ritual that could spell disaster for our Hulk.
As the pages turn, the narrative gets more intricate, with plot twists that keep you riveted.
Bruce Banner, Hulk's unassuming alter-ego, showcases the depth of his power, leaving even the usually calm Wolverine taken aback.
The emotional core of this issue is its outcome. Georges Baptiste's sacrificial act reveals the lengths one can go to for love.
The narrative reaches a crescendo with Hulk's attempt to console a heartbroken sorceress, which resonates long after the last page has been turned.
With its intense emotional beats and the introduction of a soon-to-be iconic character, "Incredible Hulk #181" stands out.
And for those who savor the taste of Wolverine facing some tough love, this issue has a special treat in store.
In essence, if there's one issue that delivers both an emotional gut punch and a visual feast, it's this one.
Kudos to the entire team behind this masterpiece for giving us an issue that's not just a classic but a fascinating entry into the world of superheroes.
Wolverine might have had a unique introduction, but it was the beginning of something truly spectacular.
Starting now, you can receive 10% off in-stock items with my special link at Entertainment Earth!
 Enjoy!
As an Amazon Associate I earn from qualifying purchases
Want more stuff like this?
Get the best viral stories straight into your inbox!
Don't worry, we don't spam