2023 NEW Wonka – Oompa Loompa with Piccolo Funko Pop!
Funko Pop! Movies: Wonka – Oompa Loompa with Piccolo Funko Pop! Vinyl Figure – Funko Shop Exclusive
Available at:
More Wonka Pops:
Whisking straight out of Wonka's world and into the limelight, the new Funko Pop! Movies: Wonka – Oompa Loompa with Piccolo Funko Pop! Vinyl Figure – Funko Shop Exclusive is set to make an unbelievable debut. This little maestro, with his piccolo in tow, is poised to orchestrate a symphony of nostalgia and charm for collectors and enthusiasts alike.
UPDATE: Oompa Loompa drops today at 9:30 AM PT! To get your hands on this Pop Vinyl Figure at its release, be sure to check out the links I've provided below – click to jump or keep scrolling for more details!
Exclusive Reveal: Oompa Loompa with Piccolo Funko Pop!
Get ready for a splash of whimsy on your shelves with the latest Funko Shop exclusive—the Oompa Loompa with Piccolo Funko Pop! Vinyl Figure.
This unique collectible brings a touch of confectionary musical charm right into the realm of Pop! Vinyl enthusiasts and fans of the classic Willy Wonka lore.
The figure captures the essence of the quirky, cocoa-loving characters, famed for their cautionary lyrics and love of sweets.
From his oversized brows down to the classic brown clogs, the details on this figure are designed to delight. He's dressed in the trademark purple suit, a rich hue reminiscent of the chocolate he so diligently crafts.
The tiny piccolo, held firmly in hand, is a nod to their musical proclivities, ready to serenade anyone who glances his way. The green hairdo is unmistakable, swept high and adding that extra flair of factory magic.
As an exclusive release, this Oompa Loompa figure is a must-have for collectors. He's not just a nod to the wonders of Willy Wonka's factory; he's a slice of cinema history, a pocket-sized maestro in vibrant vinyl form.
Whether he's standing solo or amidst your growing Funko family, this Oompa Loompa with Piccolo is ready to bring a tune to fans everywhere.
The Funko Shop Exclusive Oompa Loompa with Piccolo Funko Pop! can be found at the links below (click to jump!)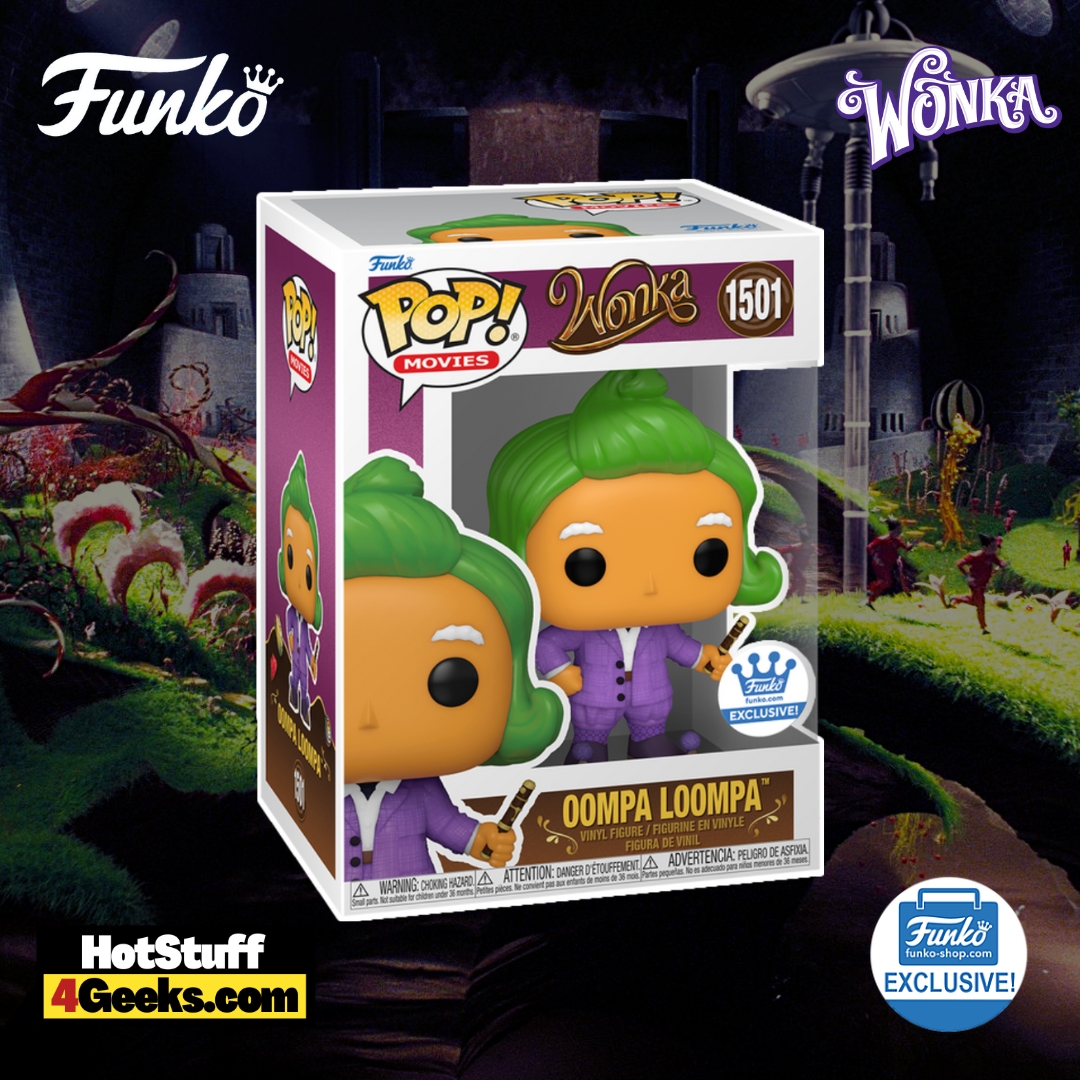 Unwrapping the Enigma of Oompa Loompas
In the whimsical world of "Charlie and the Chocolate Factory," the Oompa Loompas stand out as a staple of chocolate factory lore.
Roald Dahl introduced these miniature characters in his 1964 novel, which later inspired two major films, each bringing their own flavor to these iconic figures.
These characters, with their uniform appearance and penchant for impromptu musical performances, bring a vibrant dynamic to Willy Wonka's mysterious chocolate factory.
Dahl's original depiction of the Oompa Loompas as African pygmies stirred controversy.
Consequently, the Oompa Loompas evolved in later editions into fantastical beings with no ties to any real-world ethnicity, hailing from the mythical Loompaland.
Loompaland, a place as enigmatic as its inhabitants, is said to be a treacherous jungle-filled region fraught with fantastical beasts.
This background provides a stark contrast to the colorful corridors of the factory where the Oompa Loompas find refuge and employment, a strategic move by Willy Wonka to safeguard his confectionery secrets.
Their presence in the factory serves a dual purpose: it offers them sanctuary from their perilous homeland and ensures Wonka's recipes remain confidential, far from the threat of industrial espionage.
Interestingly, their compensation does not come in the form of conventional currency but in the precious cocoa beans they so dearly coveted back in Loompaland.
This form of barter exemplifies their simple yet content lifestyle within the factory walls, a sharp departure from their difficult existence in the wild.
The Oompa Loompas' representation in film diverges significantly from their literary counterparts.
The 1971 film adaptation features them as stout, orange-faced individuals with green hair, a departure from Dahl's text where their fashion consists of skins and leaves, reflecting their connection to their natural, albeit dangerous, roots.
Deep Roy's portrayal of the entire Oompa Loompa populace in the 2005 movie adaptation showcases modern cinema's magic, replicating one actor into a legion of factory workers.
This version presents a more uniform and perhaps mechanical ensemble, a group that moves with the precision of a well-oiled machine.
This uniformity extends to their appearance; all Oompa Loompas, across adaptations, bear a striking resemblance to one another, an aspect that amplifies their mystique.
Their diminutive stature is notable; while the book describes them as being knee-high to an average adult, the films opt for a slightly taller representation.
Regardless of their size, the factory's trolls have a monumental influence on the narrative. They are the factory's moral compass, using their unique songs to comment on the foibles of each visiting child.
The lyrics, while entertaining, weave in lessons on behavior and consequence with a dash of wit.
Through both book and screen, the Oompa Loompas serve as a constant, a chorus that reflects the story's underlying themes of indulgence, consequence, and redemption.
They embody the factory's heart and soul, proving that even the most minor characters can leave a lasting impression on both the world of fiction and its audience.
As an Amazon Associate I earn from qualifying purchases
Funko Pop! Movies: Wonka – Oompa Loompa with Piccolo Funko Pop! Vinyl Figure – Funko Shop Exclusive
Available at:
More Wonka Pops:
Want more stuff like this?
Get the best viral stories straight into your inbox!
Don't worry, we don't spam