2023 NEW WWE: Big Boss Man Funko Pop! Exclusive Unveiled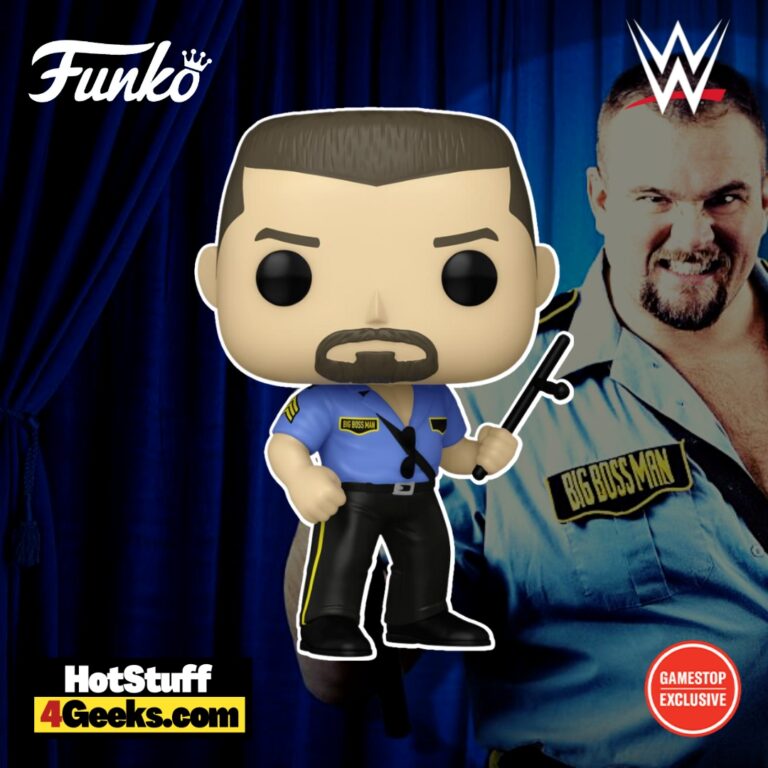 Step into the nostalgia with the newly unveiled Funko Pop! WWE: Big Boss Man Funko Pop! Vinyl Figure – GameStop Exclusive. Exclusively available at GameStop, this vinyl figure takes you back into the golden era of wrestling, embodying the spirit and charm of the late Ray Traylor, aka the Big Boss Man himself.
To get your hands on this Pop Vinyl Figure at its release, be sure to check out the links I've provided below – click to jump or scroll to continue reading!
A beloved figure from the WWE universe, Big Boss Man has inspired many with his raw energy, indomitable spirit, and steadfast dedication.
This vinyl figurine brilliantly captures his essence – the characteristic correction officer's uniform, the nightstick, and the unmistakable shades, encapsulating a universe within its design.
The attention to detail is remarkable, honoring the Boss Man's significant influence on wrestling.
From his unique character arc to his memorable rivalries, this Funko Pop! isn't merely a tribute but a carefully designed piece to evoke wrestling enthusiasts' deep-seated nostalgia and appreciation for the man who shaped WWE's golden era.
Get ready to add this exclusive Big Boss Man Funko Pop! to your wrestling memorabilia.
This isn't merely an addition to your collection but a celebration of the wrestling legend himself.
Time to commemorate the enduring legacy of the Big Boss Man!
The GameStop Exclusive Big Boss Man Funko Pop! is now available for pre-order at the links below (click to jump!)
The Enduring Impact of a Wrestling Titan: Unpacking the Big Boss Man's Legacy
Title: "The Enduring Impact of a Wrestling Titan: Unpacking the Big Boss Man's Legacy"
Imagine the allure of a wrestling ring, where titans clash, egos flare, and legacies are etched into the annals of professional wrestling.
Among the pantheon of wrestling legends, the indomitable Big Boss Man, portrayed by the late Ray Traylor, has etched his presence irrevocably.
Despite his untimely death at 41, Big Boss Man's impact resonates today, creating a ripple effect that can still be felt in every corner of the wrestling world.
Making his debut in the vivid and raucous 1980s, Big Boss Man quickly became a captivating figure in the arena.
Initially pushed by Jim Crockett Promotions' booker, Dusty Rhodes, he showed promise that was immediately seized upon.
The former corrections officer found a wrestling persona that was a natural fit, and with it, he cemented his position in the WWE in 1988.
The charismatic Boss Man was no stranger to the upper echelons of the wrestling world, often contending for the WWE Championship against formidable opponents like Hulk Hogan and Randy Savage.
Despite his towering presence and unmatched grit, the coveted World Champion title eluded him.
Yet, his legacy wasn't dependent on title victories but on his integral role in shaping professional wrestling's landscape.
In a universe of glitz, glamor, and grudges, Big Boss Man stood out with his riveting storylines and absorbing feuds.
His return to WWE during the Monday Night Wars saw him wrestling his way back to center stage, where he stood as Vince McMahon's formidable bodyguard in the heart of the Attitude Era.
His striking persona and intensity saw him embroiled in some of the wildest and most unforgettable feuds in WWE history.
From his infamous rivalry with The Undertaker and The Big Show to his memorable bout with Al Snow for the Hardcore Title, Big Boss Man's matches often teetered on the edge of absurdity.
Yet, these confrontations' theatricality and unpredictability kept audiences riveted, etching Boss Man's name further into wrestling lore.
The force of his character, combined with his commitment to the sport, pushed him to adapt to shifting wrestling eras.
Regardless of the role – be it heel or face, upper mid-card act, or bodyguard – Big Boss Man embraced it all with steadfast dedication.
This adaptability earned him the distinction of being a wrestling legend, his influence pervading various WWE eras.
His impact on professional wrestling transcends his four Hardcore Title reigns and his singular WWE Tag Team Championship run with Ken Shamrock.
The Big Boss Man is a testament to the enduring legacy an athlete can have on their sport and their audience.
In 2016, the wrestling world paid homage to this unforgettable icon by inducting him into the WWE Hall of Fame, further affirming his influential role in professional wrestling history.
It's remarkable how the man known as the Big Boss Man wrestled his way into the hearts of millions.
Despite the wrestling ring's lights dimming too soon for this legend, his legacy remains an electrifying testament to a life lived at full throttle in a world of body slams and flying elbow drops.
The Big Boss Man will forever be remembered as a larger-than-life figure in a world that thrives on spectacle, where his spirit continues to inspire future generations of wrestling enthusiasts.
Starting now, you can receive 10% off in-stock items with my special link at Entertainment Earth!
 Enjoy!
As an Amazon Associate I earn from qualifying purchases
Want more stuff like this?
Get the best viral stories straight into your inbox!
Don't worry, we don't spam