2023 NEW WWE: "Ravishing" Rick Rude Funko Pop!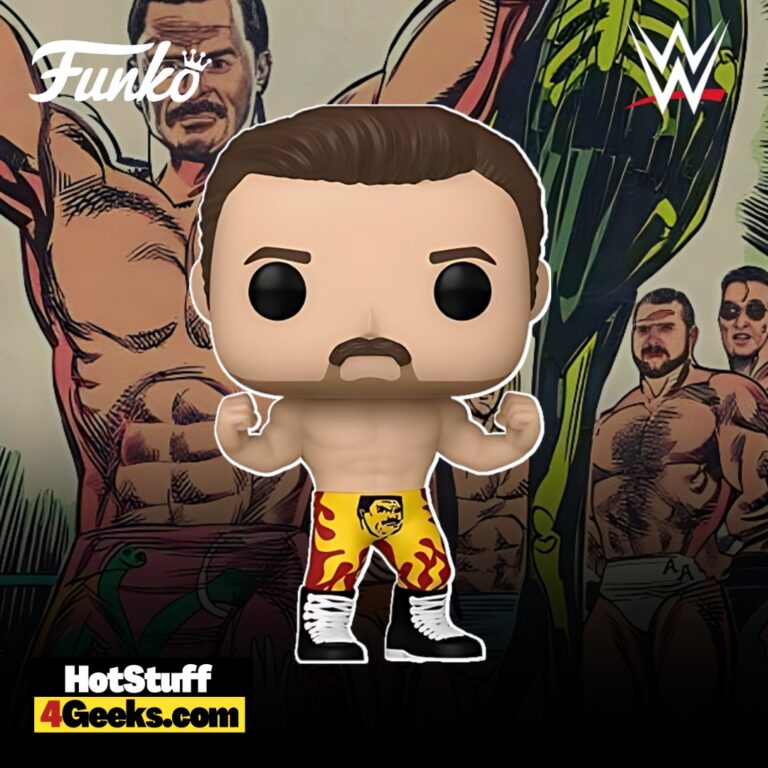 Brace yourselves, wrestling fans and collectors alike! The newest addition to the Funko Pop! Vinyl Figure universe is none other than the charismatic WWE Hall of Famer, 'Ravishing' Rick Rude. This latest Funko Pop! WWE: "Ravishing" Rick Rude Funko Pop! Vinyl Figure (2023 release) underscores Rude's indelible mark in the wrestling world with his unique blend of charm, talent, and showmanship.
UPDATE: Now Available at Amazon! To get your hands on this Pop Vinyl Figure at its release, be sure to check out the links I've provided below – click to jump or scroll to continue reading!
Experience the Ravishing Charisma: Rick Rude Funko Pop Release
Rick Rude, known for his irresistible ladies' man persona and unforgettable bouts, is encapsulated brilliantly in this vibrant vinyl.
His figure, posing in his signature confident stance, is more than just a visual delight – it's a tribute to a man whose star shone brightly in and outside the ring.
The love that Rick Rude poured into his performances is mirrored in the attention to detail poured into this Funko Pop! piece.
As a physical homage to a wrestling icon, it symbolizes the enduring resonance of his legacy. It's truly a must-have for anyone who understands and appreciates the unique allure of 'Ravishing' Rick Rude.
"Ravishing" Rick Rude Funko Pop! can be purchased at the links below (click to jump!)
The Underappreciated Legacy of 'Ravishing' Rick Rude
Reflecting on the annals of professional wrestling, some stars shine brighter than others.
Yet, there are those whose brilliance tends to be overshadowed, but not because their light was any dimmer.
'Ravishing' Rick Rude is one such name in the grand wrestling cosmos, a WWE Hall of Famer whose accomplishments and charisma continue to resonate long after his tragic and untimely demise.
Raised as Richard Erwin Rood, our wrestling hero hails from St. Peter, Minnesota, born in 1958.
His wrestling journey started in Robbinsdale High School and eventually led him to the legendary wrestling teacher Eddie Sharkey in the early '80s.
Known for churning out many pro wrestling champions, Sharkey's training was a pivotal point in the career of the aspiring Rood, who made his dazzling debut in Mid-Atlantic Championship Wrestling in 1982.
As Rick Rude, he became a sensation in the wrestling world, honing his skills and developing his character across numerous promotions like Georgia Championship Wrestling and Championship Wrestling from Florida.
His star power grew so radiant that, by 1987, it was impossible for the then WWF (World Wrestling Federation) not to notice.
During his stint in WWE, Rude's character took on a new persona – that of an insufferably arrogant and irresistible ladies' man.
Despite the front, he put up in the ring, Rude was a devoted husband, so much so that he chose to keep his wedding ring on, even in the heart of heated matches.
However, the conviction with which he embodied his character made fans passionately detest him, a true testament to his theatrical prowess.
Rude's wrestling saga included epic feuds with Jake "The Snake" Roberts and The Ultimate Warrior.
He even wrested the Intercontinental Championship from the grasp of The Ultimate Warrior at WrestleMania 5, a match still etched in wrestling folklore. Yet, a WWF Championship win eluded him.
In the '90s, Rude hopscotched between WCW and WWF, etching his name in wrestling history by winning the WCW International World Heavyweight Championship thrice.
Despite a neck injury forcing him to vacate the United States Championship in 1992 and a career-ending back injury in 1994, he never truly left the wrestling scene.
He returned in 1997, eventually becoming a founding member of DX and the nWo (New World Order).
However, fate dealt a cruel hand when, at the mere age of 40, Rude tragically passed away in 1999.
He was training for a comeback to the ring when heart failure, induced by an overdose of mixed medications, took him away.
Despite the tragic circumstances, his memory remains alive in the heart of wrestling enthusiasts, and his posthumous induction into the WWE Hall of Fame in 2017 served as a reminder of his enduring impact on the wrestling world.
In conclusion, 'Ravishing' Rick Rude's journey may have been cut short, but his legacy endures.
He demonstrated a unique blend of charisma, talent, and dedication that few could match, making him a truly underappreciated gem in the realm of professional wrestling.
Starting now, you can receive 10% off in-stock items with my special link at Entertainment Earth!
 Enjoy!
As an Amazon Associate I earn from qualifying purchases
Want more stuff like this?
Get the best viral stories straight into your inbox!
Don't worry, we don't spam