2023 NEW WWE: Triple H (Skull King) Funko Pop!
The legacy of Triple H's Skull King persona! Who could forget that iconic entrance from WrestleMania 30, a magnetic pull of energy, drama, and pure WWE spectacle? Now, imagine capturing a slice of that moment, holding it in your hands, and reminiscing about its sheer brilliance. Well, dream no more! The 2023 Funko Pop! WWE lineup introduces the new Funko Pop! WWE: Triple H (Skull King) Funko Pop! Vinyl Figure (2023 release)!
UPDATE: Now available at Amazon! To get your hands on this Pop Vinyl Figure at its release, be sure to check out the links I've provided below – click to jump or scroll to continue reading!
Unveiling the Majesty: 2023's Triple H (Skull King) Funko Pop!
When one reflects on the vibrant tapestry of WWE legends, Triple H stands out with a magnetic allure, especially with his 'Skull King' persona.
Embodying the grandeur of this legendary character, the latest 2023 release of Funko Pop! WWE: Triple H (Skull King) Vinyl Figure is a riveting blend of artistry and precision.
Gazing upon this Funko Pop!, you're instantly whisked back to WrestleMania 30, feeling the intensity of that iconic entrance.
The meticulous detailing, from the gleaming crown to the fiery eyes, encapsulates the aura and magnetism of the 'Skull King'.
It's as if the Game himself has been miniaturized, awaiting to orchestrate an entrance right from your shelf.
A delightful nod for long-time fans, this figure isn't just another Funko Pop! — it's a slice of wrestling history, poised in vinyl.
Dive into nostalgia and grace your collection with the majesty of Triple H.
The Triple H (Skull King)  Funko Pop! can be purchased at the links below (click to jump!)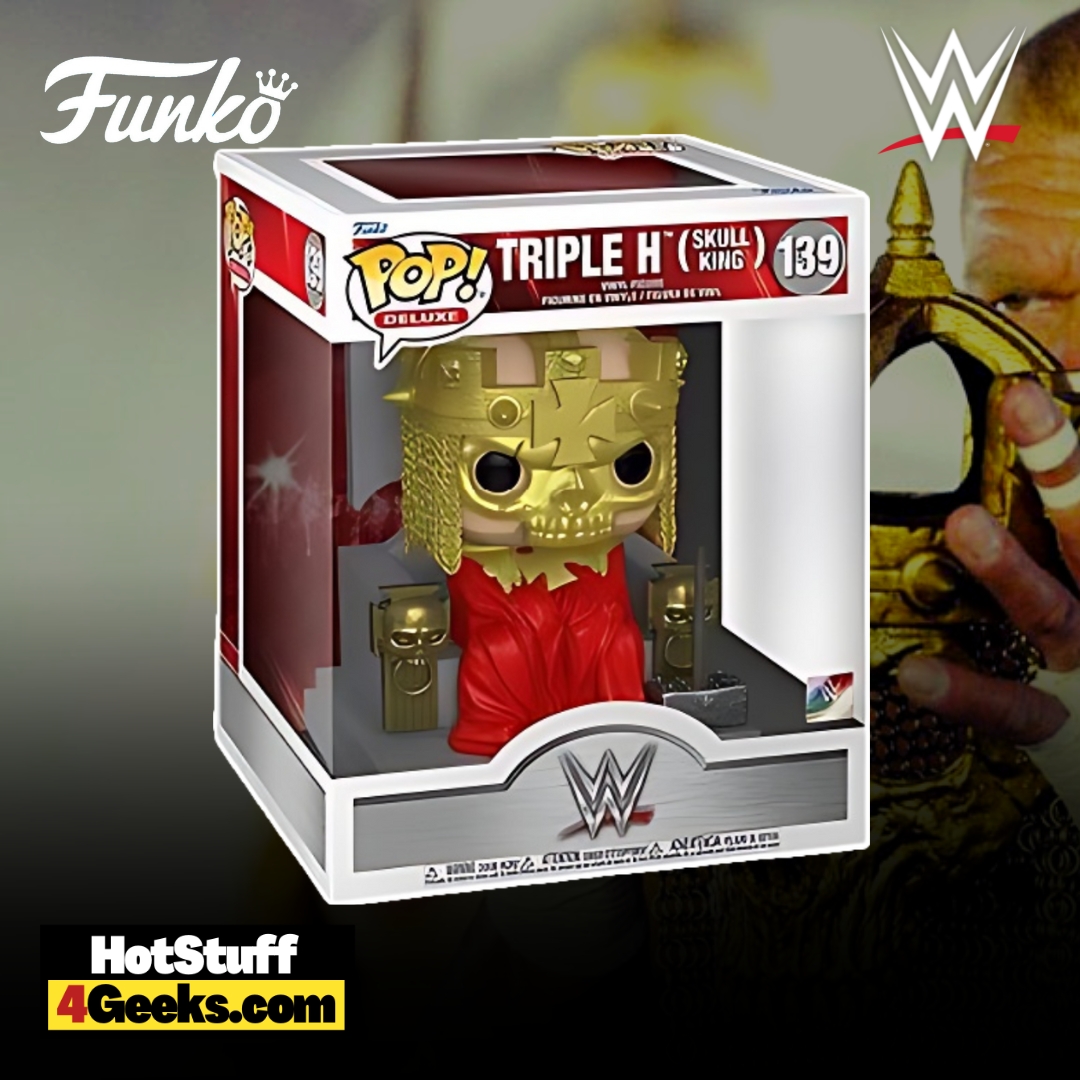 Triple H's Mesmerizing Reign as the Skull King at WrestleMania
It's almost poetic how the wrestling universe sways to the undulating rhythms of WrestleMania.
And among its luminaries, one titan has managed to resonate beyond the confines of the squared circle through his entrances alone: Triple H.
Out of all the iconic entrances he's delivered over the years, none has etched itself into our memories, like when he crowned himself the 'Skull King' at WrestleMania 30.
First, let's paint the backdrop. WrestleMania 30 was an event where the wrestling world teetered on the edges of their seats. Anticipation was in the air, thick enough to cut with the proverbial knife.
Triple H was slated for the opening match, and everyone was poised for something majestic. But even with such high expectations, nothing short of artistry unfolded.
Imagine, if you will, a convergence of past, present, and future.
As the 'Skull King' made his grand descent, three soon-to-be legends of the wrestling realm – Sasha Banks, Charlotte Flair, and Alexa Bliss – flanked him.
Back then, they were merely stars from NXT, yet their presence added a layer of symbolism, almost like guardians of a wrestling lineage, cherishing a moment with the then-kingpin of the industry.
And the crown? Oh, that crown! It wasn't just an accessory; it felt like an extension of Triple H's essence.
The way it was meticulously removed by the trio dramatized the scene further.
Then, the camera zoomed into Triple H's fierce gaze – it was as if you could feel the heat of his intensity, a burning reminder of his legacy and the night's impending battle.
Now, wrestling purists might argue that the essence of a superstar isn't in their entrance but in their performance.
While that's undoubtedly true, entrances, especially at WrestleMania, serve as the preamble to the unfolding story.
They set the tone.
They stir emotions.
And Triple H's 'Skull King' persona at WrestleMania 30 did just that – and then some.
Moreover, this wasn't just a fleeting moment. Its cultural impact was so profound that WWE even commemorated it with themed action figures.
It's a testament to how certain moments, even those outside the actual wrestling, can reverberate through the annals of wrestling history.
Concluding, it's clear that while Triple H has had an array of phenomenal entrances, the 'Skull King' will forever stand as a testament to his ability to captivate, to tell a story without uttering a word, and to etch moments into the very fabric of wrestling lore.
And that, dear reader, is the power of the 'Skull King.'
Starting now, you can receive 10% off in-stock items with my special link at Entertainment Earth!
 Enjoy!
As an Amazon Associate I earn from qualifying purchases
Want more stuff like this?
Get the best viral stories straight into your inbox!
Don't worry, we don't spam