2023 NEW X-Men #1 Gambit Funko Pop! Comic Cover PX Previews
X-Men #1 (1991) Gambit Funko Pop! Comic Cover Vinyl Figure #21 – PX Previews Exclusive
Available at:
Imagine if nostalgia could be bottled up and turned into a collectible! That's exactly what the X-Men #1 (1991) Gambit Funko Pop! Comic Cover Vinyl Figure #21 – PX Previews Exclusive feels like. It's a vibrant throwback to one of Marvel's most iconic comic book launches, wrapped in a fun, collectible package that will spark joy and memories.
This pop comic cover is now available for pre-order at the links below – click to jump or scroll to continue reading!
Unveiling the Exclusive Gambit Funko Pop! Comic Cover from X-Men #1
Get ready to supercharge your collection with the electrifying new release: the X-Men #1 (1991) Gambit Funko Pop! Comic Cover Vinyl Figure #21 — a PX Previews Exclusive.
Poised with kinetic charm, the master of explosive card-throwing, Gambit, emerges straight from the 1991's iconic X-Men roster, bringing his Cajun flair right to your display shelf.
Standing proud at over 4 inches tall, this collectible encapsulates Gambit's enigmatic presence, complete with his quintessential bo staff and a backdrop that nods to the original Jim Lee artwork.
Crafted with meticulous detail, the figure exudes the essence of the fan-favorite mutant, down to the very last fold of his trench coat.
Encased in a bespoke, hard display case designed for preservation and exhibition, this vinyl masterpiece is a tribute to Gambit's legacy and an art piece celebrating X-Men's rich history.
And with a limited run of just 12,500 pieces, each one becomes a treasured part of mutant lore.
Secure your piece of comic book history and celebrate Free Comic Book Day 2024 and the X-Men's 60th anniversary in style.
Remember to collect the PX additional figures – Beast, Wolverine, and Magneto – to complete your tableau of Jim Lee's historical Cover. Don't miss out on the chance to own a slice of the action from the record-breaking X-Men #1 issue.
Beast, Gambit, Wolverine, and Magneto Funko Pop Comic Covers
The PX Previews Exclusive X-Men #1 (1991) Gambit Funko Pop! Comic Cover can be pre-ordered at the links below (click to jump!). Expected release date: April 2024.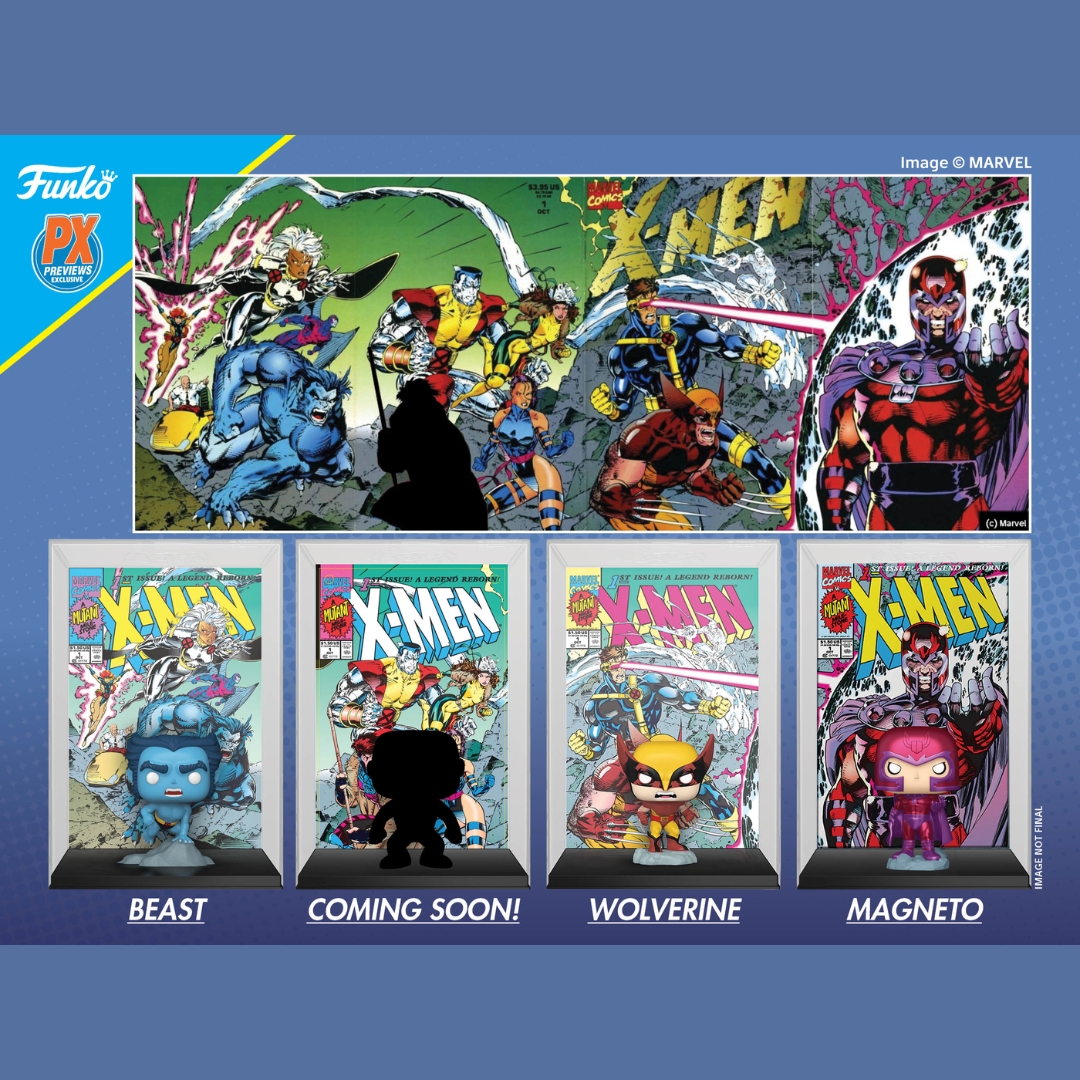 X-Men #1 (1991): A Milestone in Comic Book History
Marvel Comics' launch of X-Men #1 in 1991 was a groundbreaking moment for the franchise and the comic book industry as a whole.
This issue marked the debut of the second volume of the X-Men series, and its impact was immense, with sales reaching an estimated eight million copies worldwide.
What made this issue so special, and how did it manage to capture the imagination of so many readers?
One of the critical elements of X-Men #1 was its high-quality production. Unlike its predecessors, this comic book utilized glossy paper, enhancing the vibrancy and detail of the artwork.
The Cover itself was a work of art, featuring a gatefold design that showcased the talents of artist Jim Lee, inker Scott Williams, and colorist Joe Rosas.
This physical quality was a significant departure from the standard comic books of the time, which often used lower-quality paper, especially for editions with a cover price of $1.50.
The storyline of X-Men #1 was equally impressive. Crafted by the celebrated writer Chris Claremont, it marked a new chapter for the X-Men.
The narrative begins with the return of Charles Xavier to his mansion after many years, during which the X-Men had undergone numerous changes.
This issue set the stage for a more complex and dynamic X-Men universe. Including two teams, Gold and Blue, was a strategic move to handle the expanded roster of characters, each bringing their unique abilities and personalities to the forefront.
Jim Lee's artwork in this issue was nothing short of spectacular. His depictions of the X-Men were aesthetically pleasing and brought a new level of dynamism to the characters.
Each panel was crafted with an eye for detail and an understanding of effectively conveying motion and emotion
. The action sequences in this comic are particularly notable for their intensity and clarity, showcasing Lee's ability to infuse static images with a sense of movement and impact.
The issue wasn't just about flashy artwork and high-quality paper. Claremont's writing was crucial in redefining the X-Men for a new era.
His narrative balanced introducing new characters and threats with the development of existing ones.
This balance helped to maintain the tension and excitement throughout the issue, culminating in a showdown with the classic villain Magneto.
The dialogue and character interactions were written with depth, making the story engaging and relatable.
Additionally, X-Men #1 was packed with extras that added value for the readers.
Behind-the-scenes sketches by Jim Lee, previews of upcoming storylines, and a gallery of villains were all included, making the comic a comprehensive package for fans.
X-Men #1 was a landmark in the medium's evolution.
Even today, it remains a highly recommended addition for any Marvel enthusiast's collection, not just as a piece of history but as a testament to the creative heights comic books can achieve.
As an Amazon Associate I earn from qualifying purchases
X-Men #1 (1991) Gambit Funko Pop! Comic Cover Vinyl Figure #21 – PX Previews Exclusive
Available at:
Want more stuff like this?
Get the best viral stories straight into your inbox!
Don't worry, we don't spam