2023 NEW X-Men'97 Funko Marvel Collector Corps Box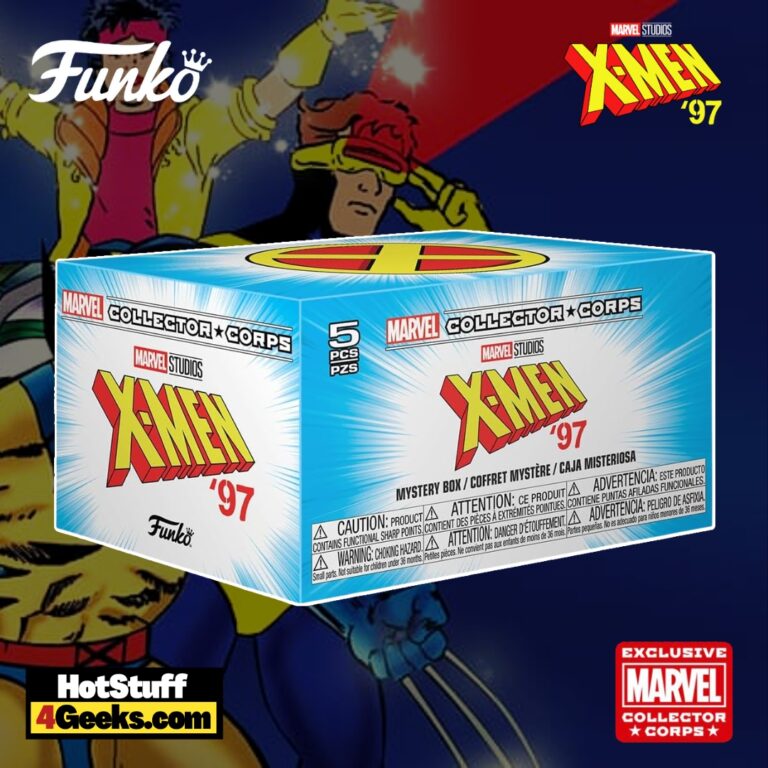 How about owning a piece of the much-anticipated X-Men '97 series even before it hits the screens? Marvel and Funko join forces to present the X-Men '97 Funko Marvel Collector Corps Box, an Amazon Exclusive inspired by the forthcoming X-Men series. Imagine holding a treasure trove of collectibles in your hands, each bearing the mark of the legendary X-Men.
To get your hands on this Box, be sure to check out the links I've provided here– click to jump to Amazon or scroll to continue reading!
Unlock Your Inner Mutant: X-Men '97 Funko Marvel Collector Corps Box, An Amazon Exclusive
This highly exclusive Collector Box is your one-way ticket into the X-Men Universe.
It includes two mystery Pops! figures – your very own mini superheroes – whose identities are sure to ignite curiosity and speculation among fans.
But that's not all; there's also an enamel Pop! Pin, a Decal, and an X-Men-inspired Pop! Tee to ensure you're fully decked out in mutant swag.
Marvel enthusiasts, adding this collector box to your X-Men collection isn't just about boosting your superhero arsenal.
It's about embracing the passion, excitement, and wonder that embody the spirit of X-Men '97.
The thrill of unboxing each item, the exhilaration of discovering the mystery Pop! figures, and the pride of flaunting your fandom – that's the real superpower this Box brings.
This collector box isn't just an assortment of items; it's an X-Men experience waiting to unfold in your hands. Here's to a marvelous journey!
The Amazon Exclusive X-Men'97 Funko Marvel Collector Corps Box is now available for pre-order a the links below (click to jump!) Subscribe before September 28 to get the Box. It's expected to be released between September 28-October 06.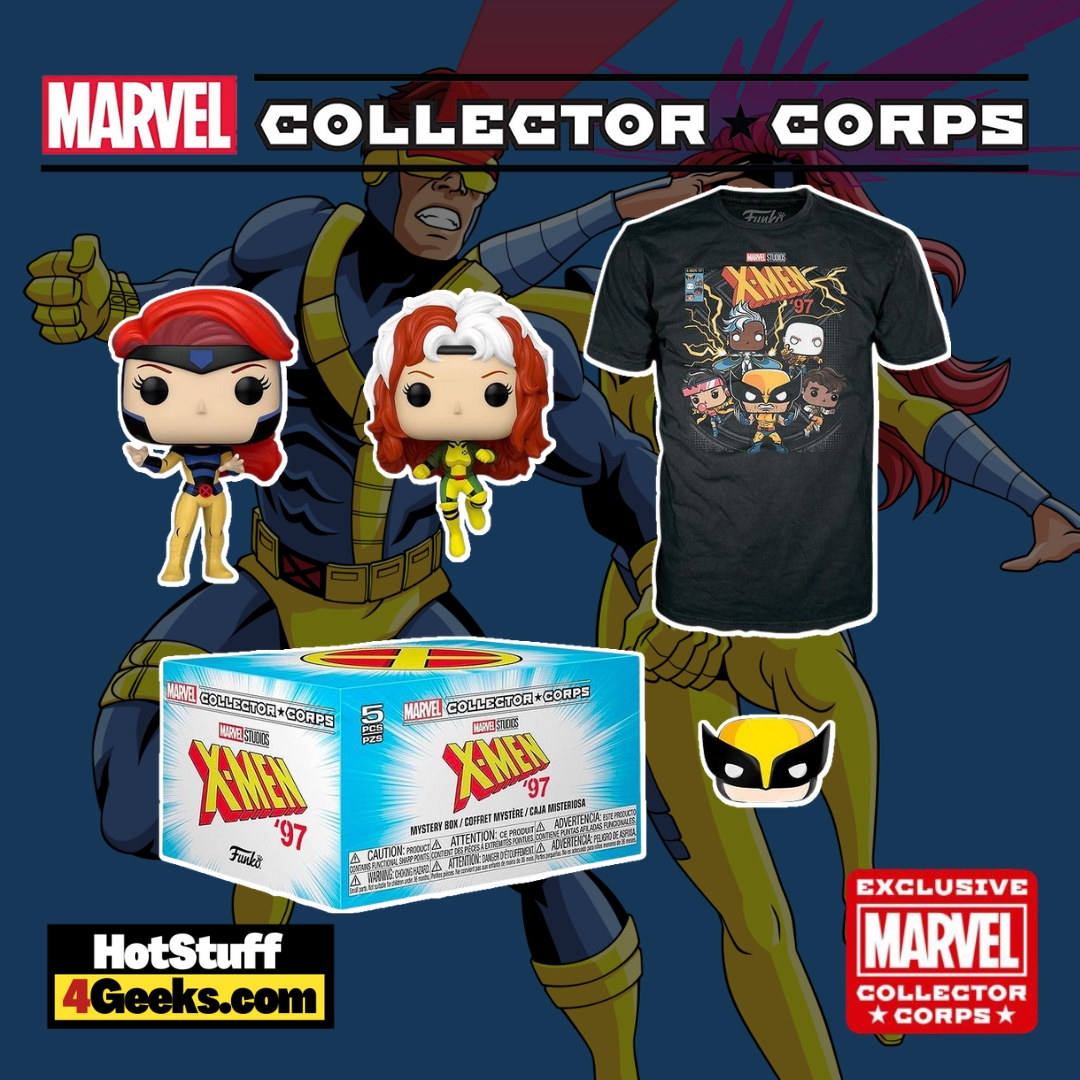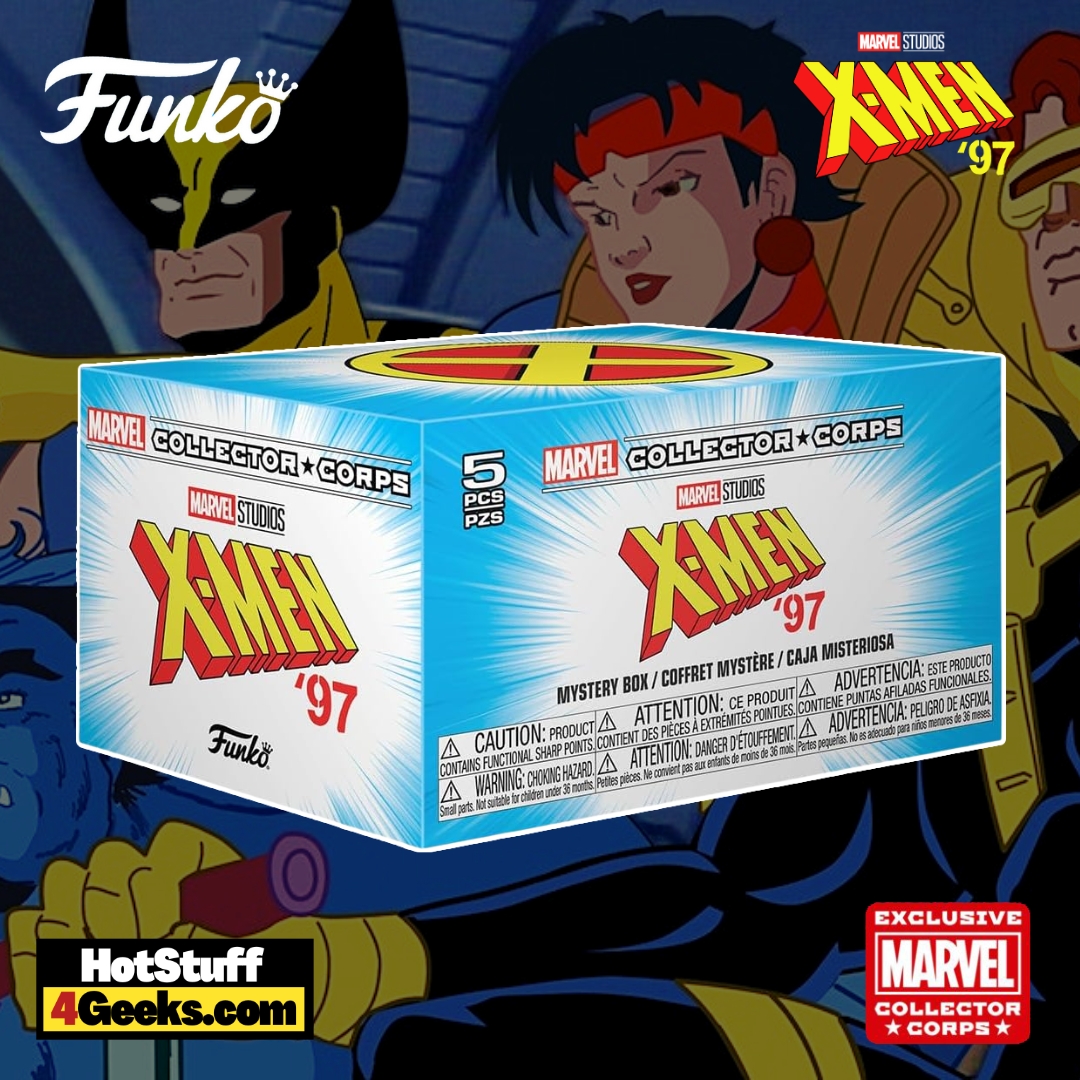 X-Men '97: A Nostalgic Leap into the Future of Animation
Take a trip down memory lane with me, will you? Back to the days of our favorite mutant superheroes, to the unmistakable opening theme song that still sends chills down our spines.
Remember the X-Men animated series from the 90s, with its thrilling narratives, memorable characters, and iconic battles?
If your heart still races at the thought, you're in for a treat.
In a stroke of sheer genius, Disney Plus is reprising this fantastic universe in X-Men '97.
Marvel Studios has decided to charm us all over again by rebooting the animated series that set a high bar for superhero narratives on the small screen.
The title X-Men '97 pays homage to the year the original series ended, but the show promises a fresh spin on familiar faces, with riveting storylines that will captivate both old and new fans.
Let's pull back the curtain on this much-anticipated revival.
The series intends to retain the original's distinct character designs and artistic style.
Those longing for nostalgia will get their full fill while also enjoying an animation standard that competes with the best of the present day.
It's like revisiting the old neighborhood, but the buildings are more polished, the streets cleaner, and everything just sparkles a little brighter.
X-Men '97 promises to be a masterstroke of storytelling, picking up where the previous series ended.
We're set to experience the depth of each character as the series dives headlong into their inner struggles, moral dilemmas, and the overarching theme of acceptance that X-Men is lauded for.
And with a vast pool of X-Men comics and lore, we're in for some compelling narratives and gripping plot twists.
What makes this reboot even more fascinating is the return of some of the original voice cast.
The characters you grew to love (or hate) will resonate with the same voices that left an indelible mark on your childhood memories.
However, fresh blood is in the mix to breathe life into the new characters and keep us guessing.
The comeback of X-Men '97 isn't just about a rehash of the past.
It's a leap into the future of animation, embracing modern advancements while still honoring its rich legacy.
It promises to be a thrilling ride full of mutant mayhem and emotional rollercoasters that will keep us glued to our screens.
The stakes are high, and the excitement is palpable.
Can X-Men '97 live up to the hype? Can it retain the old magic while casting new spells?
Only time will tell.
But if the early buzz is anything to go by, we're in for an animated extravaganza that will redefine our expectations.
Hold on to your hats, X-Men fans.
The future (or should I say the past?) is here, and it's brimming with possibility.
We're ready for the ride and can't wait to see where it takes us.
Starting now, you can receive 10% off in-stock items with my special link at Entertainment Earth!
 Enjoy!
As an Amazon Associate I earn from qualifying purchases
Want more stuff like this?
Get the best viral stories straight into your inbox!
Don't worry, we don't spam