2023 NEW Yellowstone: Rip Wheeler with Cooler Funko Pop!
Funko Pop! Television: Yellowstone: Rip Wheeler with Cooler Funko Pop! Vinyl Figure – Funko Shop Exclusive
Available at:
Ready for a bit of wildfire with your morning coffee? Then check out the all-new Funko Pop! Television: Yellowstone: Rip Wheeler with Cooler Funko Pop! Vinyl Figure – Funko Shop Exclusive. Now you can bring him along on road trips, keep him in your office for low-level disputes, or even just put him on display as a reminder of what Yellowstone does best: good old-fashioned drama.
The pop figure is dropping today at 9.3 AM PT and can be found at the links below – click to jump or scroll to continue reading!
If you're ever looking for a hero and your Bat Signal is MIA, don't worry – just give ol' Rip Wheeler a call!
This strong yet vulnerable cowboy has quite a few tricks up his sleeve, whether rescuing Beth from calamity or stepping up as the God-like father figure we never knew we wanted.
Just one look at him walking towards us in those iconic cowboy boots, and we know everything will be alright.
Sure, his stoic attitude might make us chuckle, but let's face it – he's exactly what we need as Americans today; a champion without bragging rights.
Ask anyone who watches Yellowstone, and they'll tell you: You can keep your Supermen – Give us Rip Wheeler any day.
The Funko Shop Exclusive Rip Wheeler with Cooler Funko Pop! can be found at the links below (click to jump!)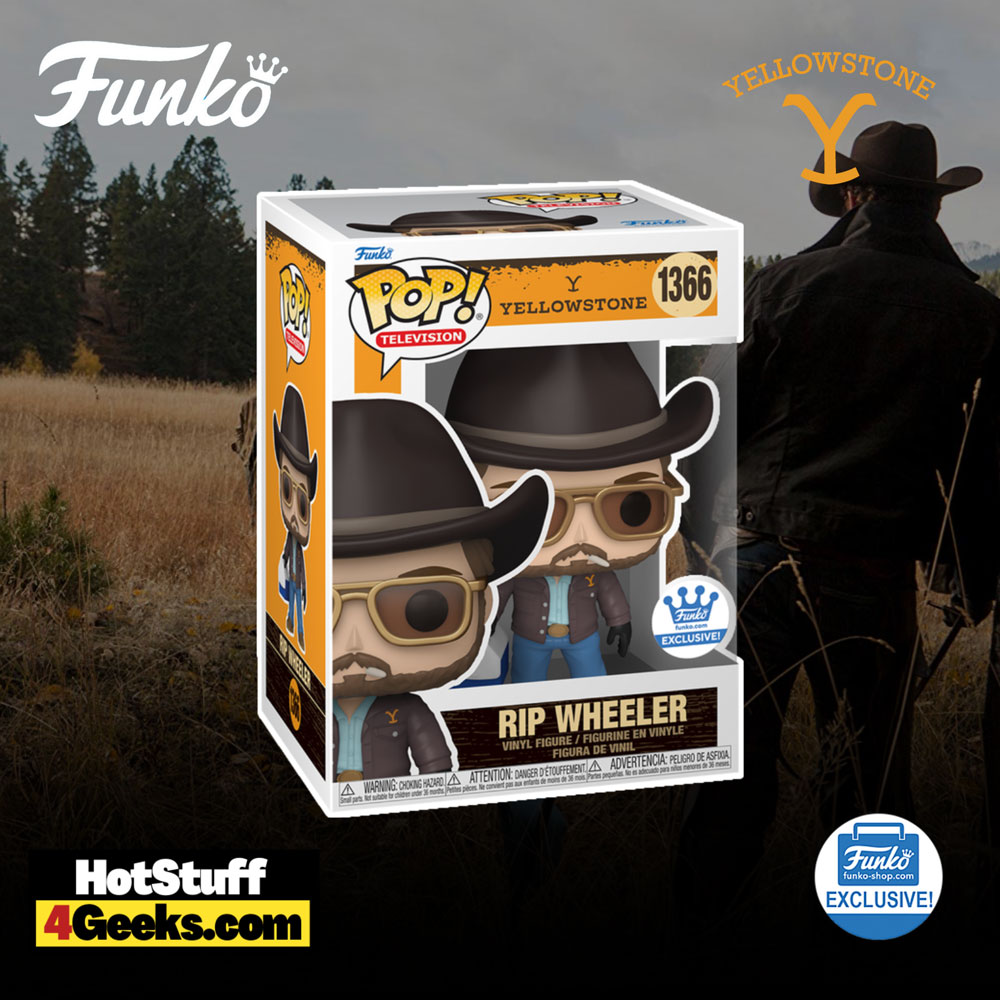 When it comes to captivating cowboys, Paramount's Yellowstone has delivered a gem in the form of Rip Wheeler.
Portrayed by the talented Cole Hauser, Rip is an enigmatic character who has won hearts and stolen the show.
As the loyal right-hand man to John Dutton and a veritable cowboy superhero, Rip keeps the Dutton Ranch and its inhabitants safe from harm, all while showcasing his unique blend of charm, grit, and vulnerability.
Rip's unwavering loyalty to the Dutton family is rooted in his traumatic past. After a violent childhood incident, Rip finds solace in the Dutton family, who take him in and make him one of their own.
His devotion to John Dutton, the patriarch, is unwavering.
The sense of belonging and love he receives from the Duttons drives his fierce protection of the ranch and its inhabitants.
Rip's loyalty is unquestionable, making him an invaluable asset to the Duttons and a force to be reckoned with.
Rip, and Beth's love story is a testament to the saying, "Opposites attract."
While they share a traumatic past, their personalities are worlds apart.
Beth's fiery and headstrong nature often clashes with Rip's stoic and resilient demeanor, creating a passionate and tumultuous romance that keeps viewers on the edge of their seats.
Their bond, forged in the fires of shared pain, creates a unique chemistry that adds depth and dimension to their relationship.
This unlikely pairing of souls has captured the hearts of fans, who eagerly anticipate the twists and turns of their love story in each new season.
While Rip may not appear to be the quintessential father figure, his relationship with Jimmy and Carter reveals his softer side.
His protective nature and tough love approach help guide these young men who struggle to find their footing in a world full of challenges.
Rip's journey to becoming a father figure is a heartwarming and inspirational aspect of his character, showcasing the power of redemption and the human capacity for growth and change.
Despite his rough exterior, Rip has a heart of gold.
His willingness to risk his life for the Duttons, particularly for Beth, illustrates his selflessness and the depth of his love for those he considers family.
As the series progresses, we see Rip evolve from a man with a troubled past to a hero who selflessly steps up when the Duttons need him most.
Check more Yellowstone Funko Pops here!
As an Amazon Associate I earn from qualifying purchases
Funko Pop! Television: Yellowstone: Rip Wheeler with Cooler Funko Pop! Vinyl Figure – Funko Shop Exclusive
Available at:
Want more stuff like this?
Get the best viral stories straight into your inbox!
Don't worry, we don't spam