One Piece Sniper King Funko Pop! Rare Chase Edition Unveiled
Funko Pop! Animation: One Piece – Sogeking (Sniper King) Funko Pop! Vinyl Figure with Chase Variant – Chalice Collectibles Exclusive
Available at:
Set sail on a collector's adventure and aim at the most elusive target yet – the Funko Pop! Animation: One Piece – Sogeking (Sniper King) Funko Pop! Vinyl Figure with Chase Variant – Chalice Collectibles Exclusive. It's time to channel your inner sniper and capture the essence of the Straw Hat's own sharpshooter, complete with the thrill of a rare chase surprise!
UPDATE: Now available for pre-order! To secure one upon release, use the links provided below – click to jump! or keep scrolling for more details!
Unmask the Excitement: One Piece Sniper King Funko Pop! with Exclusive Chase Variant
Calling all One Piece enthusiasts! Get ready to aim your collection to new heights with the latest Sniper King Funko Pop! Vinyl Figure.
This exclusive release brings the sharpshooter of the Straw Hat Pirates, Usopp, in his iconic Sogeking disguise, straight to your shelf.
Sogeking, known for his legendary sniping skills and knack for igniting the imaginations of One Piece fans, is captured in meticulous detail, complete with his signature mask and slingshot.
But that's not all – true collectors can set their sights on the Chase Variant, a rarity that adds an extra layer of thrill to the hunt.
It's an unmissable treasure for anyone looking to complete their Straw Hat crew ensemble.
This Sogeking Funko Pop! is not merely a figure; it's a tribute to Usopp's journey from a chronic fibber to a revered figure within the One Piece lore.
Add this sharpshooting legend to your collection and celebrate the art of storytelling with a Funko twist.
The Chalice Collectibles  Sniper King Funko Pop! Vinyl Figure with Chase Variant can be pre-ordered at the links below (click to jump!)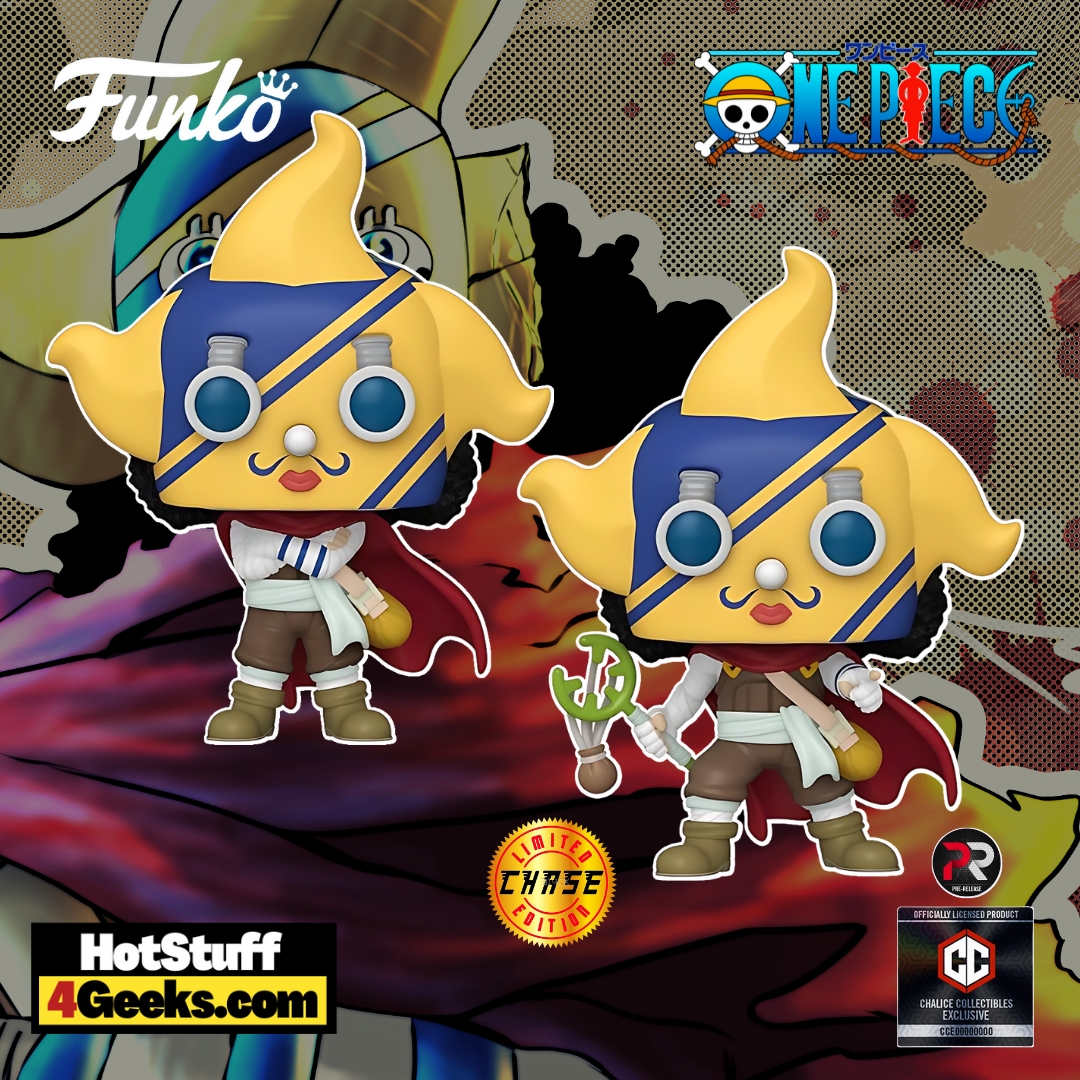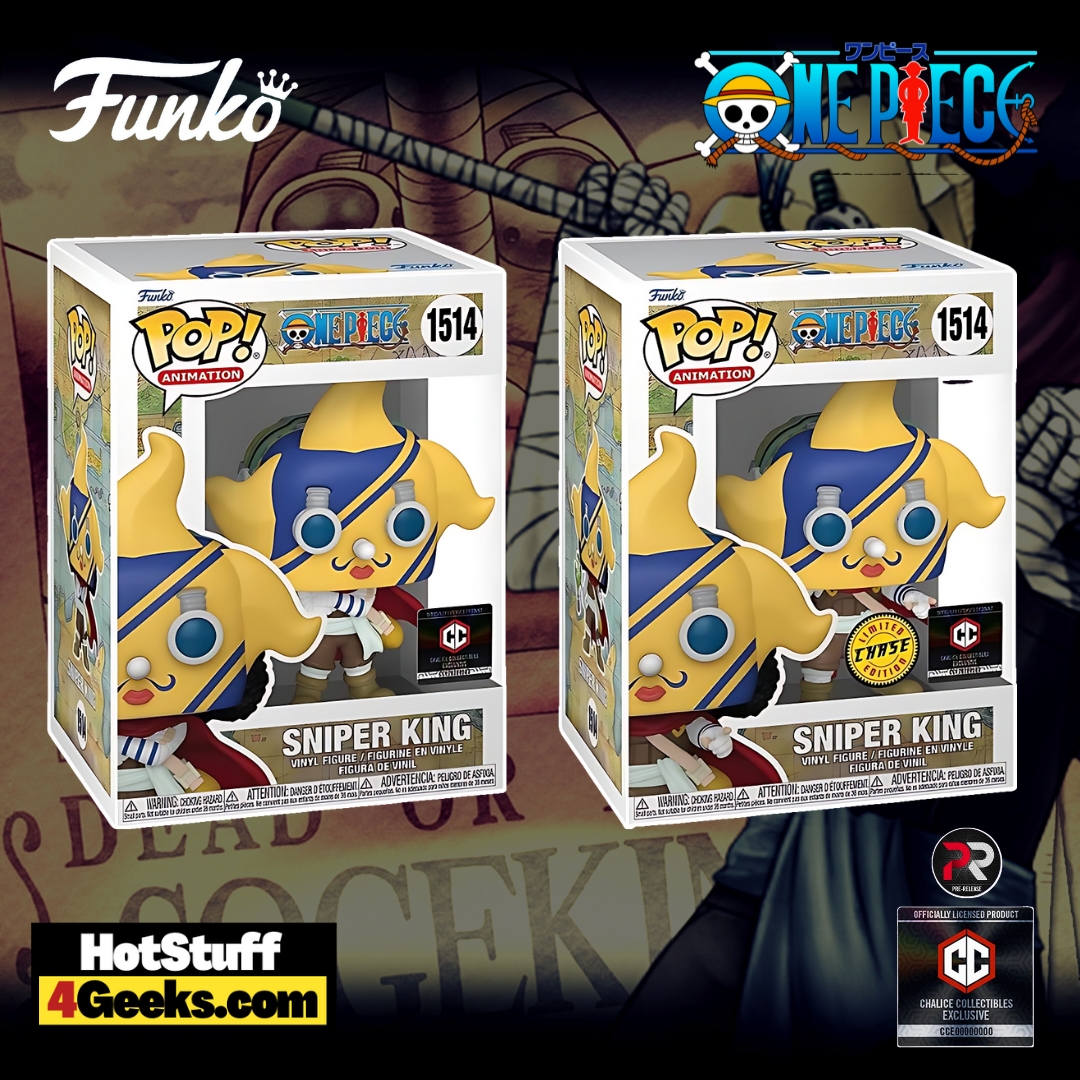 The Many Masks of Usopp: A Sniper's Tale in One Piece
In the sprawling sea saga of "One Piece," Usopp stands out as the Straw Hat Pirates' sharpshooter with a penchant for tall tales and even taller identities.
From his early days as a notorious fibber to the more complex web of personas he weaves, Usopp's evolution is a tapestry of courage, creativity, and a touch of comic relief.
Let's unpack the layers of this character, whose knack for identity swaps rivals his aim.
First up, Sogeking, a name that echoes through the annals of the Straw Hat legend.
Amidst the turmoil of the Going Merry's swan song and the crew's subsequent entanglement with CP9, Usopp crafts this alter ego.
A mask and a cape become his armor against the vulnerability of losing his beloved ship and facing the grim reality of change.
Sogeking is more than a disguise; it's a declaration of Usopp's undying loyalty and spirit as he shoots down a government flag, boldly asserting his crew's resolve.
Transitioning from the glorious stage of Enies Lobby to the quaint but no less vital kingdom of Tontatta, Usopp adopts the moniker Usoland.
Under this guise, he unintentionally becomes a beacon of hope for the oppressed Tontatta people, spinning yarns of heroism that, while steeped in fiction, ignite an authentic revolution.
Usopp's facade as Usoland isn't just for show—it inadvertently inspires a tribe and reinforces the notion that sometimes legends are born from the most unlikely of seeds.
The Land of Wano, with its samurai and shogun, necessitates another transformation: Usohachi. Draped in traditional garb, Usopp's role here goes beyond mere camouflage.
He becomes a critical linchpin in the covert operations to recruit allies and distribute coded messages.
The toad oil vendor facade is a stroke of genius that underscores his ingenuity, proving that Usopp's true strength lies not in brute force but in his wits and his words.
The epithet God Usopp isn't self-proclaimed but is thrust upon him by a populace witnessing a miracle of timing and luck.
When Usopp's peculiar grimace topples the formidable Sugar, he is, quite literally, elevated by the masses to a divine status.
His accidental heroism is sealed into the public consciousness, and with it, his infamy skyrockets—a testament to the fact that in the world of "One Piece," perception is often as powerful as reality.
Usopp's fabrications and facades are more than mere comic relief; they are a testament to his growth, ingenuity, and unyielding drive to stand alongside his fellow pirates as a brave warrior of the sea.
With each new chapter, we are reminded that the line between truth and tale is often blurred but consistently beguiling in the hands of Usopp, the master storyteller turned unexpected hero.
As an Amazon Associate I earn from qualifying purchases
Funko Pop! Animation: One Piece – Sogeking (Sniper King) Funko Pop! Vinyl Figure with Chase Variant – Chalice Collectibles Exclusive
Available at:
Want more stuff like this?
Get the best viral stories straight into your inbox!
Don't worry, we don't spam