2023 Ronald McDonald w/ McDonald's Location Funko Pop! Town
by

PopCorn Princess

April 26, 2023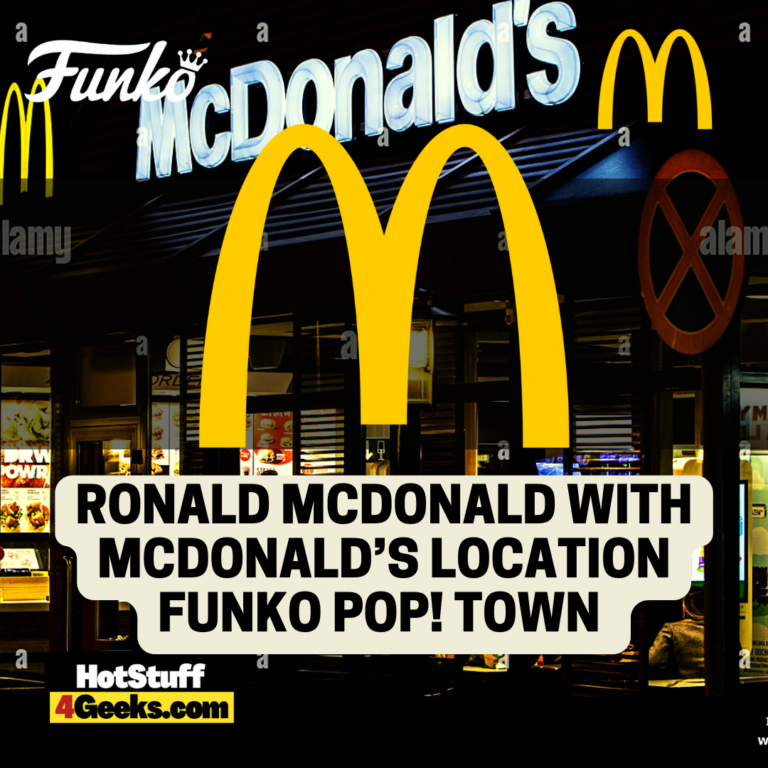 Not official until confirmed.
When it comes to iconic fast food personalities, there's no one quite like Ronald McDonald. With his radiant red hair, endearing smile, and colorful attire, Ronald McDonald has been a symbol of happiness and imagination for generations of children and adults alike. Now, imagine the delight of capturing the essence of this cherished character in the form of a Funko Pop! Town: Ronald McDonald with McDonald's Location Funko Pop! Town Vinyl Figure.
First introduced in the 1960s, this cheerful and whimsical clown character has brought smiles to the faces of children and adults alike for decades.
Donning his distinctive striped suit and oversized shoes, Ronald McDonald has been an essential part of the McDonald's experience, playing a key role in advertising campaigns, charity events, and store promotions.
Now, fans of the iconic character can welcome him into their homes with the McDonald's Funko Pop! Town.
This delightful collectible captures the essence of Ronald McDonald's jovial personality while paying homage to the classic McDonald's restaurant design.
Though the Funko Pop! Town set pays tribute to the fast-food chain itself.
The real star of the show is undoubtedly Ronald McDonald.
Ronald McDonald with McDonald's Restaurant Funko Pop! Town is coming soon. There's no release date yet, but stay tuned because I'll update more information in the long run.

Imagine stepping back in time to the year 1955, when a fledgling fast-food chain was just beginning to take root in America's heartland.
The smell of hamburgers sizzling on the grill and the sound of fries crackling in hot oil filled the air as a simple yet groundbreaking menu delighted hungry customers.
Today, we're taking you on a nostalgic journey to the very first McDonald's restaurant, which laid the foundation for a global empire of more than 36,000 locations.
Nestled in the quaint town of Des Plaines, Illinois, the first McDonald's franchise opened its doors on April 15, 1955.
Spearheaded by the ambitious Ray Kroc, this humble eatery marked the beginning of a revolutionary concept that would forever change the fast-food world.
Although the original San Bernardino, California, location, founded by the McDonald brothers in 1948, had already sparked interest in the concept, Kroc's vision and determination fueled the brand's explosive growth.
The architecture of this inaugural location was truly a sight to behold. With its eye-catching red and white exterior, the restaurant showcased the McDonald brothers' innovative Speedee Service System—now known simply as fast food.
The iconic golden arches adorned the building's sides, creating an unmistakable symbol that would come to represent a global phenomenon.
Inside the restaurant, customers were greeted by smiling staff members clad in uniforms that have since evolved significantly.
As for the menu, simplicity was key. Customers were treated to a selection of hamburgers, soft drinks, pies, French fries, milk, coffee, and milkshakes—staples that have withstood the test of time.
Over the years, McDonald's has experimented with numerous additions to its menu, some of which have become beloved classics, while others have faded into obscurity.
The Des Plaines location has since been transformed into a museum, allowing visitors to step back in time and experience the magic of McDonald's early days.
As you explore this historical gem, you can't help but feel a sense of wonder at how far the brand has come.
From its modest beginnings to its current status as a global powerhouse, McDonald's has been an integral part of the American experience.
The first location's captivating history serves as a testament to the power of perseverance, ingenuity, and the pursuit of an extraordinary vision.
As an Amazon Associate I earn from qualifying purchases
Want more stuff like this?
Get the best viral stories straight into your inbox!
Don't worry, we don't spam
PopCorn Princess
Hey there, I'm Princess. I'm an annual comic con attendee, Star Wars-loving, and collector freak. My mission is simple: To bring cool geeky news and content and share my passion with the rest of the world. (... I secretly wish to save the world as a superheroine...)