4 NEW Legally Blonde Funko Pops! - Funko Fair 2022
Prepare to be Fabulous with the new Legally Blonde Funko Pops from Funko Fair 2022. Legally Blond turns 21 this year! Commemorate the 21st Anniversary of Elle Woods' tremendous fashions with some pops figures. Here's the breakdown:
Legally Blonde Funko Pop! Vinyl Figure – Elle Woods in the Sun
Legally Blonde Funko Pop! Vinyl Figure – Elle Woods With Bruiser
Legally Blonde Funko Pop! Vinyl Figure – Elle Woods in Bunny Suit
Legally Blonde – Elle Woods as Bunny Diamond Glitter Funko Pop! Vinyl Figure – Entertainment Earth Exclusive
Elle Woods shocked everyone in 2001 when she traded in her Fashion Merchandising degree for Harvard Law in Legally Blonde.
Released on July 13, 2001, Legally Blonde is considered one of the most iconic films of the 2000s. The movie is recognized for its unique approach towards different feminist issues.
Legally Blonde Funko Pops are available for order at the links below (click to jump!)
Two decades after its release, Legally Blonde (2001) remains among the most beloved comedies of the 2000s. Starring Reese Witherspoon, the film successfully showed a typical American girl in law school at the acclaimed Harvard University.
The film is based on a book of the same name written by Amanda Brown, a former Stanford University law student. In an interview with SFGate, the author talked about how she couldn't adapt to the environment and started writing letters on pink paper to her friends, which became Legally Blonde.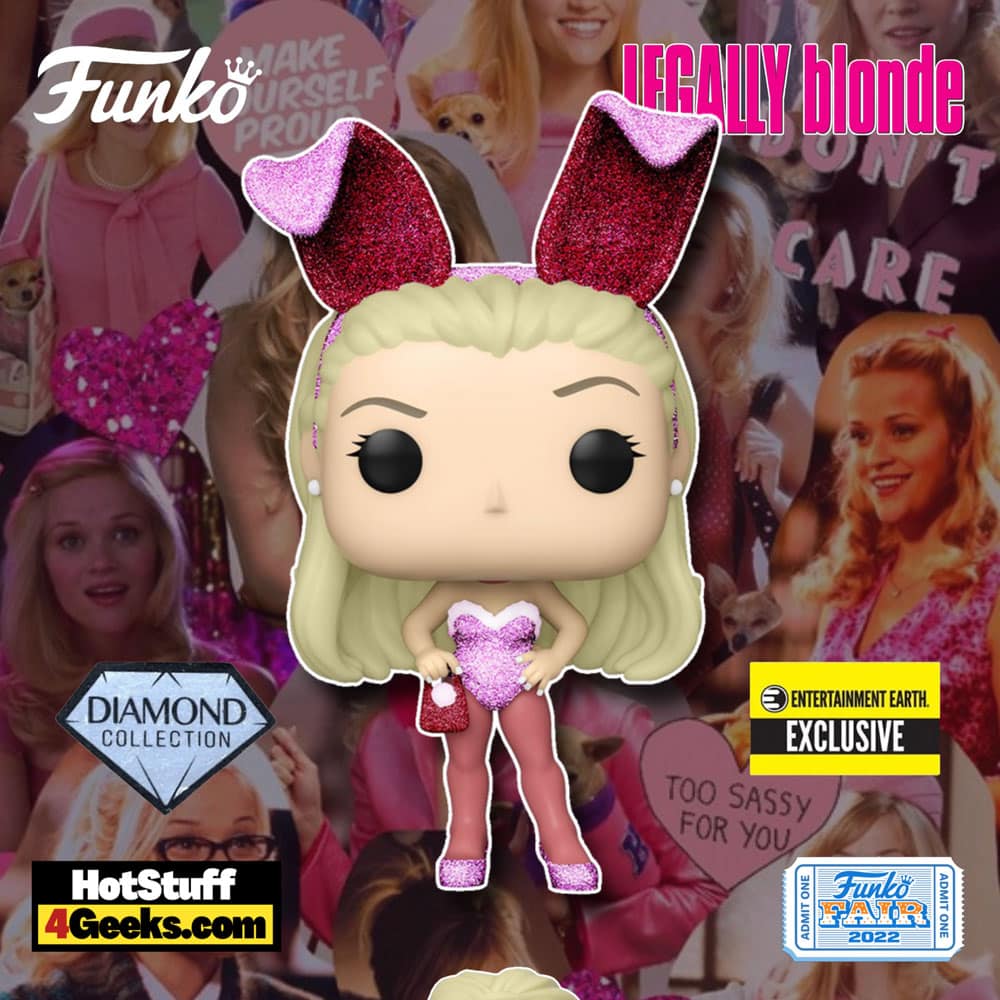 The film tells the story of Ellen Woods, a young woman who intends to marry the love of her life, Warner Huntington III. However, their courtship ends because Warner claims to be looking for a more serious and less "blonde" (in the sense of intelligence) partner.
So, Ellen decides to attend Harvard Law School to win back her ex-boyfriend.
Starting now, you can receive 10% off in-stock items and free shipping on $39+ orders with my special link at Entertainment Earth!
You can also use CODE: 4geeks anytime. Enjoy!
As an Amazon Associate I earn from qualifying purchases
Want more stuff like this?
Get the best viral stories straight into your inbox!
Don't worry, we don't spam