5 NEW Black Clover Funko Pops! Revealed - Funko Fair 2022
Today Funko Fair 2022 unveiled 5 new Black Clover Funko Pop figures inspired by the anime featuring Asta and Yuno, two young men who aim to become the true Wizard King. All the pop figures can be found at the links below (click to jump!)
From time to time, the "cake recipe" present in the shounen published by Weekly Shounen Jump produces works that gather many fans in Japan and various parts of the world. This has been the case with Dragon Ball, Naruto, One Piece, Boku no Hero Academia, and, of course, Black Clover.
With its first volume released on February 16, 2015, the story written and illustrated by Yuuki Tabata had a very positive reception by the fans already in its early publication. In addition, it was the bestseller list of its country of origin, setting a precedent for an animated production that would be the gateway for many other fans of the title worldwide.
Here's the breakdown for this pretty awesome wave now revealed:
Funko Pop! Animation: Black Clover – Asta Funko Pop! Vinyl Figure
Funko Pop! Animation: Black Clover – Noelle Funko Pop! Vinyl Figure
Funko Pop! Animation: Black Clover – Yuno Funko Pop! Vinyl Figure
The Black Clover Funko Pops from Funko Fair 2021 are now available for order at the links below (click to jump!)
The plot follows two orphans named Asta and Yuno, raised in a church in the Clover Kingdom. In this world, everyone possesses some magical power. Asta was born without any extraordinary ability to call his own. Yuno has a great deal of magic within himself and is considered a magical arts prodigy.
One day, they both hear a story about the first Wizard King and how he saved humanity from near decimation. The story encourages both to take on such a title next, fostering an inevitable rivalry between the two boys.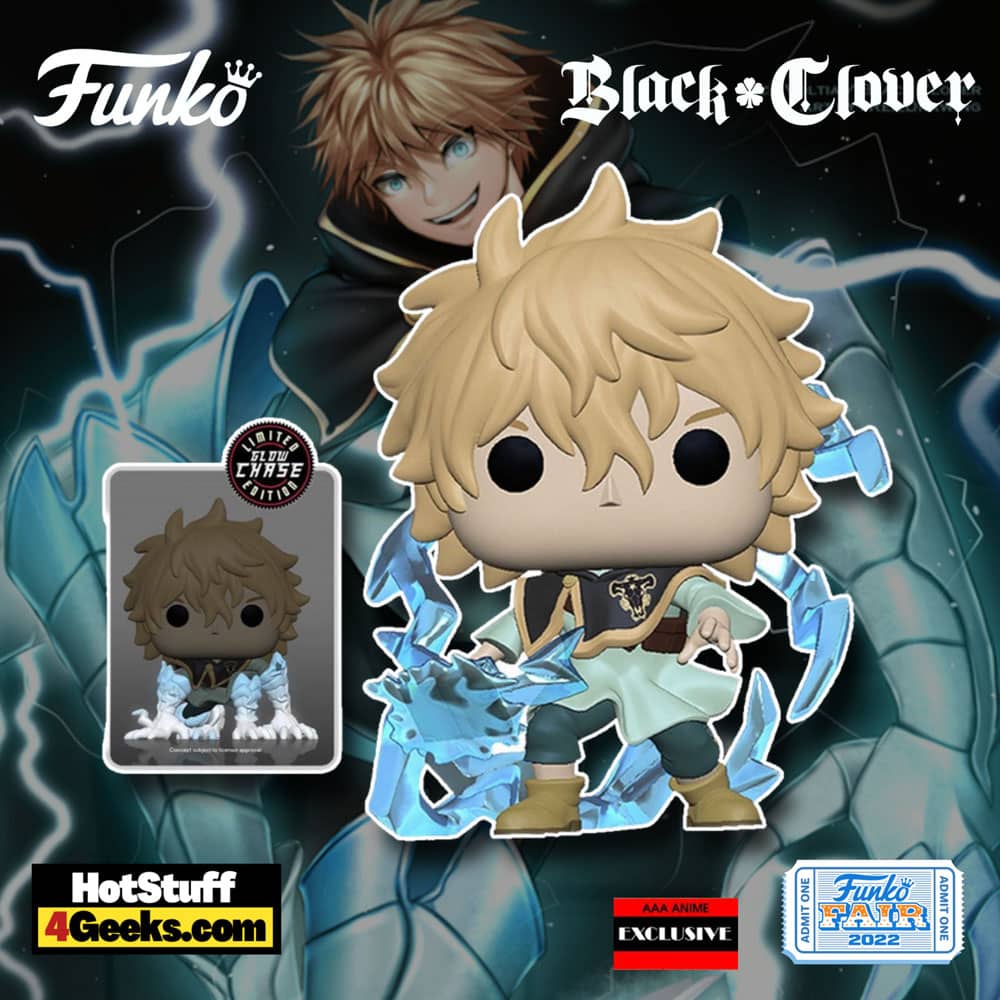 Asta, realizing that he would need to compensate for his innate inability to use mana, begins to train hard so that on the day he receives his grimoire, he would prepare his body to harbor the magic provided by the magical artifact.
However, when he and Yuno turn fifteen and go to the grimoire-giving ceremony, he does not win any, reinforcing that the boy really had no aptitude for developing supernatural powers.
However, all is not lost because a short time after, he receives a mysterious power that allows him to cancel spells in one blow, provided by a sword and a particular grimoire that chooses him as its bearer. This marks the beginning of the journey.
Starting now, you can receive 10% off in-stock items and free shipping on $39+ orders with my special link at Entertainment Earth!
You can also use CODE: 4geeks anytime. Enjoy!
As an Amazon Associate I earn from qualifying purchases
Want more stuff like this?
Get the best viral stories straight into your inbox!
Don't worry, we don't spam