A Fizzy Force: Star Wars Funko Sodas for May 4th, 2023
Funko Sodas: Star Wars Funko Vinyl Soda Figures for May 4th, 2023
Available at:
Today is  Star Wars Day, and fans worldwide are gearing up for a cosmic celebration, and what better way to add some fizz to your festivities than with some Star Wars May The 4th Funko Sodas? With their charming mix of nostalgia and whimsy, these delightful collectibles have become a staple for many a fan's galaxy-wide celebration.
The pop sodas are now available for pre-order at the links below – click to jump or scroll to continue reading!
On this particular day, the Force is strong with Funko Sodas, as they blend seamlessly into the Star Wars Day atmosphere.
Whether you're hosting a watch party, engaging in lightsaber duels, or simply enjoying a quiet moment of reflection on Tatooine, these quirky companions are the perfect sidekick for your May 4th adventure.
So, let's raise our cans to the heroes, villains, and droids that make the Star Wars saga so unforgettable. May 4th Be With You, and may your Funko Sodas overflow with galactic delight!
Here's the list for today's release:
Star Wars Greedo Funko Vinyl Soda Figure with Metallic Chase
Star Wars Princess Leia Funko Vinyl Soda Figure with Chase
Star Wars May The 4th Funko Soda Vinyl Figures are now available for pre-order at the links below (click to jump!)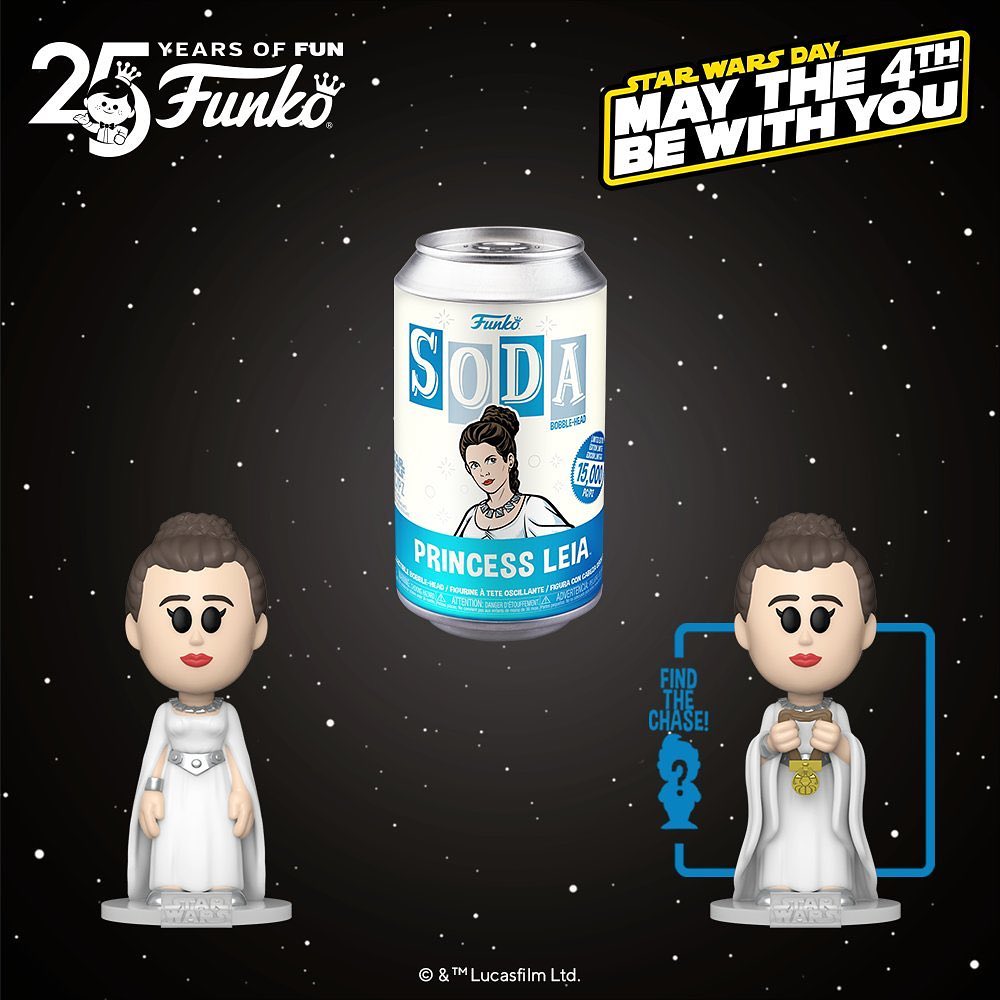 It's that time of year again when the Force is strong with us, and the fanfare reaches a fever pitch – that's right, fellow Star Wars enthusiasts, May 4th is upon us!
Star Wars Day has become a beloved annual tradition, uniting Padawans, Jedi Masters, and even Sith Lords across the globe in a day of galactic revelry.
So, polish your lightsabers, dust off your Millennium Falcon models, and let's dive into what makes this day so unique.
The origin story of Star Wars Day is as legendary as the movies themselves.
Stemming from a pun that would make even Yoda chuckle, "May 4th Be With You" has transformed into a celebration that transcends language barriers and unites fans from all corners of the galaxy.
And it's no surprise that this cultural phenomenon has grown exponentially – after all, the Star Wars saga has become an integral part of our pop culture fabric.
Now, some might say that a holiday based on a pun is a bit far-fetched, but we Star Wars fans know that a little absurdity can be the key to the galaxy.
So, while the Empire may not appreciate our love of wordplay, we'll continue to wear our punny pride like a badge of honor.
But Star Wars Day is more than just clever wordplay; it's a testament to the power of the Star Wars community.
From themed parties to community events, fans have taken this unofficial holiday to hyperspace, proving that the Force is strong in all of us. And with the ever-expanding Star Wars universe, there's no shortage of ways to celebrate.
Whether having a movie marathon in your Ewok onesie, baking Wookiee cookies, or engaging in a friendly debate about who shot first, Star Wars Day is the perfect time to let your geek flag fly.
And while we may not all agree on the best Star Wars film (though we all know it's The Empire Strikes Back), one thing is sure: our shared love of this epic saga is a bond that transcends any interstellar rivalry.
So, as you prepare to embark on your May 4th festivities, remember that this day is not only about celebrating our favorite space opera but also about uniting a community of fans who are as diverse as the inhabitants of the Star Wars galaxy.
May 4th Be With You, and may your Star Wars Day be filled with laughter, camaraderie, and plenty of intergalactic shenanigans.
As an Amazon Associate I earn from qualifying purchases
Funko Sodas: Star Wars Funko Vinyl Soda Figures for May 4th, 2023
Available at:
Want more stuff like this?
Get the best viral stories straight into your inbox!
Don't worry, we don't spam