2022 NEW AC/DC In Concert Funko Pop! Moment Walmart Exclusive
Any fan of AC/DC knows that their concerts are an exhilarating experience. Now, thanks to Funko Pop!, you can bring home a piece of that excitement with the new Funko Pop! Concert Moment: AC/DC: AC/DC In Concert Funko Pop! Deluxe Vinyl Figures – Walmart Exclusive.
This Walmart exclusive features all five band members on stage, ready to rock your socks off. Whether you're a diehard fan or just getting into the band, this is a must-have for any collection. The pop figures will be available on Nov 14th, 9 AM PT at the links below (click to jump!)
There's nothing quite like an AC/DC concert. The music is loud, the crowd is rowdy, and the energy is electric. It's an exhilarating experience that any fan of the band will enjoy.
They always put on a great show, and their fans are always ready to rock. If you've never seen AC/DC in concert, you're missing out on one of the best live shows around.
From the moment the first guitar riff starts, the entire crowd is on its feet, headbanging and singing along. The band Feedbacker plays with so much energy that it's impossible not to get swept up at the moment.
And, of course, no AC/DC concert would be complete without a few pyrotechnics.
This collectible features Brian Johnson, Malcolm Young, Phil Rudd, Cliff Williams, and Angus Young on stage with their signature looks. Moreover, the spotlights, scaffolding, speakers, and amplifiers are all there!
This Concert Funko Pop! is the perfect way to show your love for the Australian rock band.
The Walmart Exclusive AC/DC In Concert Funko Pop! Moment Vinyl Figures can be found at the links below (click to jump!)
Few bands can match AC/DC when it comes to delivering a high-energy live show. For over four decades, the Australian rockers have been thrilling audiences with their hard-hitting tunes and explosive stage presence.
From the early days of their career, AC/DC have always been known for their electrifying live performances.
Their concerts are always full of non-stop action, with the band tearing through song after song without missing a beat.
And even as they've gotten older, AC/DC haven't lost any of their edge, still delivering the same high-octane shows that they're known for.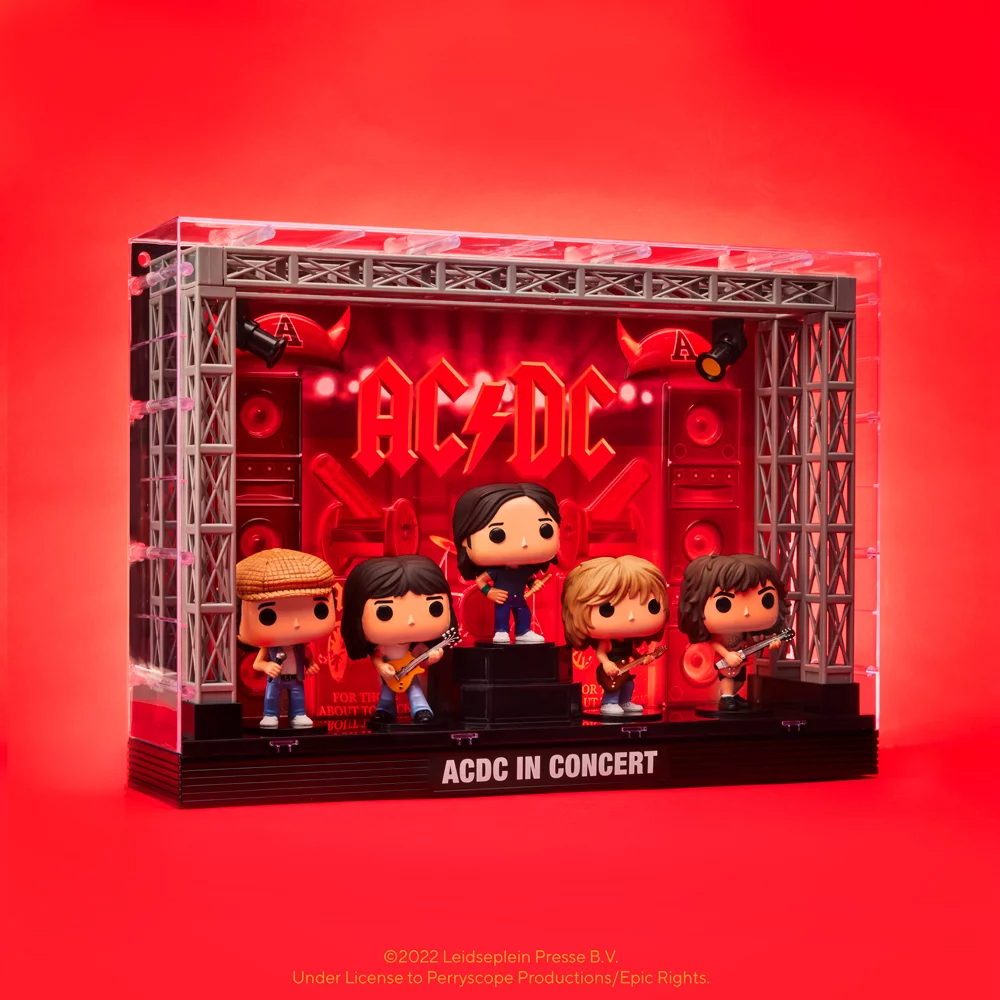 Formed in 1973 by brothers Malcolm and Angus Young, AC/DC is one of the most successful rock bands of all time.
With a signature sound that combines hard-hitting riffs with catchy hooks, the band has sold more than 200 million albums worldwide and has been inducted into the Rock & Roll Hall of Fame and the Grammy Hall of Fame.
Although AC/DC is best known for hits like "Highway to Hell" and "Back in Black," the band's catalog includes a wide range of styles, from the hard-rocking "Let There Be Rock" to the relatively mellow "For Those About to Rock (We Salute You)."
No matter what style they're playing, AC/DC always delivers high-energy performances that leave fans wanting more.
Thanks to their unique sound and unrivaled stage presence, AC/DC has cemented their place as one of the greatest rock bands of all time.
As an Amazon Associate I earn from qualifying purchases
Want more stuff like this?
Get the best viral stories straight into your inbox!
Don't worry, we don't spam