Ahosoka: NEW 332nd Company Trooper Funko Pop! Target Exclusive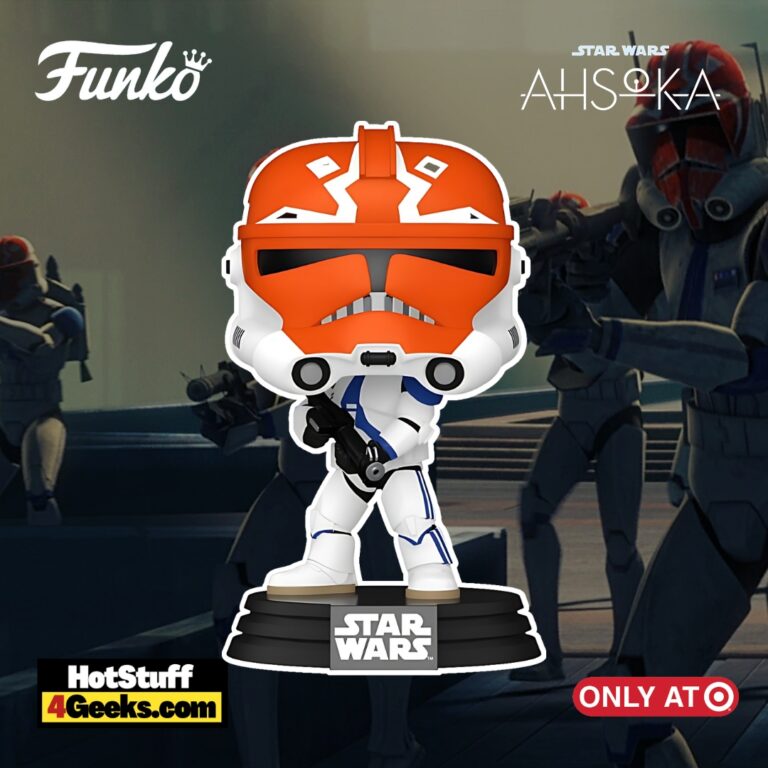 Unveiling the latest addition to the galaxy of collectibles, the Funko Pop! Star Wars: Ahsoka TV Series: 332nd Company Trooper Funko Pop! Vinyl Figure is here, and it's a Target Exclusive. This meticulously crafted figure captures the essence of the 332nd Company Trooper, making it a must-have for enthusiasts and fans alike. Prepare to be captivated by its intricate details and iconic design.
332nd Company Trooper Funko Pop! NOW available for pre-order! To get your hands on these Pop Vinyl Figures at their release, be sure to check out the links I've provided below – click to jump or scroll to continue reading!
Introducing: The 332nd Company Trooper Funko Pop! Exclusive Edition
With the Star Wars universe expanding ever so brilliantly, the Ahsoka TV Series drops another thrilling surprise. Announcing the exclusive 332nd Company Trooper Funko Pop! only at Target!
This vinyl figure isn't about the galaxy, the battles, or the lightsabers. It's about one character: the 332nd Company Trooper.
The emblematic orange helmet, reminiscent of Ahsoka's hues, stands out with pronounced clarity.
But it's not just about colors; it's about loyalty, standing firm amid chaos, and being an emblem of dedication in a world torn by conflict. And this figure captures it all.
Star Wars narratives always pull at our heartstrings, and this collectible is a bridge to those emotions. Grab this Target exclusive, place it on your mantle, and let the discussions ensue.
After all, in a galaxy filled with stories, sometimes one character tells the tale best.
The Target Exclusive 332nd Company Trooper Funko Pop! can be found for pre-order at its release at the links below (click to jump)
The Unique Significance of the 332nd Company Trooper Helmets in Ahsoka's Tale
If there's one thing that the Ahsoka TV series has brought to the forefront of the Star Wars universe, it's the intricate details that stitch together the fabric of its narrative. Among those elements, the orange helmets of the 332nd Company Troopers hold a distinctive place.
Many avid viewers might recognize the 332nd Company as part of the legendary 501st Legion.
These weren't just any clone troopers; they were a division formed to accompany Ahsoka Tano during the intense Siege of Mandalore. Their helmets, though? That's where things get intriguing.
The choice to paint their helmets orange was far from a random stylistic decision. Instead, it was a deep-seated tribute to Ahsoka herself.
Drawing parallels to her skin color and featuring unique markings reminiscent of her Togruta lineage, these helmets represented a bond that transcended formal titles and affiliations.
Ahsoka might have left the Jedi Order by this time, but the clones' tribute spoke volumes about their unwavering respect for her.
Think about it. The world of clones was one where individuality wasn't a luxury. In an environment where every face and voice was a mirror of another, the smallest customization meant the world.
So, when the 332nd Company took that step to personalize their armor, it wasn't just an act of camaraderie. Still, a declaration of loyalty, shared history, and battles fought shoulder-to-shoulder.
However, the helmets also carried a tinge of melancholy. Fast forward a bit, and we find ourselves in the heart-wrenching throes of Order 66.
A directive that would see Ahsoka's companions, those very troopers with the orange helmets, turn against her. This shift wasn't by choice but by a sinister command overriding their free will.
With the exception of Commander Rex, the crash that followed this order would claim the lives of these dedicated soldiers.
The TV series uses these helmets as a beacon to light up Ahsoka's journey, connecting dots from her past to her present. Every glance at those helmets is a reminder – of bonds formed, battles won, and the tragic price of war.
Beyond the narrative, these helmets also remind us viewers of the resilience of relationships and the lengths one might go to honor them.
Be sure to check out more Ahsoka Tano Live-Action TV Show Series Funko Pops HERE!
As an Amazon Associate I earn from qualifying purchases
Want more stuff like this?
Get the best viral stories straight into your inbox!
Don't worry, we don't spam