2023 NEW Attack on Titan: Captain Levi Funko Pop! AAA EXCL
Funko Pop! Animation: Attack on Titan – Captain Levi Funko Pop! Vinyl Figure – AAA Anime Exclusive
Available at:
Hey there, anime enthusiasts! Let's talk about the coolest collectible on the block – the new Funko Pop! Animation: Attack on Titan – Captain Levi Funko Pop! Vinyl Figure – AAA Anime Exclusive.
The pop figure is now available for pre-order at the links below – click to jump or scroll to continue reading!
This little dynamo does a remarkable job of capturing the intensity of our favorite 'Attack on Titan powerhouse.
With his piercing gaze, stylish undercut, and wielding that iconic sword, it embodies Levi's fierce persona and unwavering determination.
This Funko Pop! stands out because it channels Levi's 'awakened power.'
It almost feels like you can sense his strategic genius and inherent battle instincts radiating off this miniature figure.
Despite its size, it somehow encapsulates Levi's legendary status as humanity's strongest soldier.
Every aspect, from the detail in his Survey Corps uniform to his battle-ready stance, is a testament to the intricate craftsmanship.
Whether you're an avid collector or just a fan of 'Attack on Titan,' this Levi Ackerman Funko Pop! is an absolute must-have.
A tiny tribute to a titan-sized hero!
AAA Anime Exclusive Captain Levi Funko Pop! is now available for pre-order at the links below (click to jump!)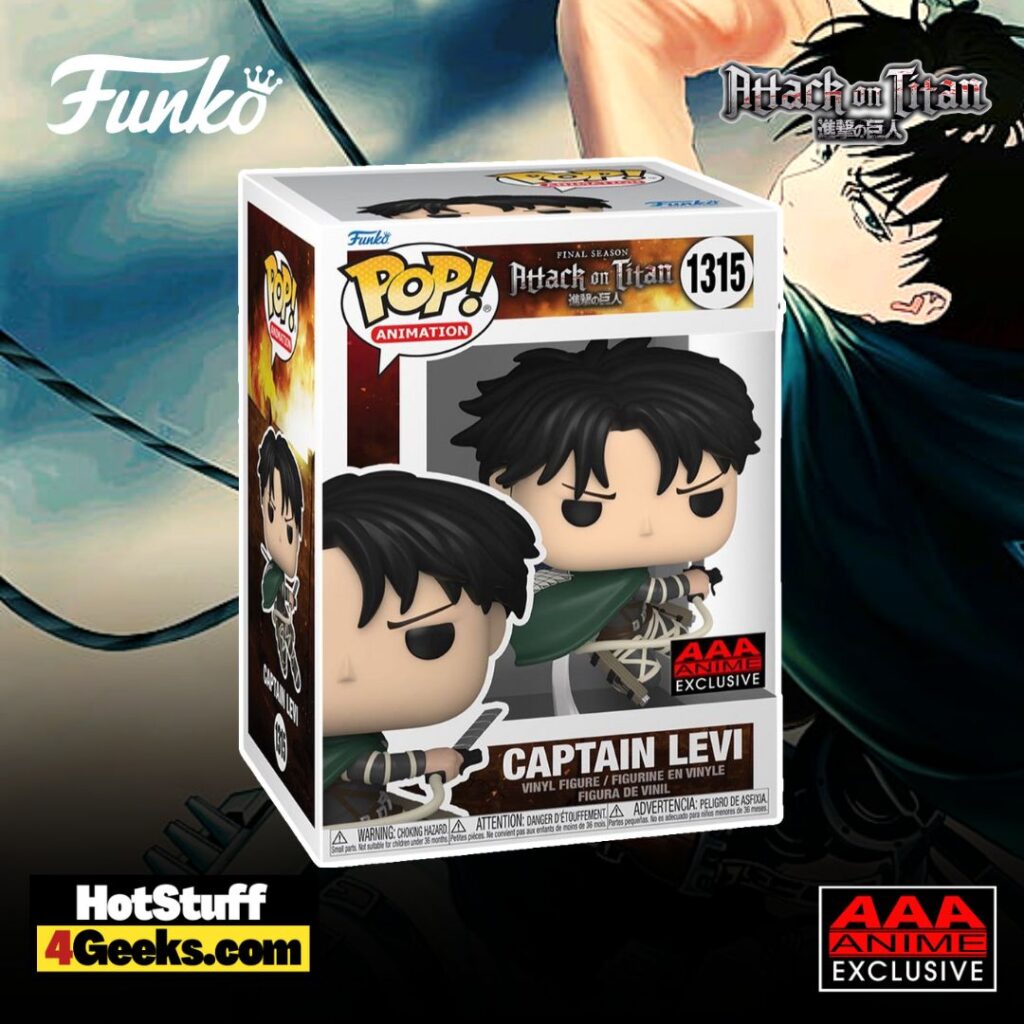 It's time we talk about the mysterious force in 'Attack on Titan' – Captain Levi Ackerman.
Sure, he's not the star of the show, but does he command the spotlight? Absolutely!
Levi is the epitome of raw energy, coupled with a strategist's mind.
And that's a lethal combination!
But the thing that pushes Levi into a league of his own is a secret weapon that ties back to his family, the Ackerman clan.
A lineage steeped in warrior tradition, the Ackermans are no average Joe.
They were Eldian royalty's protectors, with their powers resulting from a potent blend of Ymir's Subjects and Titan science.
This unique cocktail of abilities and genetics bestows an 'awakened power.' In addition, Levi's keen intuition lets him calculate the perfect path to victory in any scenario.
Combine this with his physical capabilities and intellect, you get the ultimate titan-slaying machine.
But every hero has a cross to bear, and Levi is no exception.
A severe injury at the end of Season 4, Part 1, diminishes his fighting abilities.
Yet, his potential to be the deadliest force remains undiminished.
And here's a tempting thought – what if Levi turns rogue?
Frustrated instincts, emotional upheaval, and a knack for always being where the action is.
He fits the villain mold to a T. Yet, his integrity and commitment to peace and justice hold firm.
So there you have it – Levi Ackerman, the secret weapon of 'Attack on Titan.'
Eren Yeager may be the protagonist, but Levi holds the crown in terms of sheer power.
And that, my friends, is what makes him utterly fascinating.
As an Amazon Associate I earn from qualifying purchases
Funko Pop! Animation: Attack on Titan – Captain Levi Funko Pop! Vinyl Figure – AAA Anime Exclusive
Available at:
Want more stuff like this?
Get the best viral stories straight into your inbox!
Don't worry, we don't spam