2022 Courage The Cowardly Dog Flocked Funko Pop!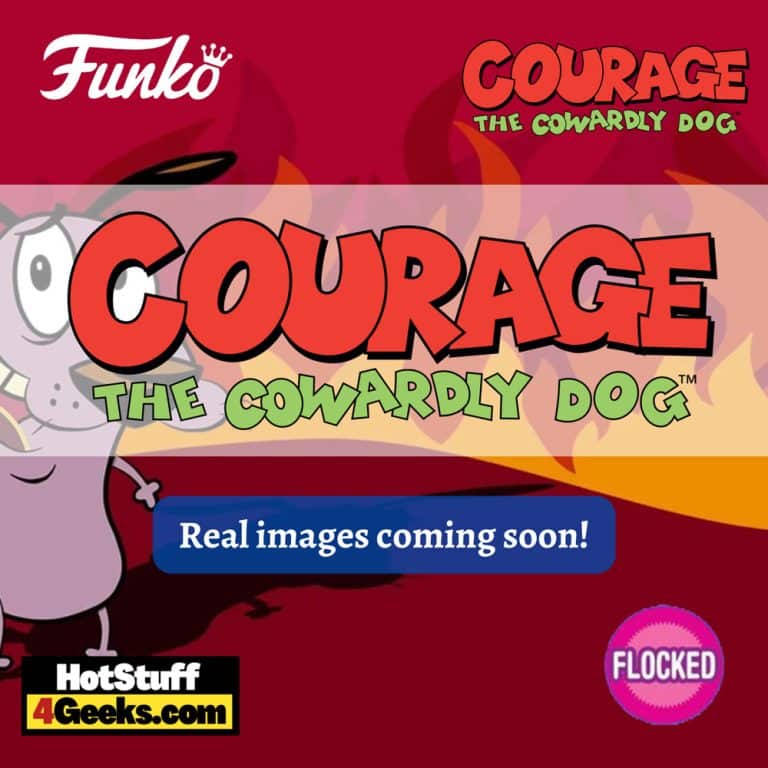 Not official until confirmed.
The new Funko Pop! Animation: Cartoon Network – Courage The Cowardly Dog Flocked Funko Pop! Vinyl Figure comes standing in his signature nervous pose just like he did during his award-winning Cartoon Network series run in the early 2000s.
Who doesn't know the most fearful pink dog in the cartoon world? But, of course, I'm talking about the character from Courage: the Cowardly Dog.
Imagine a house in the middle of nowhere, deserted, with no neighbors! The impression is that this house is abandoned but inhabited by an elderly couple and their little dog.
So far, nothing special, but the events there are beyond bizarre. They are constantly visited by scary creatures, to say the least, all full of evil intentions.
Among these creatures are hauntings, scarecrows, mad doctors, psychopathic cats, aliens, evil shadows, and giant living vegetables, just to name a few.
The locked Courage The Cowardly Dog Funko Pop! is an unconfirmed release. It is only official when or if Funko announces it. I'll update more information in the long run.

The content of this animation goes much further than one might imagine. The plot would make for a good horror film because of the cartoon's macabre characteristics. However, the simplicity of its stories is the result of its great success, pleasing both children and adults.
Courage, the Cowardly Dog, shown on Cartoon Network and SBT, is undoubtedly amusing.
On November 12, 1999, the cartoon debuted on Cartoon Network, with 26 episodes. The success was so great that soon after the premiere, it was already being shown in other countries, winning three more seasons.
Courage is a fearful little dog who has to save his owner from unimaginable dangers, going through dangerous and hilarious situations. Fantastic stories and likable, hilarious characters contributed to the cartoon's success.
The house is reminiscent of horror movie houses as if it had a life of its own. Courage's little dog was adopted as a puppy by Mrs. Muriel, wife of the then grumpy Mr. Eustace, in "Nowhere," a place isolated from any contact with other people.
The beings that come to visit them are the most hostile, dissimulated, and bloodthirsty, aiming only to scare, abduct, kill, destroy, dissect, terrorizing, that is, only worrying intentions, but nothing that the little dog can't handle, no matter how much he seems to have reached his own end.
He always turns things around, saving his owner and putting an order in the house.
Starting now, you can receive 10% off in-stock items with my special link at Entertainment Earth!
 Enjoy!
As an Amazon Associate I earn from qualifying purchases
Want more stuff like this?
Get the best viral stories straight into your inbox!
Don't worry, we don't spam