2022 NEW DC: Batman Beyond With Chase Variant Funko Pop!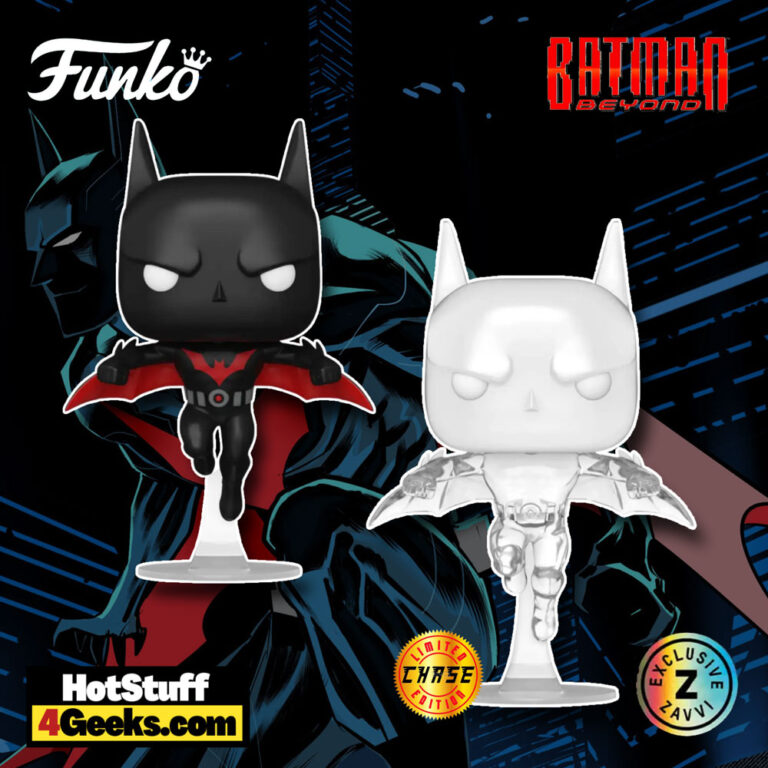 What do you get when you take the Dark Knight and shrink him down to Funko Pop size? Gotham's pint-sized protector, Terry McGinnis, AKA Batman Beyond!
Inspired by the fan-favorite animated series, this new Funko Pop! DC – Batman Beyond With Chase Variant Funko Pop! Vinyl Figure – Zavvi Exclusive is ready to take on all the criminals of Neo-Gotham.
The pop figure is available starting Friday, 9 AM PT, August 19th, 2022, at the links below (click to jump!)
In 2039, crime is rampant in Gotham City, and 99% live in abject poverty.
An aged Bruce Wayne retired from his role as Batman. He is now a virtual recluse, spending his later years living in bitter isolation with no companion but his guard dog.
Enter Terry McGinnis, a high schooler who, after encountering Bruce Wayne, takes up the mantle of Gotham's Dark Knight.
Terry is a tough fighter with a quick wit, and he quickly makes a name for himself as the new Batman.
However, he soon discovers that Bruce Wayne is not the only one with secrets and that Gotham City is more dangerous than he ever imagined.
Batman Beyond is a dark and action-packed story that will keep you on the edge of your seat.
The Zavvi Exclusive Batman Beyond With Chase Variant Funko Pop! is now available for pre-order at the links below (click to jump!)
Future Batman was originally an animated cartoon that aired between 1999 and 2001. The animated film shows a reclusive Bruce Wayne who stopped being Batman many years ago.
But Gotham always needs a Batman, so who takes over the hood (which no longer has a cape) is Terry McGinnis, a bratty kid who breaks into Wayne Manor.
His determination and will to solve problems make Bruce want to train him.
Amanda Waller had always admired Batman greatly and believed that someone like the hero should always exist. However, she soon noticed that he was getting older.
One day, he would have to retire, or some villain would finally kill him.
Waller got a sample of the hero's DNA and found a couple, Warren and Mary McGinnis, who had similar traits to Thomas and Martha Wayne.
Secretly, she rewrote Warren's DNA to resemble that of Bruce Wayne.
The couple's son Terry McGinnis was born a year later, but with Batman's genes.
From being a delinquent to becoming Batman, Terry has proven to be an exceptional fighter, especially after the training he received from Bruce.
His fighting style is different from the original Batman. Terry does not stick to traditional fighting and uses dirty tricks when necessary.
Terry defeated many stronger enemies due to his perfect physical condition.
He has a unique intellect, as he was trained to be a detective by Bruce and learned to mix chemicals and herbs to heal himself.
Later, Terry, already in his early twenties, manages to surpass Bruce himself, even defeating the Joker with mind games without needing physical combat, which the old Batman never managed.
Funko Pop! DC – Batman Beyond With Chase Variant Funko Pop! Vinyl Figure – Zavvi Exclusive
Available at:
Starting now, you can receive 10% off in-stock items and free shipping on $39+ orders with my special link at Entertainment Earth!
You can also use CODE: 4geeks anytime. Enjoy!
As an Amazon Associate I earn from qualifying purchases
Want more stuff like this?
Get the best viral stories straight into your inbox!
Don't worry, we don't spam