2022 NEW DC Comics – Composite Superman Funko Pop! EE Excl
Looking like Batman and Superman and endowed with the combined powers of the Legion members, comes the new Funko Pop! DC Comics – Composite Superman Funko Pop! Vinyl Figure – Entertainment Earth Exclusive, one of the strongest villains in the DC Universe.
The pop figure is now available for pre-order at the links below – click to jump or scroll to continue reading!
Although Composite Superman has a distinctive look and combines the powers of some of DC's most formidable heroes, this strange character is more of a novel curiosity than a legitimate threat.
An interesting tidbit is that Meach is considered one of the most powerful villains in DC Comics and is in the Top 5 villains who can take down Superman.
Composite Superman Funko Pop! is now available for pre-order at the links below (click to jump!) It's expected to be released on January 2023.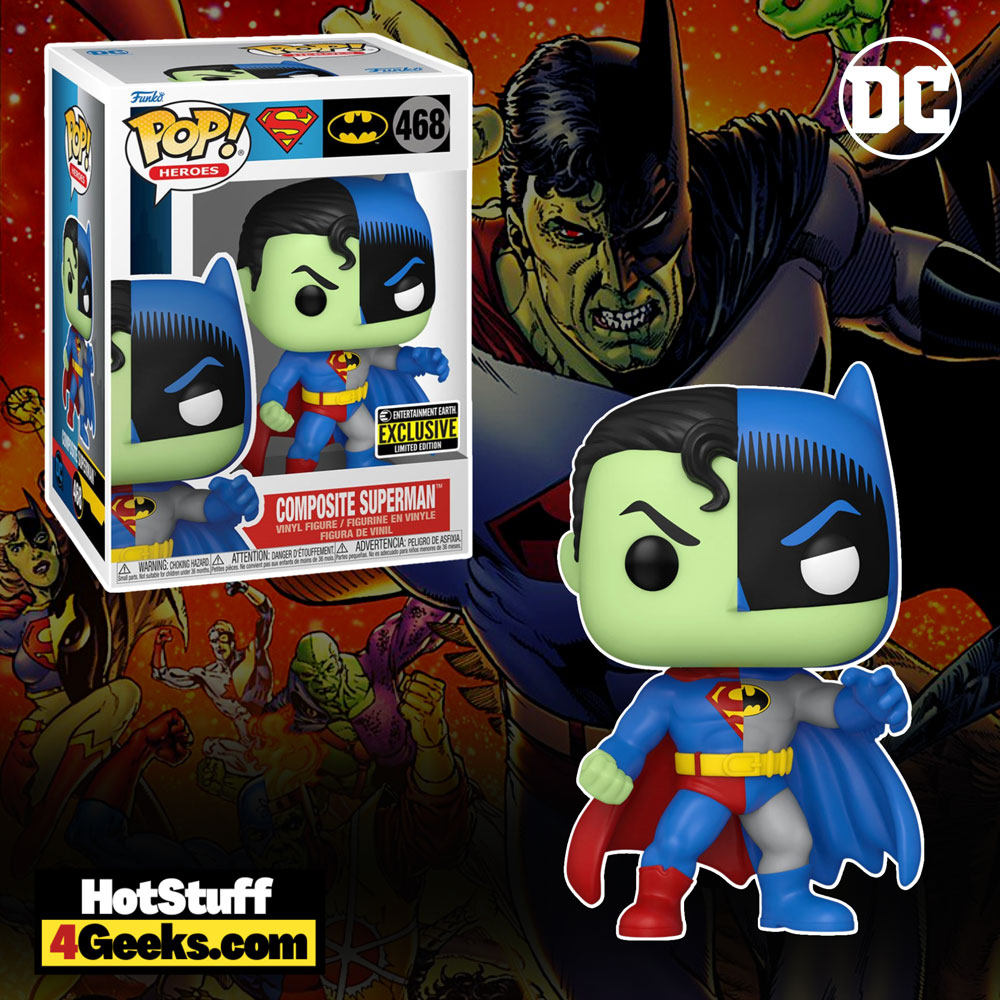 The world first met Composite Superman in 1964 in Comic World's Finest Comics #142, by the creative hand of Edmond Hamilton and Curt Swan.
Joseph Meach was a scuba diver saved from an accident by Superman. Upon realizing Meach's financial problems, the Man of Steel gave him a job at the Superman Museum, where Meach worked as a janitor.
Surrounded by superhero memorabilia, Meach began to develop feelings of envy and jealousy, which grew stronger and stronger.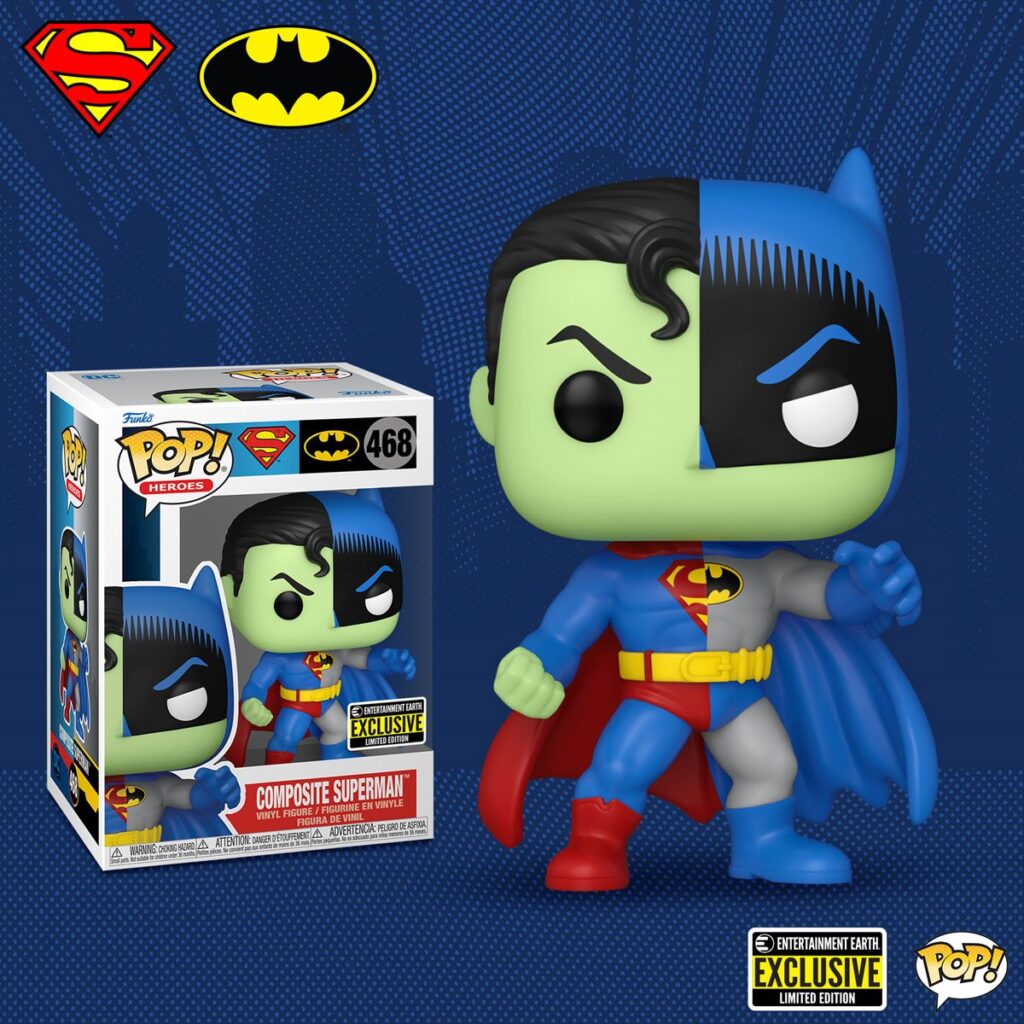 Meach envied Superman's life, to the point of producing a fierce hatred against him.
One night, a bolt of lightning struck the Legion of Super-Heroes statues, which released an explosion of energy that hit Meach and caused him to receive a series of powers from various members of the Legion.
With these new powers, he decided to defeat the two people he hated most in the world, Superman and Batman.
Thus, he changed his skin to a shade of green and transformed his costume into a combination of Superman and Batman's costumes, calling himself Superman Composite.
Intoxicated by his newfound power, Meach sought an opportunity to defeat Superman, Batman, and Robin in one strike.
Using his newly acquired shapeshifting powers, he gave himself green skin and created a costume that was half Superman and half Batman.
Going by the name Composite Superman, he left messages in the Batcave and the Fortress of Solitude, summoning the heroes to a cave in the mountains.
He gave them an ultimatum: either Composite Superman would become the newest member of his society, or he would reveal their secret identities to the world.
Composite Superman was defeated because his powers turned out to be temporary. Meach returned to his human form, unaware of his activities as Composite Superman.
However, it's hard to keep a good villain hidden. So composite Superman returned with the help of Xan, an alien who held a grudge against Batman and Superman for imprisoning his father.
In Carey Bates and Curt Swan's 1967 World's Finest #168, Xan found Meach working in the Superman museum, giving him back his powers.
This time, Xan and Superman Composite were able to trap Batman and Superman and began converting half of their bodies into antimatter.
Composite Superman's powers wore off again during this process, and Meach returned to his human form.
Overcome by remorse for his actions, Meach threw himself between Xan and the World's Finest just as Xan fired at them.
After Meach sacrificed his life with that noble act, the heroes erected a statue of Joseph, declaring that while he lived as a villain, he died as a hero.
Len Win and Joe Batista's Superman/Batman Annual #3 reintroduced the actual Composite Superman, where he was a creation of mad scientist Professor Ivo.
Funko Pop! DC Comics – Composite Superman Funko Pop! Vinyl Figure – Entertainment Earth Exclusive
Available at:
Starting now, you can receive 10% off in-stock items with my special link at Entertainment Earth!
 Enjoy!
As an Amazon Associate I earn from qualifying purchases
Want more stuff like this?
Get the best viral stories straight into your inbox!
Don't worry, we don't spam