Diamond Select: Marvel Comic Premier Collection Bullseye Resin Statue
We are getting Daredevil's archenemy, Bullseye, with a brand new Marvel Comic Premier Collection Bullseye Resin 9-inch statue! This statue shows off this deadly villain in action, wearing his classic comic suit and cards in his hand.
Any object – be it a pencil, a playing card, or a paper clip – becomes a deadly weapon in the skilled hands of the master-at-arms known as the Bullseye. Born with perfect aim, the man would become the world's most dangerous assassin,
With one foot up on a Daredevil target and playing cards in both hands, Bullseye is ready to take out whoever he needs to in order to get into your collection. Limited to only 3,000 pieces, it comes packaged with a numbered certificate of authenticity in a full-color box.
Marvel Comics Premier Collection Bullseye Limited Edition Statue by Diamond Select is now available for purchase at the links below. This figure is priced at $144.99, and it's expected to be released in October 2021.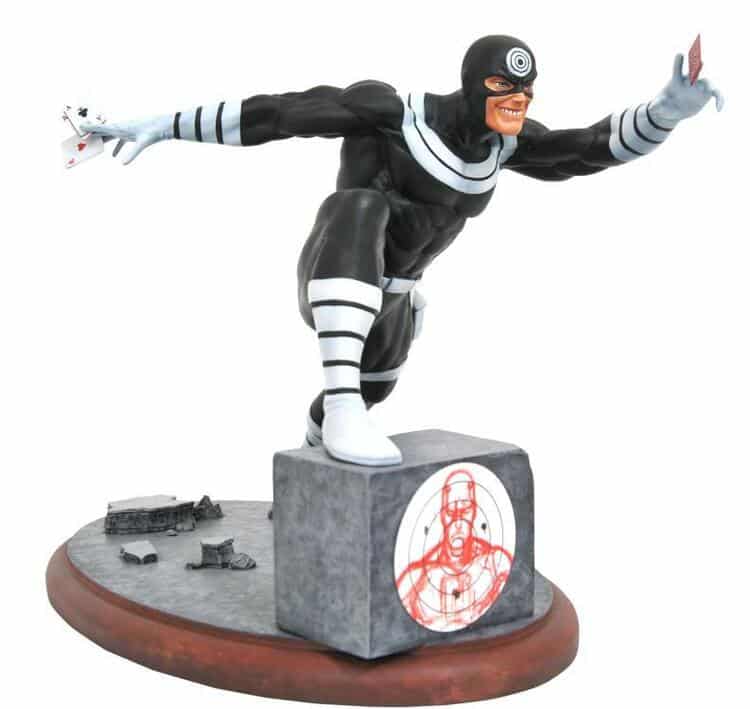 Bullseye is one of Marvel's most mysterious figures, whose past is still a mystery to this day. Not even his real name is certain, as he has revealed himself to be both Lester and Ben in two different situations. He has a habit of telling different stories about his past, so you can't know what is strictly true or not.
Once Bullseye was captured in a maximum-security prison and interrogated about his past. Among the many details revealed, the most striking event was when his brother set fire to the house to kill his father.
When Bullseye escaped from prison using a fire, he said that everything he had said was a lie and that he was the one who set fire to the house.
In another story, he says that when he was a child, he once painted a target on his father's forehead, a rough and abusive man who was passed out drunk. Bullseye then took a gun and shot his father in the head.
In a third story, Bullseye tells that he was a professional baseball player before being a contract killer. However, he was very selfish and sadistic, getting bored with the game quickly. After only three games, he used his impeccable accuracy to hit the ball in the middle of the hitter's forehead, killing him on the spot.
At one point in his life, Bullseye became a mercenary, a hitman with a unique signature, as he killed his targets by throwing whatever object he had in hand.
This signature came in one of his first missions when he posed as a soldier in Vietnam and killed an enemy by throwing his rifle at him, hitting him with his bayonet. Thus began his perfect career as an assassin.
Thanks to his work, Bullseye traveled the world. In New York, he met Daredevil, his archy-enemy. When Bullseye was in the city, extorting and killing several people, Daredevil showed up and ended the villain's plans.
Bullseye was hired to assassinate Matt Murdock, but again he was defeated by the blind hero. Thinking his reputation had been destroyed, Bullseye swore revenge on Daredevil.
Diamond Select: Marvel Comic Premier Collection Bullseye Resin Statue
Available at: